This post may contain affiliate links, meaning I make a commission if you purchase through my links, at no extra cost to you. Disclosure here.
What are some of the top Christmas hashtags for Instagram growth? You'll be getting in this blog post 185 best Instagram hashtag ideas for Christmas 2021.
If you're just starting out on Instagram or you want to keep growing your account, you probably know that discoverability is so important.
Getting new eyes on your content is what's going to help you grow and ultimately be able to monetise your platforms.
So how do you do that?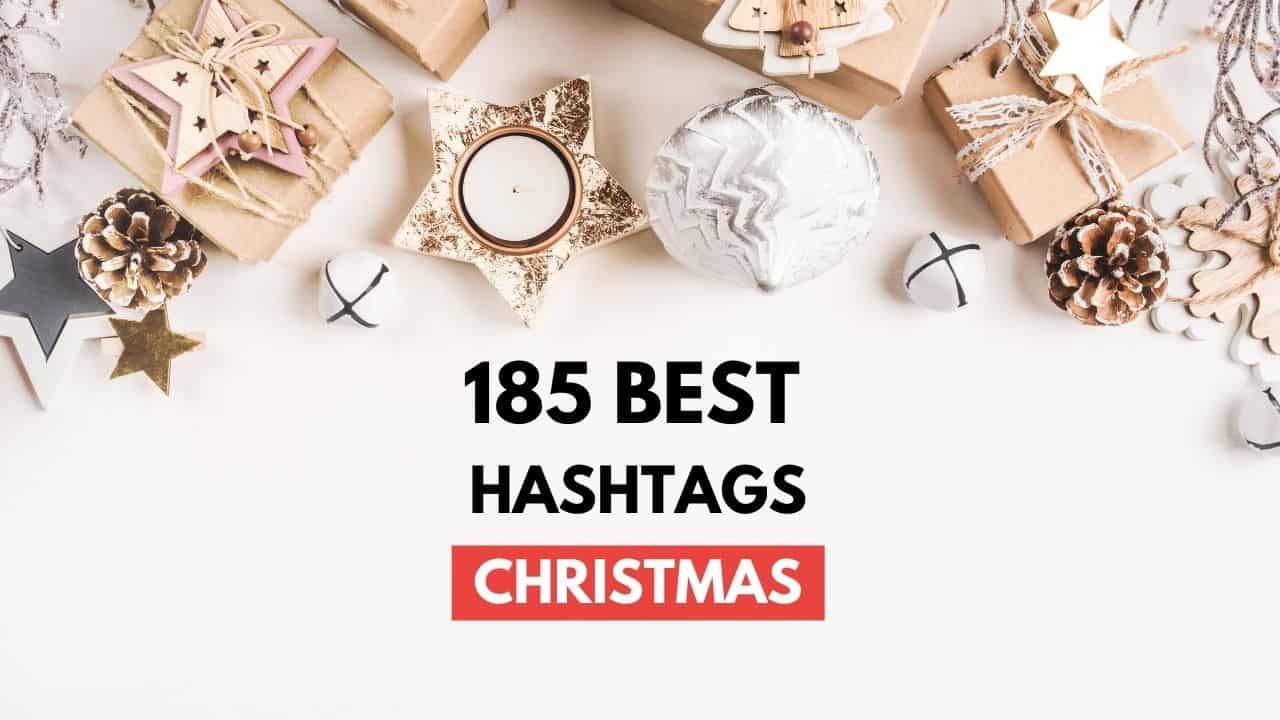 RELATED:
If you're looking to grow your audience, then using hashtags can be one of the best ways to increase your posts' reach and, therefore, get a higher engagement and more followers.
One thing that's really important to keep in mind here is to make sure you pick the hashtags from this list that are a good fit for your niche and for your target audience.
Keep in mind that you want to attract the right type of audience to your profile.
Making sure you target the right people will ensure your account's engagement rate stays high and that you ultimately grow an audience that will turn into customers (if you sell your own products) or buy products that you recommend (if you want to go the typical influencer route where you share affiliate links and sponsored brand posts).
What are good hashtags for Christmas
You already know by now how hashtags can help you grow your audience.
But what makes a good hashtag? And which ones should you pick for Christmas?
There are a few things you should keep in mind when picking your hashtags for Christmas (or any other season for that matter):
The reason why you want to go for smaller sized hashtags is because it gives you a higher chance of ranking up in that hashtag's top 9, leading to more eyes on your content.
If you use super general hashtags that have millions of posts under them (like #makeup, #beauty, #christmas etc.), your post will get buried in that sea of posts. And therefore, not really get seen by a lot of people.
I know it may seem counterintuitive, but it truly is best to use smaller hashtags.
Which is why I recommend going for hashtags that are between 10k-100k in size when you're in an initial growing stage, then slowly moving up to hashtags that are more popular.
RELATED:
What hashtags get the most likes on IG?
The hashtags that get the most likes on IG are the ones that are super relevant to your content, while keeping in mind the hashtag size appropriate for your own account.
If you want to not only increase reach and views, but also get more likes on your posts, then as mentioned above, you really need to be picky with your hashtags.
Make lists of hashtags that are relevant to the different types of posts that you create and rotate between them, always making sure the hashtags fit the photo.
This way, when someone is looking through that hashtag's page and sees your posts, they're more likely to give it a like because it fits the content that they were looking to see.
185 Best Christmas Hashtags for Instagram 2021
I recommend going through these hashtags and making different lists of 30 (max) hashtags depending on the topic that you usually post on your account.
For example, if you post about home decor, fashion and lifestyle, then you will want to create separate hashtag groups for each of those categories.
You can even create multiple hashtag groups for each category and alternate between them, so that you don't repeat the same hashtags over and over again.
You can save these hashtag groups either on a notes app on your phone or perhaps a Trello board where you keep all of these handy.
I share how I stay organised as a blogger and content creator using Trello here, in case you want more details on my exact method of staying organised and keeping on top of the content creation process.
I've broken down the list into a few categories, so that you can pick and choose easily depending on your niche: lifestyle, fashion, moms, food, home decor, beauty – these are all included on this list.
Christmas Hashtags for lifestyle
Let's start with the more general hashtags that would be great for a lifestyle type of account or if you have certain posts that don't necessarily fall into one of the other categories or niches.
These are great for general Christmas inspiration, cosy festive vibes, books and planning, Christmas eve or Christmas day festive posts, as well as gift guides.
#christmas2021🎄
#christmasinspiration
#christmasaesthetic
#christmasathome
#christmasatmosphere
#christmasadvent
#christmasaddict
#christmasandchill
#christmasaroundtheworld
#christmasadventcalendar
#christmasanimals
#christmasbooks
#christmasbook
#christmasbujo
#christmasbackdrop
#christmasbundle
#christmascelebration
#christmascalendar
#christmaschallenge
#christmascoming
#christmascouple
#christmascalligraphy
#christmaschronicles
#christmascrackers
#christmasdeals
#christmasdetails
#christmasdays
#christmasedits
#christmasedit
#christmaseveeve
#christmaseveryday
#christmasedition
#christmasevent
#christmasevents
#christmaseverywhere
#christmaseve2021
#christmasevening
#christmaseverything
#christmaseveparty
#christmasfeeling
#christmasflatlay
#christmasfilms
#christmasgram
#christmasgiftguide
#christmasgiftidea
#christmaslondon
#christmaslight
Christmas Hashtags for fashion
If you are a fashion blogger or post outfit ideas like myself on my Instagram, then these are a few hashtags that would be great for Christmas looks and festive outfit ideas.
#christmasaccessories
#christmasclothes
#christmasdress
#christmasdresses
#christmasdayoutfit
#christmasearrings
#christmasfashion
#christmasheadband
#christmasjumper
#christmasjumperday
#christmasjewelry
#christmasjewellery
#christmasjammies
#christmasjumpers
#christmaslook
#christmaslooks
#christmasleggings
#christmasoutfits
#christmasoutfitideaas
#christmasootd
#christmaspartyoutfit
#christmaspyjamas
#christmaspartydress
#festivefashion
#festivelook
#festiveoutfit
#festivedress
#festiveoutfits
Christmas Hashtags for moms
Are you a mom blogger? Then these hashtags will be perfect for you, especially if you've got some Christmas activity ideas for kids, DIY and craft tutorials, Elf on the shelf ideas and more.
#christmasactivities
#christmasbaby
#christmasbooksforkids
#christmasbabyphoto
#christmasbabies
#christmascraftsforkids
#christmascoloring
#christmasdiys
#christmasdoll
#christmasevebox
#christmaself
#christmaseveboxes
#christmaselves
#christmasevebaby
#christmasevetradition
#christmasfamilyphoto
#christmasfamily
#christmasforkids
#christmasfestivities
#christmasgiftwrapping
#christmasgiftsforkids
#elfontheshelfideas
#elfontheshelf2021
Christmas Hashtags for food
If you're a foodie or you just love sharing recipes and new baking ideas you're tried, then these festive hashtags are for you. You can share some Christmas party food ideas, festive bakes, cookies, hot chocolates and so much more.
#christmascakes
#christmastable
#christmasbaking
#christmasbreakfast
#christmasbiscuits
#christmasbakes
#christmasbakinghasbegun
#christmasbakery
#christmasbread
#christmasbrunch
#christmasbrownies
#christmasbuffet
#christmascupcakes
#christmascookie
#christmascooking
#christmascocktails
#christmascookiesfordays
#christmascakepops
#christmascandy
#christmaschocolate
#christmascoffee
#christmasdessert
#christmasdesserts
#christmasdrinks
#christmasdrink
#christmasdinnertable
#christmasdonuts
#christmasdinnerparty
#christmasevedinner
Christmas Hashtags for home decor
Probably the category with the highest search and discoverability during Christmas is the home decor one. Everybody is looking for ideas to decorate different rooms in their house for the holidays.
Here is a list of Christmas hashtags that you can use for your home decor posts.
#christmasdecorating
#christmascrafts
#christmastreedecorating
#christmasdiy
#christmasarrangement
#christmaswreaths
#christmasangel
#christmasballoons
#christmasbaubles
#christmasbauble
#christmasballs
#christmasbox
#christmasbedroom
#christmasbedding
#christmasboxes
#christmasbasket
#christmasblanket
#christmasbunting
#christmascraft
#christmascrafting
#christmascandles
#christmascottage
#christmascenterpiece
#christmasdoor
#christmasdoordecor
#christmasdesign
#christmasdecorideas
#christmasdeco
#christmasdecorations🎄
#christmasdecorationseverywhere
#christmaschristmasdecoratingideas
#christmasdecs
#christmasdecorinspo
#christmasdeer
#christmasdoorwreath
#christmasembroidery
#christmasfarmhouse
#christmashomedecor
#christmashouse
#christmashometour
#christmasinterior
#christmaslivingroom
Christmas Hashtags for beauty
If you create content around beauty, whether that's makeup looks, product reviews and recommendations, hairstyles and haircare or nail art, then here are a few hashtags that would be great for you.
#christmasmakeup
#christmasbeauty
#christmaseyeshadow
#christmasglam
#christmasglow
#christmashair
#christmashairstyle
#christmaslashes
#christmasmakeup
#christmasmakeuplook
#christmasmakeupideas
#christmasmanicure
#christmasnailsart
#christmasnailart
#festivenails
#festivemakeup
How to edit your Christmas photos: Christmas Lightroom Presets
So you've got your Christmas hashtags all ready to go, you've got some lovely festive pictures on your phone.
But how do you make them look more magical? How do you give them that bright festive feel that will make your Instagram feed look more aesthetic?
Presets!
I've got for you a completely free Lightroom preset for Christmas here, if you want a quick one-click edit on your photos that will literally transform them into bright festive pics!
Feel free to grab the preset, add it to your own Lightroom app on your phone and edit all your Christmas pictures in one go.
It honestly makes it so much easier to edit photos and it's so quick to do.
How to check which hashtags are performing well
One thing that all influencers and social media creators should keep in mind is optimising. Constantly optimising their content, strategy, business plan, hashtags – everything.
I am constantly analysing what works and what doesn't work in my online business, because that is the one thing that helps propel you forward.
Growing online is a constant learning process. The more you can use data to figure out what's working and to put that into practice more, the faster you will grow.
This is no different when it comes to hashtags.
If you could see exactly which hashtags people are finding you through and which ones are not working, then you would have the exact info you need to swap the non-performing hashtags for new ones to try. And therefore increase the discoverability on your posts.
I wrote all about this in the post on a hack to find which Instagram hashtags are performing for your own account.
How to become more consistent on social media
If the thing you are struggling the most with is creating content consistently on social media, then most likely what you need is a good plan.
A good organising system will help you so much in knowing exactly when you are going to film, write, edit, record or publish content on social media.
I myself always find that on weeks when I have a set schedule all laid out for me, I am so much more likely to get most things on my to-do list done.
This is why I wrote this post on how to stay organised as a blogger, influencer or content creator.
I hope you found these 185 best Christmas hashtags for Instagram helpful!
Are you creating festive content for your Instagram this year? Let me know in the comments below what category of hashtags you will be using!
RELATED: