This post may contain affiliate links, meaning I make a commission if you purchase through my links, at no extra cost to you. Disclosure here.
If you've heard of RewardStyle and LiketoKnow.It, but you have no idea how to use or how to make money as an influencer on it, this post will help you out with some pointers.
RewardStyle or LiketoKnow.It are pretty much the same thing, as they are the same affiliate marketing program.
RewardStyle is the main platform and LiketoKnow.It is the phone app that connects to your Instagram. However, once you join one, you automatically have access to both of these features.
Being an influencer on RewardStyle has allowed me to better monetise my Instagram, as well as other platforms. Because you can use it on any platforms you are on: Instagram, YouTube, your blog etc.
The way affiliate marketing works on RewardStyle (or any other affiliate program in general) is:
You receive an affiliate link for a specific product.
You share that affiliate link on the platforms you are on (Instagram, YouTube, your blog).
Someone clicks on that affiliate link and makes a purchase.
You receive a commission from that purchase, at no extra cost to the buyer.
Let's see exactly how you can use RewardStyle or LiketoKnow.It to make money as an influencer.
RELATED:
How Do I Become An Influencer On LiketoKnow.It?
If you want to be a part of this affiliate program, you will need to go through their application process. RewardStyle is quite exclusive and they do have quite a thorough process to review your application.
You can apply with any of the platforms you are on. However, I will say that they do look at your Instagram profile in particular, since their LiketoKnow.It app directly connects to it, so they obviously want influencers who can make use of that.
They will analyse your profile, how often you post, what your posts are about, if you are in the right niche for them, if your posts are shoppable, if you have a decent aesthetic to your profile and more.
So how do you make sure that you get accepted?
Related: FREE 30 Instagram Reels Prompts
How to Get Accepted to RewardStyle and LiketoKnow.It
Again, they do have a thorough application process that you will have to go through and a lot of people struggle with this. So I wrote a full blog post on how to get accepted fast to RewardStyle and LiketoKnow.It.
I shared in this post my exact 7 tips I followed myself that helped me get accepted to RewardStyle. From how your pictures should look like, what to include in your posts to what niche you should be in to be considered.
If you've already been accepted or you're just wondering how RewardStyle works, read below to find out exactly how to use RewardStyle step by step as an influencer.
How Do I Use RewardStyle As an Influencer?
Now that you've been accepted to RewardStyle, you will want to start placing and using your affiliate links in order to make money from it. There are a few ways you can go about this.
I highly recommend that you go step by step with this post and start by adding your most used products by categories. I'll show you how to do that in a bit. The more organised you can be with it, the easier it will be for you in the long run.
The most popular thing influencers use is the LiketoKnow.It app on your phone, which allows you to easily post your images and share them on your Instagram
However, there are also widgets you can use straight on your blog or website, as well as other social platforms such as YouTube, Pinterest etc.
In order to see step by step how to use RewardStyle, you can either read the steps below or watch this video:
How Do You Link Items On RewardStyle?
The best way to link items on RewardStyle is through Link Ninja. I highly recommend using Link Ninja on your desktop computer or laptop, because it is much easier to set up than on your phone. Here's exactly how to add links through Link Ninja.
1. Install Link Ninja
The first step is to install Link Ninja on your computer. Go to your RewardStyle dashboard and from the Apps dropdown menu select Link Ninja.
You will now see this page below. In order to install it, click on the Link Ninja button and hold and drag it to your browser toolbar (where all your bookmarks are).
You can see in the screenshot below what the toolbar looks like. After you drag the Link Ninja button there, you will be able to see this Link Ninja icon:
Now your Link Ninja is installed, so you can go ahead and link your items through it following the steps below.
2. Add Products to Your Favourites with Link Ninja
I recommend adding to your Favourites all the main products that you want to share with your audience, because it will make the process faster and easier for you.
Go to the shop website that you want to link, for example here I went to H&M. Find the product that you want to link.
Once you are on that product's page, click on the Link Ninja icon in your toolbar – the one you just installed.
This will open up a little popup window in the top right corner of your screen with all the product information.
You can see here the price, your estimated commission and the featured image for that product. If you want the featured image to be slightly different, you can click on the top-right icon of that product image (the one with 4 squares).
Here you will be able to choose from all the different product images the one you want to display on your LiketoKnow.It whenever you link it.
To add this product to your favourites, simply click on the heart icon. Here you can select what folder you want to add it to.
I recommend creating folders that make sense for you and that will help you find things easily in the future. For example, I create folder for home decor items, fashion items, for each season etc.
You can follow these steps for all the products you want to link easily from your profile.
After you've finished adding your products with Link Ninja, you can go to Products > My Favourites.
This is where you will see all your saved products at a glance. You can also edit your folders here if you need to. And you can grab quick links whenever you need one.
3. Copy and Paste Your Affiliate Link
In order to grab just the link for one of the products, simply click on Get Link.
This will copy your specific affiliate link, which you can then go and paste wherever you need to use it.
How to Use Rewardstyle or LiketoKnow.It on Your Blog
There are a few ways you can use RewardStyle or LiketoKnow.It on your blog, aside from simply copying and pasting your affiliate links.
If you go to Apps, you will see from the dropdown menu all the different widgets you can use on your blog. Let's go through the main ones:
1. LiketoKnow.It Widget
From your RewardStyle dashboard, click on Apps>LIKEtoKNOW.it Widget.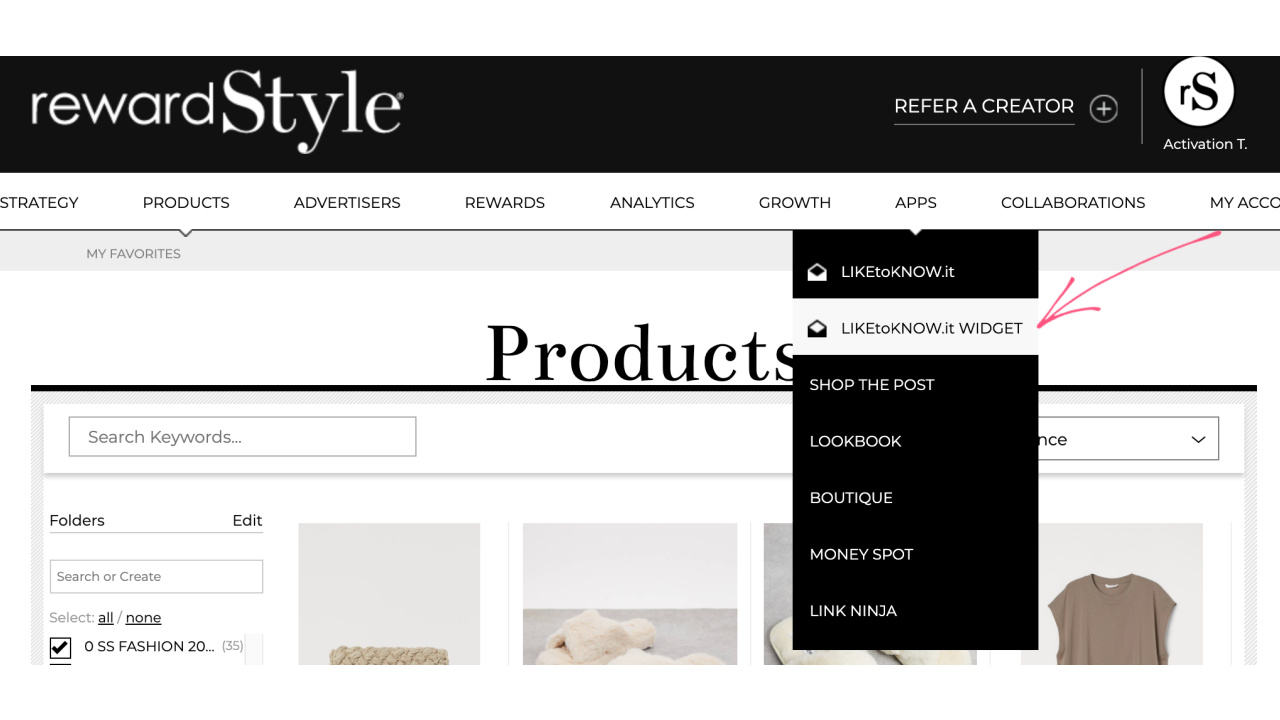 In the menu on the left, select your profile that is linked to your LiketoKnow.It. This is usually your Instagram handle (mine is Madeline1f).
This will pull all the images from your LiketoKnow.It feed and will create this shoppable feed that you can then add to your blog.
Here on the left, you can change the size of the widget and also change how many rows and columns you want to display in this feed.
Select your platform where you blog is at. If you are also on WordPress like me, you will see the instructions on how to install the RewardStyle plugin on your blog. Don't worry, it's a quick one!
After you've installed the plugin on your blog and you're happy with the settings for this feed, go ahead and click on Copy Code.
You can now paste this code wherever you want this widget to appear on your blog. For example, I have a separate page just for my shoppable Instagram posts. You can see this page here if you want to check how it works: Shop My Instagram Page.
2. Shop the Post Widget
Another widget you can use is Shop the Post. This is used to display a row of items, for example: all the items in one outfit picture.
On this page you can select the folder where your items are, then click on each item that you want to add to this widget.
After you've selected all your items, go ahead and click on Copy Code. Again, you can paste this code wherever you want it to display on your blog.
Just make sure you have the RewardStyle plugin installed on your blog if you haven't already (you only have to do this once).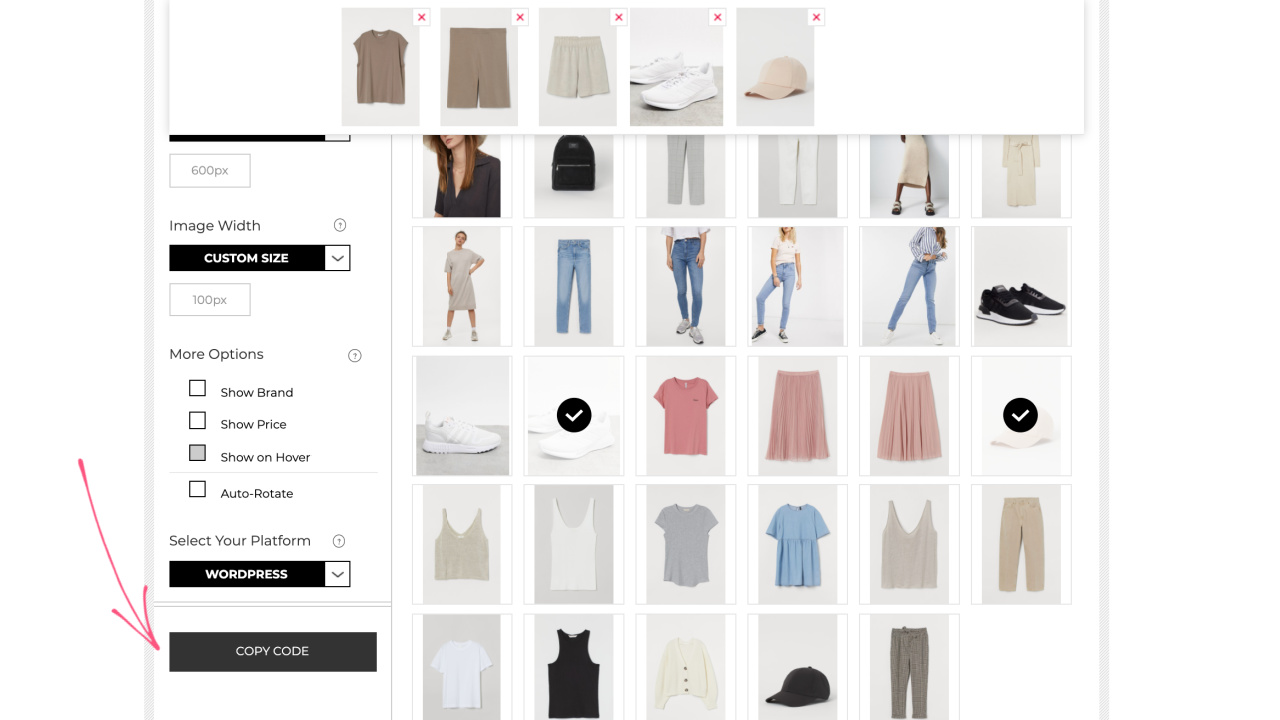 After you paste your code, this is what it will look like:
I usually use the Shop the Post widget under outfit pictures like this one, when I want to showcase each item from the outfit.
3. Boutique Widget
The Boutique Widget is similar to the Shop the Post one, and you use it the same way (select your folder, items and copy-paste the code).
The difference is that the Boutique widget looks more like a feed of items that goes downwards on vertical, rather than a row of pictures:
How to Use RewardStyle on Your Phone for Instagram
Here are the steps you need to follow in order to use RewardStyle or LiketoKnow.It on your phone:
1. Install the RewardStyle App
Go to your phone's app store and search for RewardStyle. Install the app.
You might notice there are two apps: RewardStyle and LiketoKnow.It. So what is the difference between them?
The RewardStyle app is where you upload and enable your shoppable images, as well as where you can see your stats and commissions.
The LiketoKnow.It app is where people go to find your photos and shop them. And it's where you direct your Instagram followers, so that they can find your shoppable images.
When you upload your image on RewardStyle, it will instantly appear on your profile on the LiketoKnow.It app, because they are connected.
2. Enable Your Image on the RewardStyle App
When you want to add a new image on your LiketoKnow.It, open the RewardStyle app.
Click on Enable a New Image.
Select the image you want to upload from your phone. Here you can crop it if needed.
The next step is to tag products in your image.
If you followed the steps above, you should have all your items already here in your Favourites. Simply click on each product and add it to this photo.
After you've tagged all your products, you can go ahead and type in your caption.
The captions on RewardStyle should include keywords about the image. For example: describe what each clothing item is or what each home decor piece is.
Next you will confirm that everything looks good and click on Enable Image.
Note that this will NOT post to your Instagram. When you click on Enable Image, your image will appear in your LiketoKnow.It profile.
For your Instagram, you will have to go separately and upload your images.
3. Share Your LiketoKnow.It Link in Your Bio or Swipe Up
In order to direct your Instagram followers to your LiketoKnow.It, I recommend including your link in your bio, so that people can easily find it.
You can also share on your stories whenever you add a new shoppable image on your LiketoKnow.It, so they know they can go and find it there.
TIP: Always Disclose Your Affiliate Links
In order to stay legally covered, make sure you always disclose when you use affiliate links. For example if you do a swipe up of an affiliate link, or if you mention on your stories your LiketoKnow.It profile.
I hope this helps you on how to use RewardStyle and LiketoKnow.It if you are an aspiring influencer yourself.
Do you use RewardStyle yourself? Let me know if you have any questions about it!