This post may contain affiliate links, meaning I make a commission if you purchase through my links, at no extra cost to you. Disclosure here.
White jeans are most often associated with spring and summer fashion, for those lightweight looking outfits. However, these can be a good staple in autumn/winter as well and they actually go nicely with a lot of neutral tones in your winter wardrobe. Here are a few ideas on how to wear white jeans in fall/winter.
Most of the items in this post are from Primark (love!), but I have tried to link similar ones where I could.
WHITE JEANS + CHECKED JACKET
The look above features my favourite Primark checked jacket. I love wearing white jeans with this jacket and a cosy grey hoodie underneath to keep me warm. All you need are some trainers or ankle boots and this look is good to go.
ALL WHITE + NEUTRAL
If you're gonna go white, you might as well go all neutral. I love a white and beige/camel combo. It looks classy and clean. I love this beige checked scarf for looks like this one.
CAMEL COAT
COAT | T-SHIRT | JEANS | NECKLACE
It might come to no surprise to you, but this camel coat is an absolute favourite of mine this season. I am also wearing in the outfit above a Friends T-shirt. Because who doesn't love Friends? It's a classic in my book and I rewatched it so many times already. Let me know in the comments below if you do the same 🙂
WHITE + FLORALS
This light green floral blouse is such a cute one for outfits like this. I love pairing all white with this blouse, it really makes it stand out. The cardigan with statement buttons keeps me cosy as well.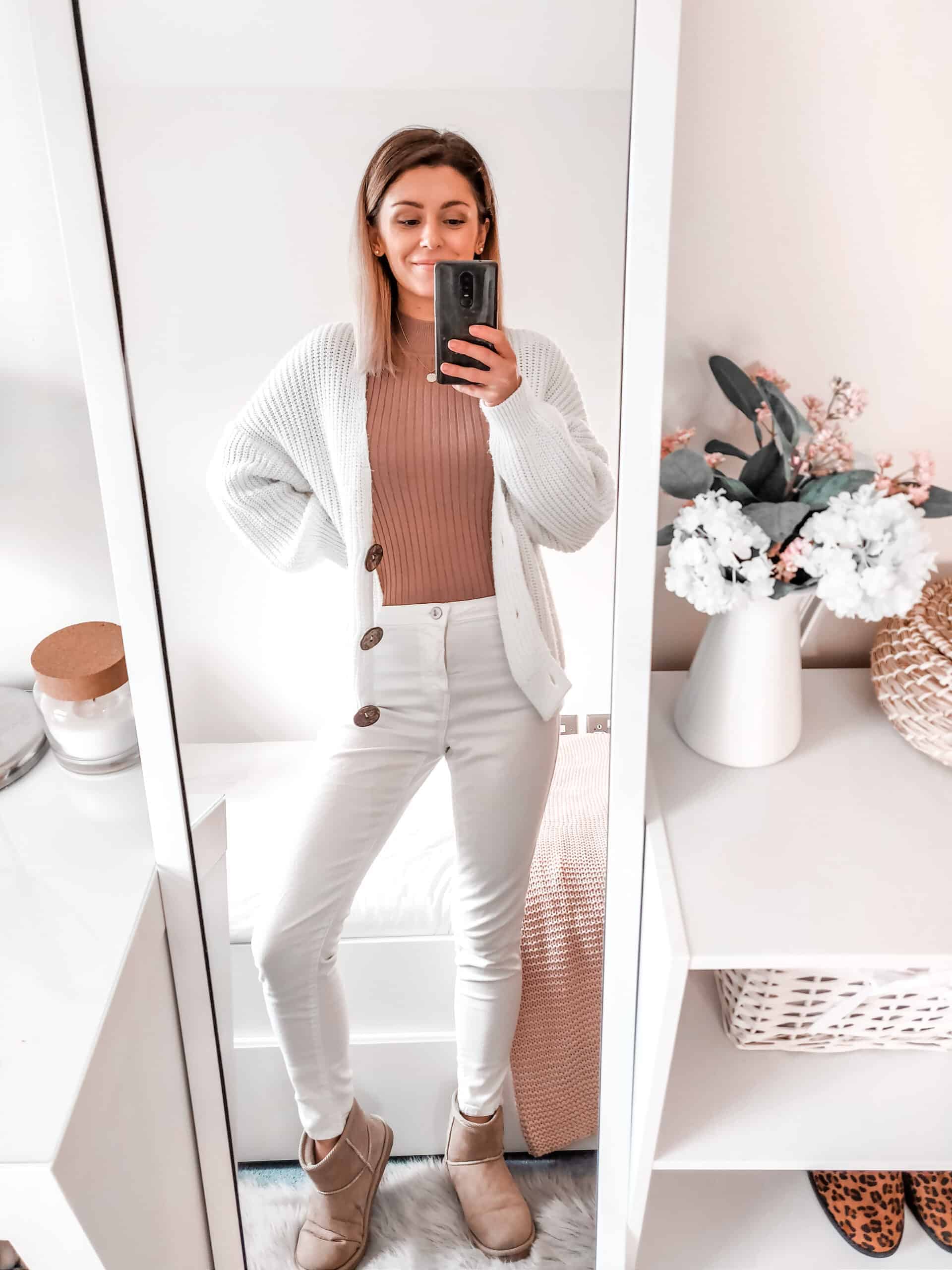 CAMEL + WHITE
CARDIGAN | TOP | JEANS | BOOTS | NECKLACE
Did I mention I have a camel obsession at the moment? Oh yes, I did. About 50 times, haha 🙂 I just think a camel and white combination is a no-fail one for autumn/winter.
Hope you got a bit of inspiration from these looks today. Do you wear white jeans during winter? How do you style them?
YOU MIGHT ALSO LIKE:
LINK UP
Link up you own outfit for this What I Wore Wednesday. Make sure to follow along on Instagram or Pinterest and include a link back to my blog in your post.
Linking up with: StraightAStyle, RosyOutlook, PumpsAndPushups, JerseyGirlTexanHeart, ClaireJustine