This post may contain affiliate links, meaning I make a commission if you purchase through my links, at no extra cost to you. Disclosure here.
Wondering what's new in Primark for autumn winter 2021? I've got you covered with this Primark haul and shop with me for September and October 2021 in the UK.
I actually haven't been in Primark for quite a while. I was very excited to go this past weekend, because they also have the autumn collection in at the moment.
I'm just so excited for the sweaters, layering pieces and comfy cosy looks. I think September and October are my favorite months of the year, so I'm very excited for this season.
I'm just going to show you what I got from Primark recently for fall / autumn and a few outfit ideas that I put together with these pieces. 
Come say hi on Instagram if you need more outfit inspo.
What's New In Primark Autumn Winter 2021
I actually also filmed a come shopping with me in Primark, so if you want to see what's new in the shop and the whole range that they have at the moment, you can have a look at that video.
I'm currently building on my autumn winter wardrobe for the year, which includes these items from Primark. I also have a few bits from F&F Clothing from Tesco, which I think are really cute and I actually also have an H&M haul for autumn coming up very soon.
Wool Hat – Primark £9
The first thing that I picked up is the cutest little wool hat for only £9, which I think is a really great price for a hat like this.
SHOP THIS LOOK

I've seen these hats on other websites for a much higher price usually. 
I actually had a hat just like this in my H&M shopping cart and it went out of stock so fast that I didn't even get to buy it. So I instantly grabbed this one when I saw it in Primark. Plus it's actually cheaper as well.
It's a really nice ecru color, so just a very pale beige tone and it's got this little detail around the trim.
I actually have a wool hat like this from Primark from around 2 years ago, but in a brown shade. It's just a really nice accessory for tons of different outfits and such a lovely piece for autumn winter.
In the shop, they had it styled in the display with a checked coat and a cute little bag. I just loved that outfit and I actually already have a checked shacket from 2 years ago as well. And I wear it so much that I figured this hat would be a perfect addition to that outfit.
For £9 I feel like you can't get a better deal than that on a hat like this.
Burnt Orange Cardigan – Primark £13
I absolutely loved the color of this cardigan. I feel like it's such a nice shade for autumn, it's kind of that burnt orange, rust shade.
SHOP THIS LOOK

I got it in an XS size. I'm not usually an extra small, I'm more of a small, sometimes medium, depending on the shop.
But this cardigan is quite oversized overall, so I just got it in a size XS.
It's got lovely little pockets and the fabric is that chenille fabric. It feels very very soft and it's got a hood in the back, which I thought was quite cute.
It's quite a long cardigan, which is going to be really nice to go with leggings.
I just feel like cardigans like this for autumn are such a staple item, especially for me as a work from home mum. A lot of the time you will find me in leggings and cardigans type of outfits lounging around the home.
White Rib Knit Basic Top – Primark £6
I also got this little staple white rib knit basic top. I feel like this is such a good layering piece.
SHOP THIS LOOK

It's such a soft fabric as well. You know sometimes in Primark the fabric can feel not very nice, it kind of depends on the clothing item. But this one feels really nice and soft.
It's got a v-neck, I got it in a size small and it was £6.
This piece was from their basics collection. I feel like it is such a good layering piece, I actually kind of wish I got it in multiple colours because they did have these in multiple shades.
If I do end up going back to Primark while they still have these in, I might pick this top up in a few other colours.
It's just such a good item to wear with so many different outfits, for example just throw on a coat or a jacket on top of this and it's such a simple outfit for autumn winter.
Taupe Cross Body Bag – Primark £6
This is one of those little cross body bags. It's quite small, but I figured this would be really handy when I go somewhere without my toddler, where I don't need to carry a lot of things. 
SHOP THIS LOOK

Or if we're just going to the playground nearby and I don't need to take my full bag with me, I can just grab this one really quick and pop a few things in there.
I really liked the shade of it, as it goes really well with lots of autumn outfits. It's a taupe color, so obviously it's like a light brown with mauve tints.
This bag was £6 and it's super cute.
You can adjust the strap as well and I just thought this bag with the ecru hat that I previously mentioned and maybe a checked jacket or a coat – so so cute.
They had this bag in the display as well and I just really loved the way that it looked.
This is the layering outfit that I was talking about.
So I've got the hat on and then I've got this checked jacket which I think I've had for 2 years now. It's also from Primark. I will try to link some very similar ones here.
I've got the white rib knit top on and then I've also got these cream leggings from H&M.
I just really love an outfit like this, so autumnal.
Basic High Waist Black Leggings – Primark £4
I also picked up some leggings, just simple plain leggings from Primark – always such a bargain.
I just needed some more of these in my autumn wardrobe.
My current leggings are starting to break apart, because I just wore them so much.
I really needed to replace them and I got these in a size small for only £4.
These are high waist leggings, which I find really flattering especially if you're a mum like me.
Makeup Blender Sponges – Primark £1.50
I also really needed to replace my old makeup sponges, so I got a set of two blender sponges for £1.50 from Primark.
You can watch this video to see a try-on of all these items I'm sharing in this post:
As much as you clean these sponges, I feel like once in a while you do need to fully replace them because they get quite grubby.
So I purchased these again, because I like to use them for my foundation and also for my concealer too.
Gray Knit Cosy Jumper – F&F Clothing £18
These next two pieces of clothing! I was so excited about these. I actually got them from F&F clothing from Tesco. 
I went last week to do my Tesco top up food shop and I saw these items in the clothing section.
First thing I got was this gray jumper. 
SHOP THIS LOOK

It's an oversized jumper and it's just such a cute one. It's got a really lovely pattern on it, it's ripped and it was £18. 
The fabric is so nice and soft and I'm just so excited to wear this. I got the jumper in a size 8.
Such a lovely piece for autumn. I'm really excited to wear it.
I think this jumper is going to be my new jumper to just throw on with a pair of leggings and you're good to go.
It's quite long, so it does cover your bum if you want to wear it with leggings and it's just so lovely.
Cream Teddy Coat – F&F Clothing £19
I was so excited about this teddy coat.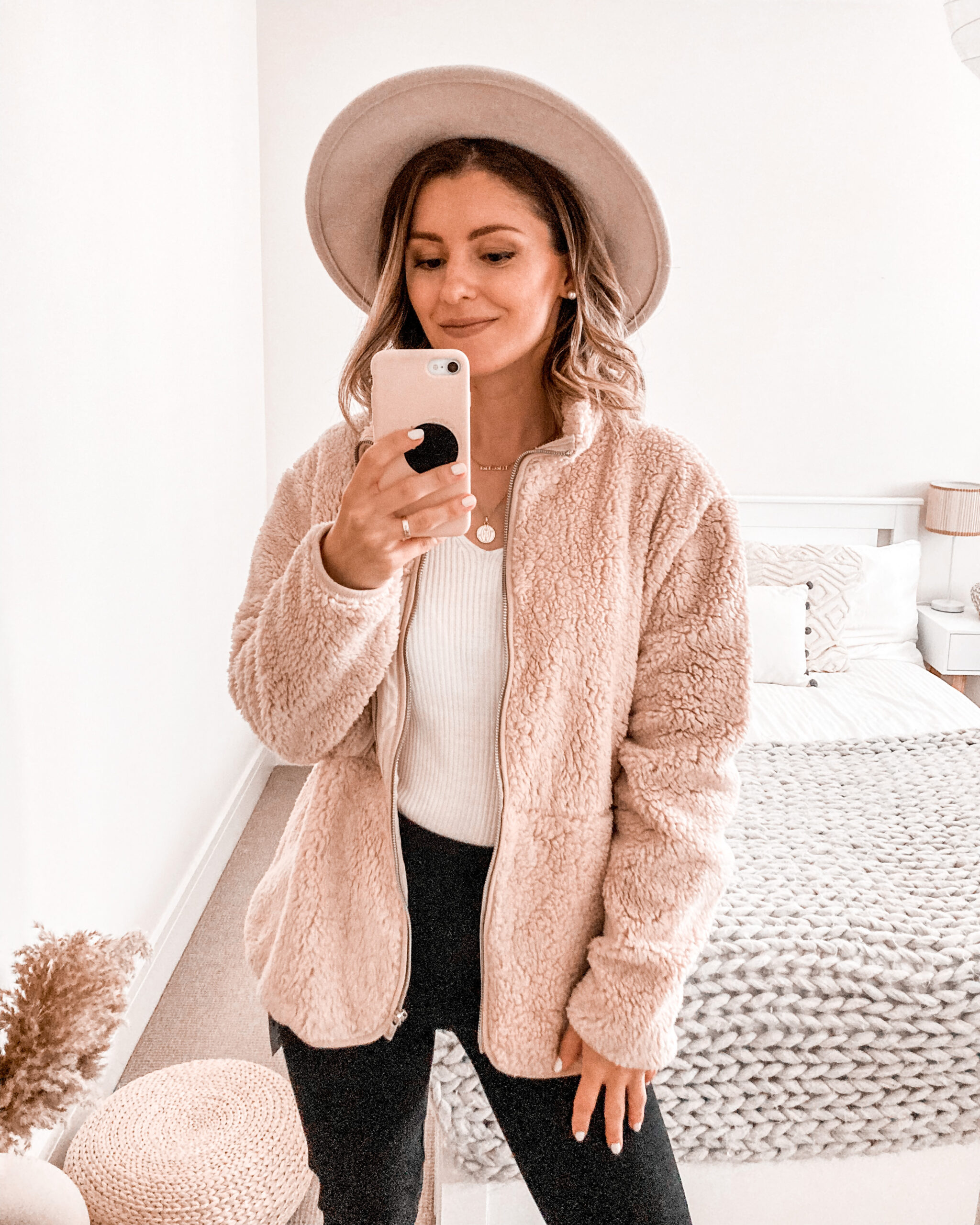 SHOP THIS LOOK

My toddler was with me when we were doing the food shop and he actually has this little teddy coat for autumn as well.
When he saw this, he went: "oh, mummy, that's a teddy coat just like mine".
So I just had to get it for that reason, haha!
It's not a super long coat, so it's just like a little jacket but it's a really cute one.
It's honestly the softest thing I own and such a lovely color as well.
That beige cream tone for autumn is absolutely dreamy to me. This one was £19 and I got it in a size 12 because I just wanted it to be oversized.
I like jackets and coats like this to be a bit oversized, because honestly they just keep you warmer and they're just more comfy.
I prefer things like this to not be super fitted on your body.
I'm so excited to wear this when it gets a bit colder outside.
That's my Primark haul for today. I hope you have enjoyed seeing what I picked up in Primark from the autumn winter collection for September and October 2021. Let me know in the comments below if you're a Primark fan too! 🙂 
Need more outfit ideas? Check out these outfit posts.