This post may contain affiliate links, meaning I make a commission if you purchase through my links, at no extra cost to you. Disclosure here.
In need of some Montessori activities for toddlers to do at home? Keep on reading!
---
We are all spending these days at home (for the most part). And, to be honest, constantly coming up with new activity ideas to do with kids can be overwhelming.
So I thought today I will share with you a few of our favourite activities these days. Some of these are Montessori activities and some have kept my toddler busy for hours.
For reference, my toddler is now almost 2 and a half, but I think most of these activities will be perfect even for slightly younger or slightly older children.
A lot of these activities can be done with things you already have around your home, but for some you might need a few props. I will try to link to products wherever I can.
RELATED: 50 Toddler Activity Ideas for Rainy Days
10 Montessori Activities For 2 Year Old Toddlers
1. Road Tape
I recently bought some road tape and created this super simple, yet effective activity. Before I found this road tape, I would use masking tape or any type of washi tape that I had on hand.
I stick the tape on a surface, whether that's my toddler's Ikea table or the floor. I get together some of his car toys and set it all up.
He has spent hours playing with this and we even use other props we have around, like this rainbow toy – perfect for making bridges.
You can also make props for this yourself (I do this too once in a while). If you have any cardboard, kitchen roll tube, small snack boxes – those will all work perfectly to create ramps, bridges, tunnels. It makes the activity much more fun.
2. Colander And Popsicle Sticks
This activity works really well for younger children too.
You need a colander and some colourful popsicle sticks or fuzzy straws (pipe cleaners).
What they will do is put the popsicle sticks or straws through the holes of the colander. It is a really lovely activity for them and it helps them work on their fine motor skills.
3. Bath Foam
All you're going to need for this activity: bubble bath product, a bowl and a hand mixer. Optional: you can also add food colouring to make colourful foam.
In a bowl, I add a bit of the bubble bath product, a bit of water and mix it with a hand mixer. It basically makes bubbles, but more dense – so it looks like foam.
It's perfect for playing with spoons and cups to transfer into. I usually put my toddler in the bath with this and he has lots of fun with it.
4. Sock Puppets
I bought some wiggly eyes a while ago and I thought this would be a really fun activity for my little one. I get the large wiggly eyes just because I think it's a bit safer at this age.
I stick two of them on a sock and that's it. You can create multiple sock puppets and play out little scenes. My toddler loved it!
5. Dirt Play
All you're going to need for this activity is some rolled oats. You can put the oats in any tray you might have and then add any accessories you have on hand.
I used some excavator toys, play eggs, spoons etc. It is a really fun activity and he spent quite a while on this one. It is messy play obviously, but a quick hoover afterwards will do the trick.
6. Invitation To Play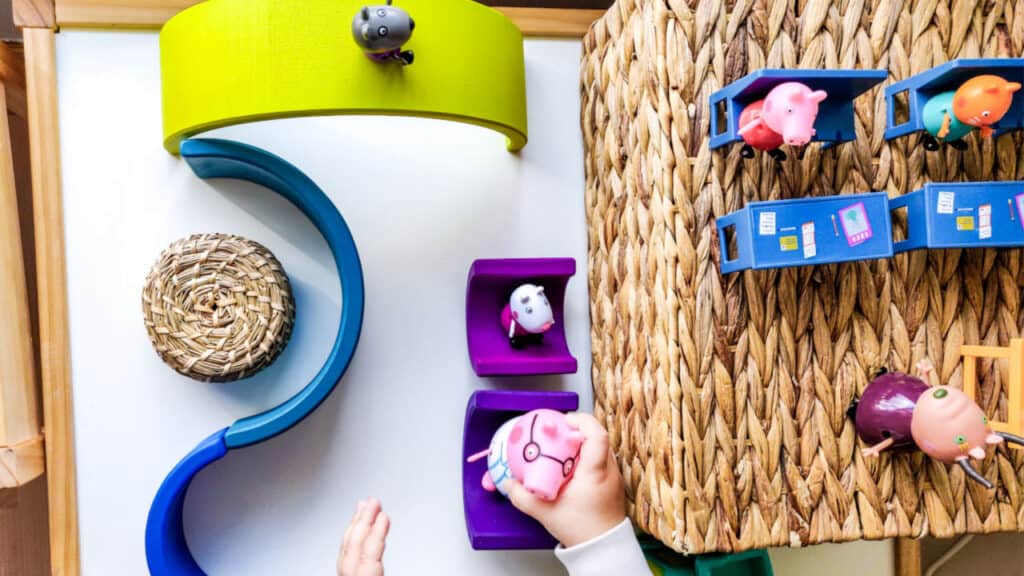 An invitation to play works really well for us. You basically set up a scene with a certain theme and do role-play with it.
Here I used a basket, some Peppa Pig figurines (the classroom and the family) and the rainbow toy to create the school and the playground. We had lots of fun playing with these.
What we also use a lot is animal figurines, like these farm animals or safari animals.
7. Sticking Shapes
For this one, I used a black marker to draw a bunny shape and then I cut up different shapes out of coloured paper. I gave him a glue stick and we had fun practicing colours, shapes and fine motor skills.
8. Pompoms And Cardboard Rolls
I have been keeping these kitchen roll cardboard tubes especially for activities like these. I used tape to stick them to the radiator (or a door) and gave my toddler some pompoms to put through. He had lots of fun with this one too.
9. Emotion Cards
I honestly did not expect this activity to be that much of a hit, but my toddler absolutely loved it. He has been practicing these everyday ever since I drew them.
I think he likes them so much because it helps him understand a bit better the emotions he goes through, especially at this age.
I just cut these up from coloured paper and drew with a marker some faces I thought he might be interested in.
Ever since we did this activity, he has started telling me a lot more often if he's hungry or tired when he wants to go to bed. And it often helps defuse a tantrum when I tell him, for example: "I see that you're angry right now". I think being able to visualize these makes them understand their own emotions a bit better.
10. Car Wash
I simply fill up the sink with water and some bubbles. Add tiny cars and some sponges or cloths. And he can have a go at doing a car wash. Or you can use any type of toys that don't get ruined it water. Super simple, but they love it.
---
I also created a YouTube video all about these activities if you want to see them live 🙂
I hope you found these activities (some of them Montessori inspired) helpful. I also have these 50 Toddler Activity Ideas for Rainy Days that you might like.