This post may contain affiliate links, meaning I make a commission if you purchase through my links, at no extra cost to you. Disclosure here.
I'm back today with another series of outfit ideas for autumn winter 2020. From checked shackets to cosy knitwear, I've got a few style ideas to share, as well as some bargains for Black Friday 2020.
Here in the UK we are currently in a second lockdown, so we are mostly staying at home. So mirror selfie outfit shots are here to stay (as they usually were on my blog anyway, haha). What is the situation like where you are? I hope you're all doing ok!
Let's get into the autumn outfit ideas for today!
ALL BLACK + CHECKED SHACKET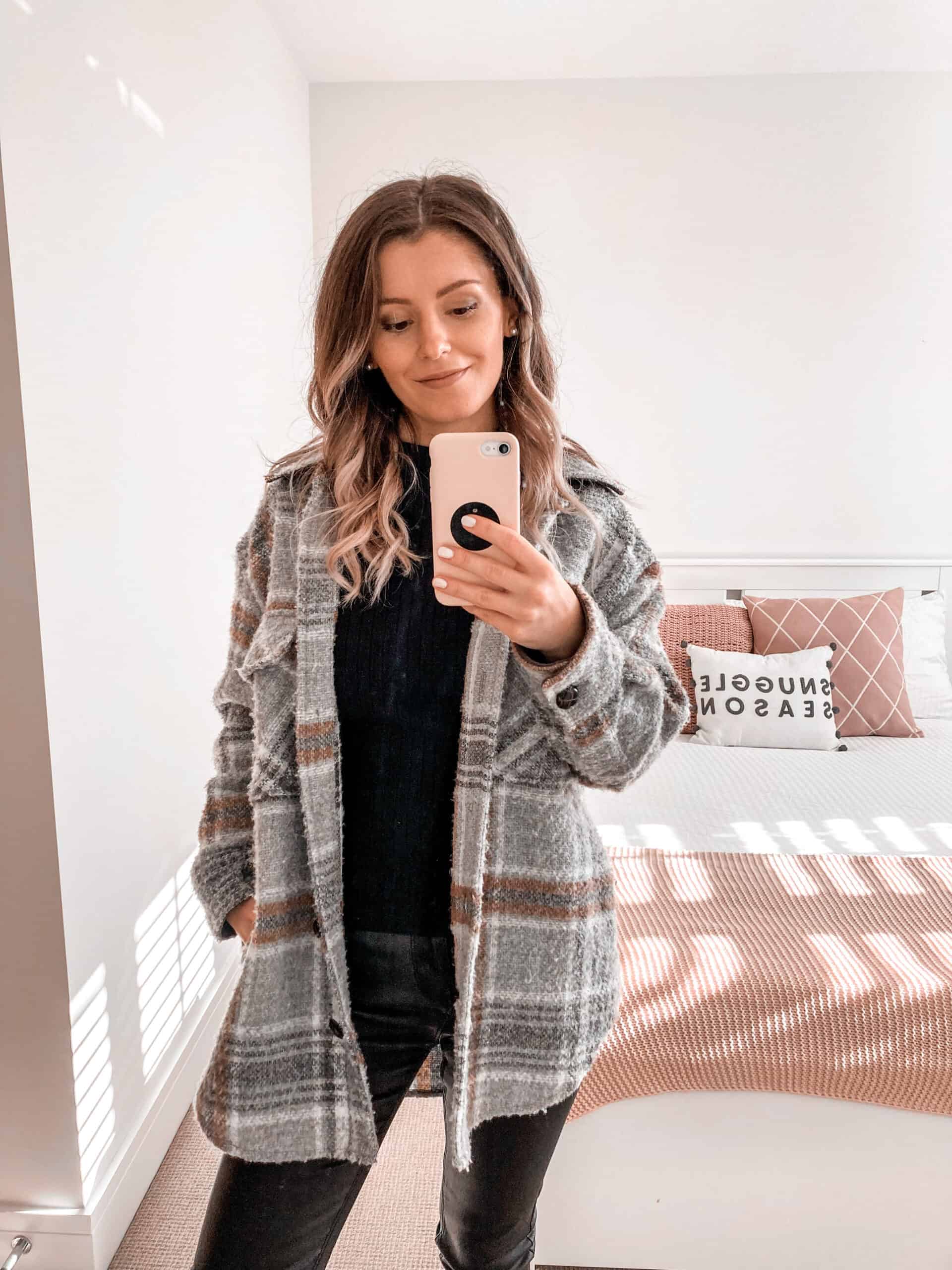 One of my most worn pieces this year (and last year) is definitely this checked shacket. It is a lovely autumn jacket, I absolutely love the grey-neutral colours and it goes with so many outfits. Especially if I'm wearing something very basic underneath, like this all-black combo that I've got going on here.
I've got on a high-neck ribbed black jumper and a pair of coated jeans (that basically look like faux leather trousers).
While it's still not super freezing outside, I love choosing a pair of trainers to go with outfits like this one.
TAN CHELSEA BOOTS + CAMEL COAT

My beloved oversized camel coat is out this year as well. I love wearing this and I think it makes an outfit look so classy, it looks like you've put on much more effort into your outfit than you actually have – haha!
Underneath the coat I've got on a cosy off-white jumper and a pair of high waist skinny jeans. I've rolled the bottom of the jeans as I think it looks nicer with this outfit.
I recently bought these tan Chelsea boots and I'm loving them. I used to have a very similar pair that I've worn for years (but they were falling apart). So this year I decided to treat myself to a new pair from Deichmann as the previous ones have lasted so well. These ankle boots are now on massive Black Friday sale and such a bargain.
CREAM FAUX FUR VEST

I love wearing a faux fur gilet over a cosy knit sweater on days when it's not actually freezing outside. They feel like you're wrapped around in a cosy blanket even when you're out and about. I paired this outfit with my trusty high waist jeans and a pair of nude cream ankle boots.
GREY HOODIE + FAUX LEATHER TROUSERS

This grey hoodie is also on my top most worn items this season (as well as last year when I bought it). It's so easy to style and it's got that comfy-chic vibe that is really in this season too. For this outfit, I paired it with my faux leather trousers and my black trainers. Such an easy outfit to wear on the school run.
Faux Fur Gilet

This is another faux fur vest that I've owned for years and still love (I linked a similar one, as I got mine years ago from Bershka). So easy to throw over an oversized jumper, with a pair of classic jeans and my new tan ankle boots.
---
I hope you enjoyed today's post and maybe got a bit of outfit inspo from it. These 5 autumn outfit ideas are definitely some of my most worn ones. What's your most worn item of clothing this season? I'd love to know in the comments!
RELATED: October's Fall Outfits 2020