This post may contain affiliate links, meaning I make a commission if you purchase through my links, at no extra cost to you. Disclosure here.
Autumn is truly upon us! And what an exciting season it is, especially in terms of fashion. So I thought today I would share with you some fall outfits for 2020, to hopefully give you some autumn style inspo.
I am always more drawn to neutral shades in my wardrobe, but I feel like autumn is the season where neutrals rule the world in my case, haha.
So if you're into camel tones, greys, monochrome, browns etc. – you will love this post!
Need more ideas for 2021?
Let's dive into the fall outfit ideas I have for you!
Psst. I have loads more outfit ideas over on Instagram.
The Checked Shacket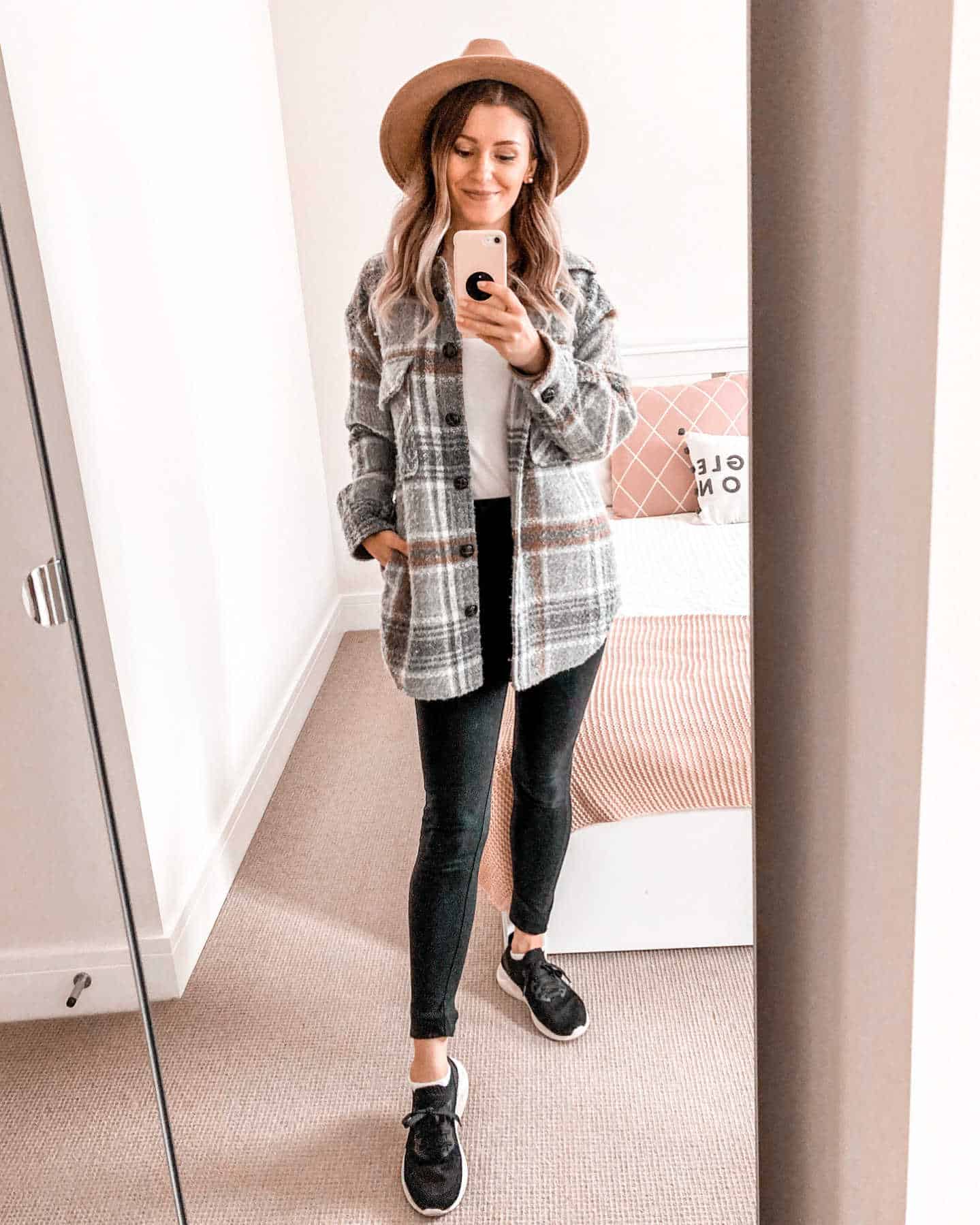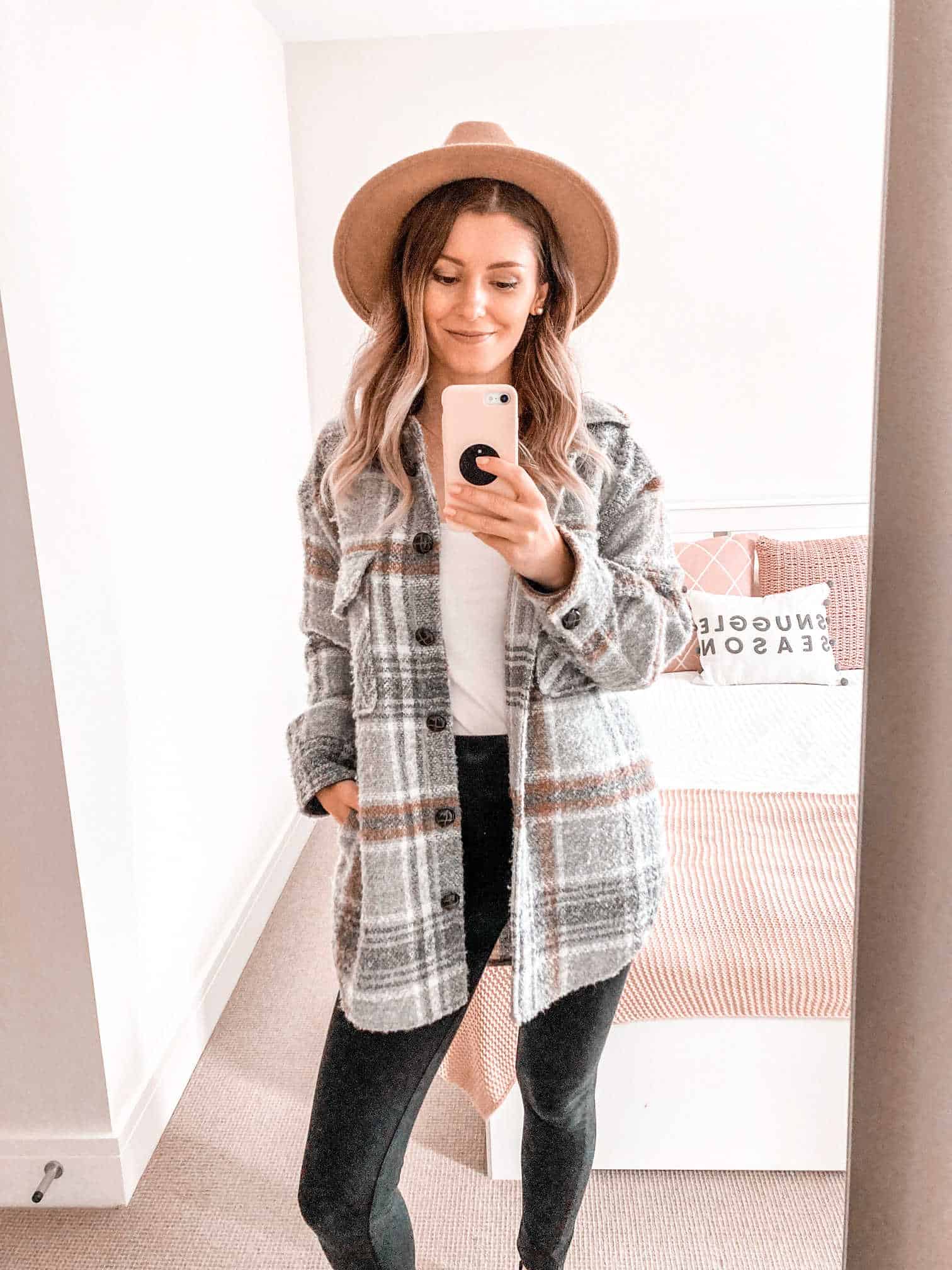 SHOP THE LOOK

A checked shacket had been on my list of items I wanted for my autumn wardrobe for so long. Last year I finally found this gorgeous one from Primark and I still wear it a lot.
Fear not, I have some very similar alternatives for you above, if you've been looking for one yourself too.
It's a perfect combo between a light shirt and a jacket, keeping you cosy during fall. I love wearing it with leggings and a simple top, along with my trusty trainers.
I also have a few more ideas on how to style a checked jacket for fall here if you need more inspo.
The Knit Co-Ord
SHOP THE LOOK

This grey co-ord is such an easy outfit to put together, it is so super comfy and it actually looks like you've put in a lot more effort than you actually have.
I love ribbed fabrics, especially for the autumn/winter season.
The skirt is a bit high waisted, which is very flattering in my opinion. And the cardigan is slightly cropped, so these two look great together.
Statement buttons are still very much on trend and I do think they make an outfit pop a bit more.
I usually pair this outfit with trainers or ankle boots, and depending on the weather I might add some tights to keep me warm.
For accessories, I went with a lovely layered necklace and my favourite pearl earrings.
The Ribbed Dress
SHOP THE LOOK

This cream ribbed dress was actually a spring/summer purchase, but I find that it is a perfect transition piece for autumn as well.
It is quite long and it is sleeveless, so you do need a cardigan to keep you warm. I paired it with this off-white statement buttoned cardigan. It is a bit oversized and I love how these two look together.
The Gingham Dress
SHOP THE LOOK

This gingham dress is also a usual summer piece in my wardrobe, but I kept it out for autumn as a transition piece.
Again, I paired it with the same chunky cardigan – I just love it so much. Added my layered necklace and I also popped on this brown hat that I love for fall.
I will definitely need tights with this outfit though, as the dress is quite thin and would definitely freeze my bum off otherwise – haha.
The Faux Leather Trousers
SHOP THE LOOK

A simple white knit sweater is an essential in any wardrobe, isn't it? I love mine with a pair of faux leather trousers. Love the look of leather and cozy knitwear together.
These trousers are actually coated jeans, which are quite comfy to wear and are just a bit more special than regular jeans. I have linked them in the SHOP THE LOOK box above.
Another piece in my wardrobe that I am obsessed with are these leopard print ankle boots. I love them for spicing up an otherwise simple outfit. They go wonderfully with a monochrome outfit or just a neutral one.
The Paper Bag Trousers
SHOP THE LOOK

I find paper bag trousers to be so comfortable to wear and they look lovely with a tight top tucked in. Here I'm just wearing a basic white tank top.
I've thrown a cardigan on top to keep me warm and give more texture to the outfit.
---
Those are my fall outfits for today. I hope you enjoyed this autumn fashion inspo!
What do you love to wear in autumn? Is it neutrals or bold colours? 🙂