This post may contain affiliate links, meaning I make a commission if you purchase through my links, at no extra cost to you. Disclosure here.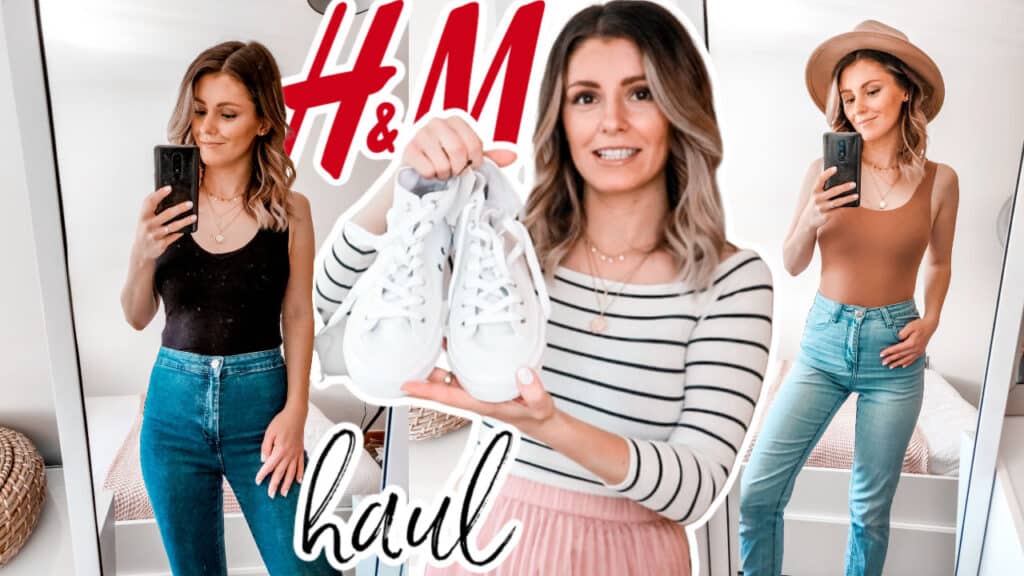 Hello, everybody! I've got a new H&M haul of spring and summer clothing for you today.
Summer has pretty much arrived here in London, we've had some beautiful sunny days lately. So I wanted to add a few basic bits to my wardrobe.
I was mainly on the H&M website to browse for summer clothing for my toddler, as he was in desperate need of some new t-shirts and shorts.
So while I was at it, I decided to treat myself to a few bits as well. I really miss going into the shops to browse around, but for now online shopping will have to do.
Do you find you've been online shopping more during these times too?
A few basics caught my eye and I just noticed that all the beautiful summer dresses are now in as well, so I might have to go have a look again soon, haha 🙂
A few weeks ago I also got a few lovely summer outfits and loungewear from Boohoo, which you can see here for more outfit inspo.
H&M Haul Summer Outfits
Pink Pleated Skirt

This pink pleated skirt is my new love. The blush pink shade is just beautiful, I love the pleated fabric because it's a bit more easy maintenance, haha.
It is a midi length on me, but I am on the shorter side. If you're taller, the skirt will obviously come higher.
I got mine in a size S and it is true to size. However, it has an elasticated waist, so I think it is a bit more flexible in terms of fit.
I love pairing the skirt with a plain top, for example a white bodysuit or a black bodysuit. Or in this outfit I've paired it with a striped bardot style top. I think it is quite versatile.
If you want a bit more of an edgy look, I would style the skirt with an oversized sweatshirt or jumper and a pair of white converse-style trainers.
Black Bodysuit and Jeans

One other thing I've been really loving lately is a nice bodysuit.
I think bodysuits are great staples in your wardrobe and I've started getting them in a few colours, especially basic ones (white, black, tan, grey).
They are great layering pieces for fall/winter and really good items for spring/summer too. They go nicely with any type of bottoms: skirts, shorts, jeans etc.
I love this black bodysuit that I found on H&M. It's a ribbed fabric and it's got a V-neck, which I think is really flattering.
For this outfit, I paired it some high-waist jeans and a pair of white converse-style trainers.
I love casual outfits like this, perfect mom style for me as I can easily run around after my toddler in this, haha 🙂
Tan Bodysuit

I wanted to add a tan coloured bodysuit to my wardrobe as well and this seamless one from H&M is so lovely.
It's a great colour for summer I think, it will go great with lots of neutrals.
I would pair it with regular jeans, white jeans, oversized joggers, neutral shorts. It would go great with so many outfits.
For this outfit I also went for golden jewelry, which is my favourite look at the moment.
If you want to see a try-on of these outfits and what they look like on, here's a video haul:
Which outfit was your favourite? I would love to know.
Linking up with: StraightAStyle, RosyOutlook, JerseyGirlTexanHeart, Style Six