This post may contain affiliate links, meaning I make a commission if you purchase through my links, at no extra cost to you. Disclosure here.
Hello, fellow bloggers or vloggers. Today I am sharing with you another post in the Mommy Vlogger Tips series. Not too long ago, I also posted about Vlogger Hacks that I think you need to know if you're trying to grow your YouTube channel. And I thought sharing how to film Youtube videos would be a helpful one to go next in the series.
Today's post is all about how I film my videos, how I set everything up, what camera I use and also what I use for lighting. I recently purchased a ring light that I am in love with. If you're a YouTube creator or photographer as well, make sure to give this a read/watch:
1. Background
Simple, plain, uncluttered, white, basic – just a few words to describe my background (most of the time, unless there are my toddler's toys around). You obviously do not need to have a white background, but I think what is really important is to keep it a bit minimal and uncluttered. Otherwise, that will take focus away and it will make it harder for the viewers to focus on the content. What I currently use most of the time is my dressing table with a few trinkets on top, which I think make for a nice background.
2. Camera
My camera of choice at the moment is the Canon EOS M10. It supports Full HD video, which means the quality is quite good. It performs decent in low light settings as well. AND the best part (that I think is mandatory for vlogging) is that it has a flip screen. In my book, that's a definite must because it makes it easier for you to vlog and see what you're recording. That way you can make sure you're in frame or in focus.
3. Lighting
I used to use natural light for my videos, which is perfectly fine, but a little bit limiting. Since I am a mom, that meant I could only film at noon during my toddler's nap time. However, with a ring light or soft light you can also film in the evenings, so it offers a bit more flexibility. That is the reason why I decided to invest in a ring light this year.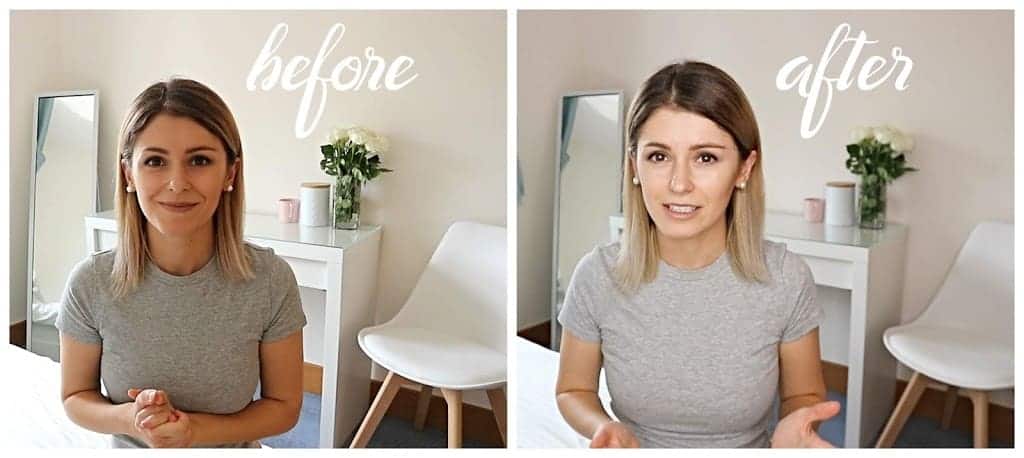 The one I picked is the 18″ Neewer Ring Light which is so popular on Amazon at the moment. It truly works well in lighting up your videos and making the subject more clear on camera. You can see a comparison between a shot with the ring light and one without the ring light in the video here. I think it's quite obvious how well it works and I'm loving it so far.
Want to save this post for later? PIN IT here:
I hope you found these bits of information useful if you are a creator yourself. Have a wonderful, creative day!