This post may contain affiliate links, meaning I make a commission if you purchase through my links, at no extra cost to you. Disclosure here.
Lightroom presets are everywhere these days.
They help you achieve a beautiful and cohesive Instagram feed, which is what we all want when we're trying to grow our Insta accounts.
Today I'm sharing the easiest way you can install these presets, so that you can start using them today.
This is a step by step guide, super easy to follow – especially for beginners.
With image instructions to help you out.
Let's do this!
If you are new around here, I have created 4 free presets that I'm sharing here on my blog.
So if you wanted to give your Instagram feed a makeover completely free, you can get my presets here:
I now also have over 15 sets of presets that I think you will love.
STEP BY STEP GUIDE TO INSTALL LIGHTROOM PRESETS
1. Download the preset on your phone. It will usually be a .dng file.
2. Open the Lightroom Mobile app.
3. Tap the photo button at the bottom right corner to open up a new photo.
4. Choose the .dng file that you have downloaded.
5. Once that photo is imported, tap on it and then the three dots on the top right corner of your screen (pictured below).
6. Choose Create Preset.
7. Title this preset with whatever you prefer.
8. Hit the check symbol to save the preset.
9. All done! Now you will find this preset when you go into the User Presets in your app.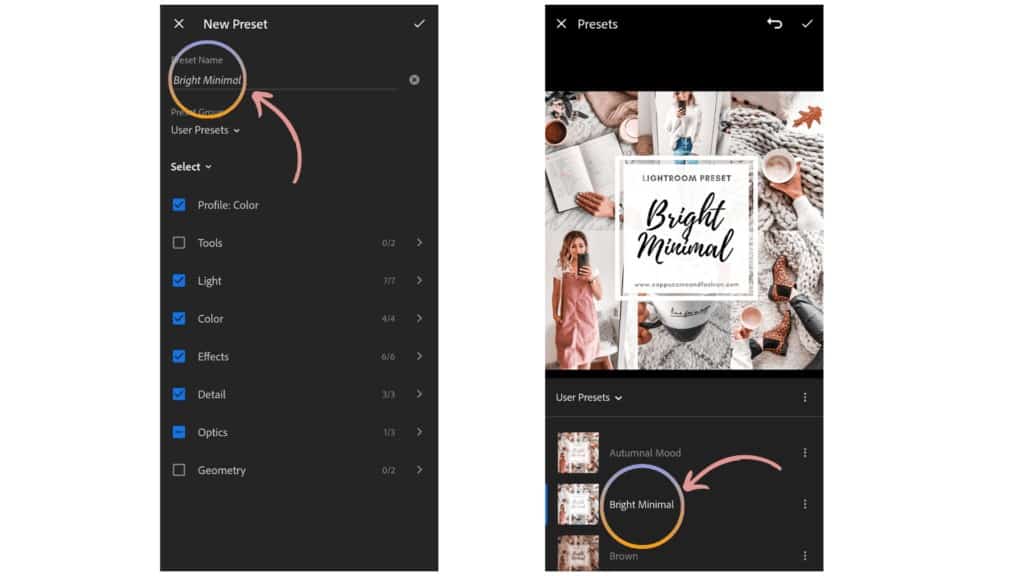 If you struggle with any of this, do feel free to let me know and maybe I can help out.
I also have my own Bright Minimal Lightroom preset that you can download for FREE.
It is a beautiful one that will make your photos bright and airy for an awesome Instagram aesthetic.
It works perfectly for portraits, flatlays, urban scenery, travel photos and more.
You can download it here.
If you use this preset, don't forget to tag me (@madeline1f) in your photos so that I can check out your beautiful insta feeds.
You might want to give these a read as well: