This post may contain affiliate links, meaning I make a commission if you purchase through my links, at no extra cost to you. Disclosure here.
When you're just starting out blogging, all of these technical terms can seem so daunting and difficult to figure out. Today we're talking SEO for beginners.
I've got a super easy SEO blog post checklist that you can go back to every time you publish a new post.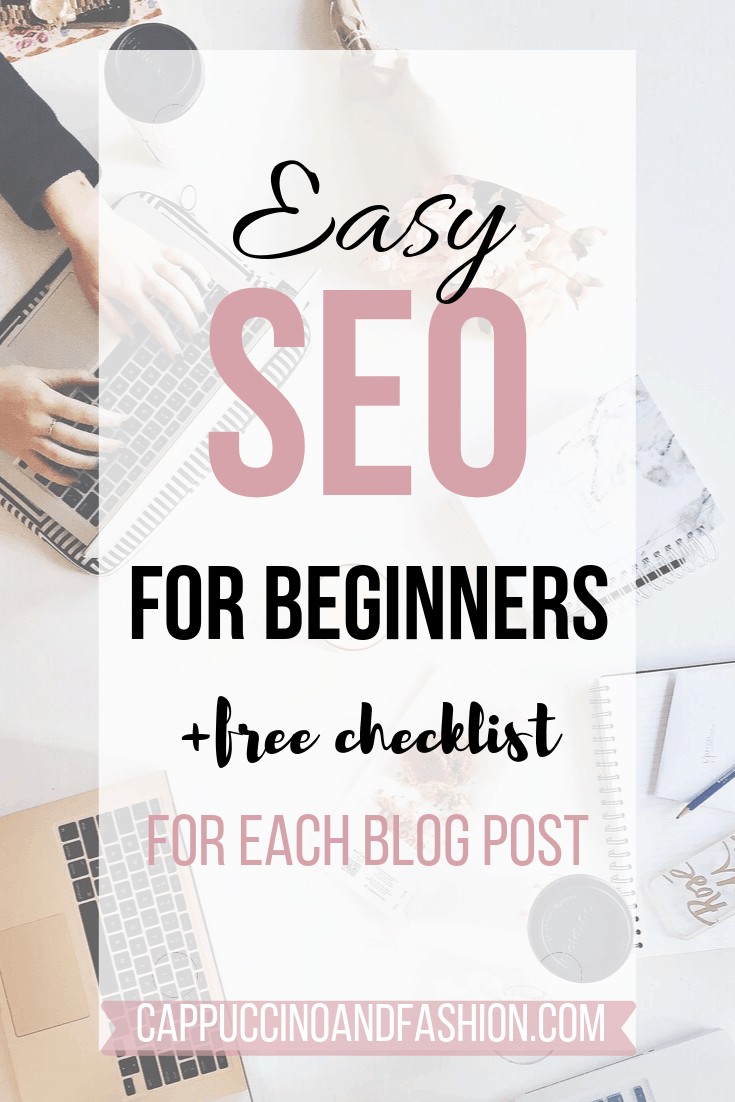 If you have a blog you've probably heard about this SEO thing that everyone seems to think is super important.
Well, guess what. It actually IS super important.
Ready to start your own blog? I use and recommend Bluehost for your blog. If you have no idea where to begin, use my free ultimate guide on how to start a blog and make money blogging.
If you're anything like me in the beginning, you probably think it's not such a big deal if you pay attention to SEO or not. But IT IS if you want to get more traffic to your blog, gain a larger audience and eventually make more money blogging.
Let's break it down into easy steps that you can start following today to increase your chances of showing up high in a Google search.
Find a long tail keyword you want to use
A longtail keyword is basically a keyphrase containing 3-4 words. Keep it simple, to the point and make it true to what the post is about. Two easy and free ways to find good keyphrases for your posts are: Ubersuggest and Google Keyword Planner.
What you want to aim for when looking on Ubersuggest is for a keyword phrase that has 3-4 words, with around 1000 (or more) searches and an easy SEO difficulty. That's the sweet spot to aim for, give or take. Here is what the keyword I used today looks like:
You can also perform a search for your keyword in the Google Keyword Planner to see if people are actually searching for that term. You don't want to write a full comprehensive post about something no one's going to look for.
Include keyword in title
Now that you've got your keyphrase, you're going to include that in every little corner of your post. Almost. One place you need to include it is your title. You should also make sure it's towards the beginning part of the title, so that it shows up in search.
Include keyword in first (and maybe last) paragraph
Your keyword should also appear a couple of times in the actual blog post. A good place to include it is in the first paragraph, where you're announcing what the post is about. You can also include it in the last paragraph as a conclusion.
Edit your permalink to include the keyword
The permalink is the part of your blog post URL that comes after your blog's name. That is usually tailored after your title, but you can edit it yourself to make sure you include the keywords in there. For example, if you look at this post's URL, the permalink is: seo-for-beginners-easy-seo-checklist.
How to write a good meta-description
A meta-description is the short description part that appears in Google search under your post title. You want to make sure it is catchy, it includes the keyword and it is no longer than 155 characters. You can edit this easily in WordPress or you can use a free plugin like Yoast to edit the meta-description.
Image SEO
Your images are very important for SEO as well. Two things to keep in mind here.
Go in the folder where you keep the images and edit their name to something descriptive of the image. The format of the photo name should be something like: include-image-description-here.jpg.
After uploading them to your post, you can edit their alt text. You should use this in order to help Google know what the picture contains. Describe exactly what is in the picture briefly. You can use your keywords in a few of the images in your post, but you shouldn't use them in every single photo. It's against best SEO practices from what I've learned.
Include an internal link and an external link
This is a great opportunity to promote your other posts and keep your audience engaged on your website. Add an internal link to another post or page on your blog where it is appropriate. For example, I can say here: If you find this SEO post helpful, I have some other blogging tips you might like to read. That's an internal link.
An external link is a link to another website.
Use headers to make the post readable
Readability is another big SEO thing. Why? Because the longer a person is on your page reading, the better it looks for Google. It means your post is well written, easy to follow and helpful in one way or another.
One easy way you can make sure your post readable is to add headings or subheadings. They break up a big block of text and make the content easily digestible for your readers.
Use YOAST free plugin
One plugin I found the most helpful for SEO is the free Yoast one. You can download it in WordPress and it will literally tick the SEO boxes for you. You can follow their tips to improve your post easily.
I truly hope you found this SEO for beginners post helpful.
How long have you had your blog for? Do you use any SEO tips on your blog yet or are you starting out now?