This post may contain affiliate links, meaning I make a commission if you purchase through my links, at no extra cost to you. Disclosure here.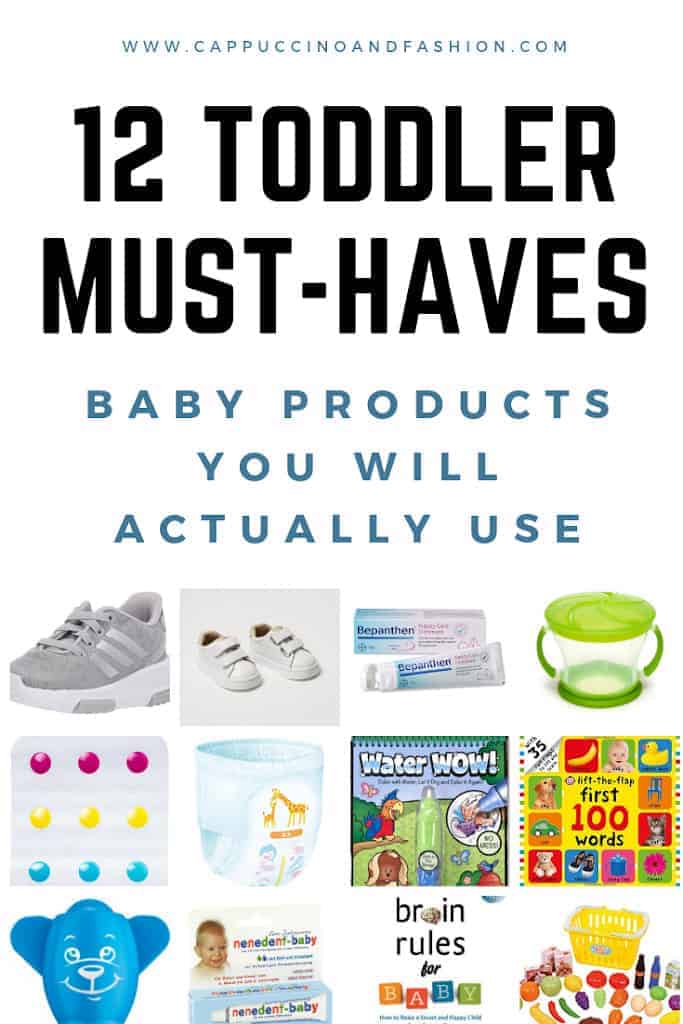 There are so many products for babies and toddlers on the market at the moment that it's hard to know which ones are worth spending your money on. I want to share with you today my toddler must have products that I've used a lot and that my toddler also loves.
These are products that are mostly suitable for the 12-18 month old age.
I also wrote a post all about toddler must have products for 2 year olds.
Here are the products that I think are the best for us (and might be for you too):
1. Water colouring books.
These are magical and awesome! Why? Because they are mess free – woohoo! That's probably one of the loveliest phrases to hear when you're a mom, haha! These come with a pen that you fill with water and your little one can easily paint with it. It doesn't spill and once the paper dries up, it can be used again. You can basically use this colouring book forever. The pictures on these are really lovely. We have the Farm Animals one, the Safari one and a small pack of flashcards for on-the-go.
2. Flashcards / First word books
Toddlers respond really well to flashcards because they are a quick and snappy activity that catches their interest, so they are more likely to learn from it. We have a set with animals and another one with objects around the house (both with realistic pictures). The way you use them is you pull 4-5 flashcards and say each object/animal on it while showing it to your toddler. Then you can lay the cards down and ask your toddler questions to encourage them to interact and respond. You can ask them to point a certain object, for example. They will learn so fast from these! You can also use First Words Books for this. My toddler loves this one.
3. Brain Rules for Baby
The Brain Rules for Baby book is all about how a baby's brain works, what you can do to help them achieve their maximum potential, the 4 types of parenting and which one is the best one, how to help toddlers to start talking more. It also talks about how empathy and validating a child's feelings will help in tantrum situations and will give your child a boost in self esteem and confidence in the future. It's an all around amazing book and I've gotten a lot of great tips from it, so I'm recommending it to any parent out there.
4. Diaper Pull Up Pants
Fact: Toddlers are wild! Changing their diaper can be challenging most times, so these make life so much easier. If you haven't transitioned to pull up diaper pants, I would highly recommend it because they are so much quicker to change when you've got a mobile toddler you're running around after.
5. Velcro or No-tie shoes
Sticking with the "toddlers are wild" theme, putting on shoes when you've got a toddler who's overly excited to get outside can be a bit of a task. Make your life easier by getting shoes with no laces, as these go on so much faster. We have these velcro ones, but my absolute favourite are these Adidas no-tie shoes (they're like slip-on trainers).
6. Non-slip Bath Mat
Must have for bath time, in my opinion. We have a non-slip bath mat from Munchkin that is awesome. It sticks really well, it doesn't budge an inch and it helps avoid any bath time slipping. This one has coloured dots on it and we actually also use it as a learning activity. While he takes his bath, I will ask him to point out colours for me and it's been a really fun activity for him to practice his colours.
7. Baby Toothpaste
My toddler doesn't like when his toothpaste is too minty or flavourful, since it's probably too overwhelming for him. So I picked up this Nenedent neutral-taste toothpaste from the pharmacy and he prefers it so much more.
8. Baby markers
Using baby markers on paper is such a fun activity for toddlers. The reason why I like these ones in particular is because they are super-washable – they come out of clothes or surfaces quite easily and don't stain. The only thing is I have to supervise my toddler at all times with these, because sometimes he still wants to put these in his mouth.
9. Shopping Basket Toy
My toddler loves doing anything that I do, so pretend shopping is definitely one of his favourites at the moment. We got this toy shopping basket and he loves putting them in the basket, pouring the food bits in a pot or pan etc. It's a very fun activity for him.
10. Snack cup
Keep a snack cup in your bag at all times – it will save your sanity, haha! I have a small container that I used to use for his baby food, but now I just put baby-cheerios (they're actually called Alpha Bites) in there or any type of snacks that I want to take with me. They won't spill everywhere and these will keep your toddler entertained while you finish your grocery shopping for the week, for example.
11. Bepanthen
This diaper rash cream is the best one we've tried. I know babies are different and not everyone reacts the same to products, but this is definitely our favourite and it clears any irritation in no-time.
12. Toddler Baby Carrier
I don't use this toddler baby carrier as much as I used to when he was smaller, obviously. BUT sometimes it's a life-saver when your toddler gets tired at the park, but doesn't want to sit in the stroller. Having a baby carrier with you will save your arms and back, since it's so much more comfortable to wear them than to carry them in your arms.
RELATED: Toddler Must Have Products for 2 Year Olds
I also made a video all about these, if you want to check it out:
That concludes my toddler must have products. What's your favourite toddler product at the moment?