This post may contain affiliate links, meaning I make a commission if you purchase through my links, at no extra cost to you. Disclosure here.
There are many baby and toddler products out on the market these days, it's hard to know what's worth buying and what's not. Today I thought I would share our toddler must have products that we use a lot and that were a big hit with my 2 year old.
I shared a while ago our toddler must haves for 12-18 months old and a lot of you found it helpful, so this is an update for older children.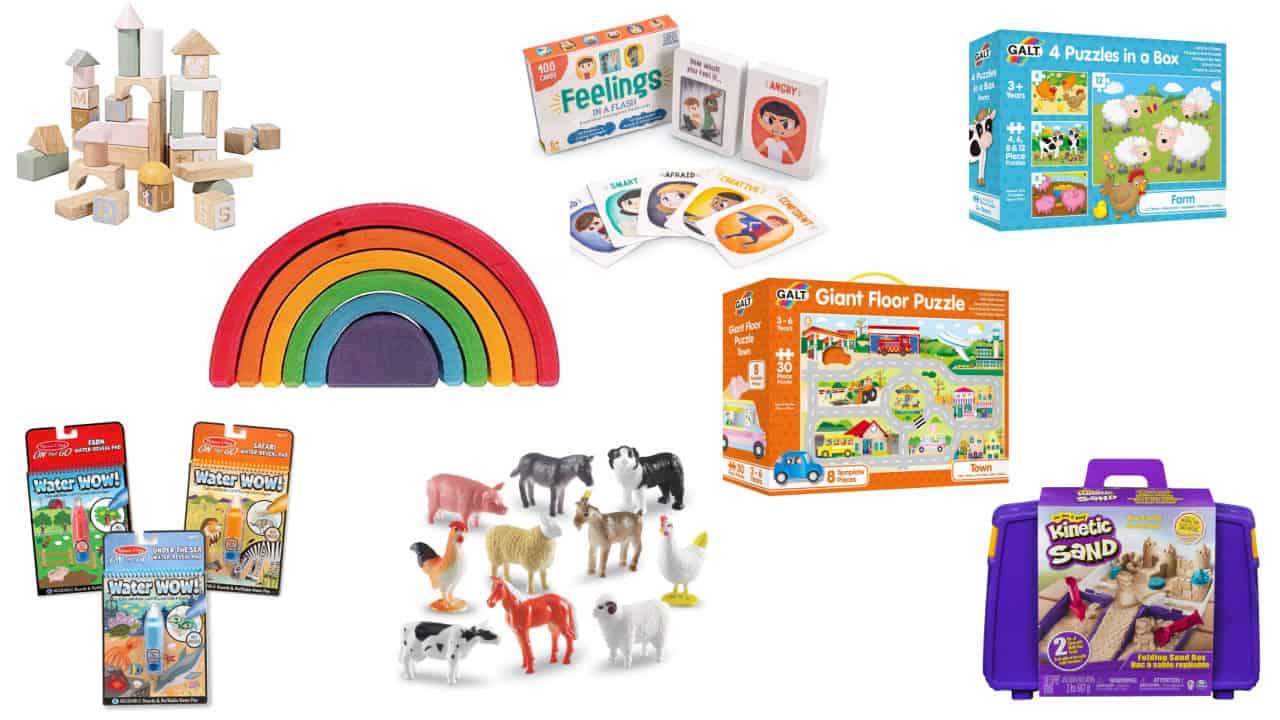 Also, if you're looking for activity ideas to keep little ones entertained, I have shared a graphic of 50 toddler activity ideas here and 10 Montessori toddler activities you can easily do at home.
Let's get into the 2 year old must haves!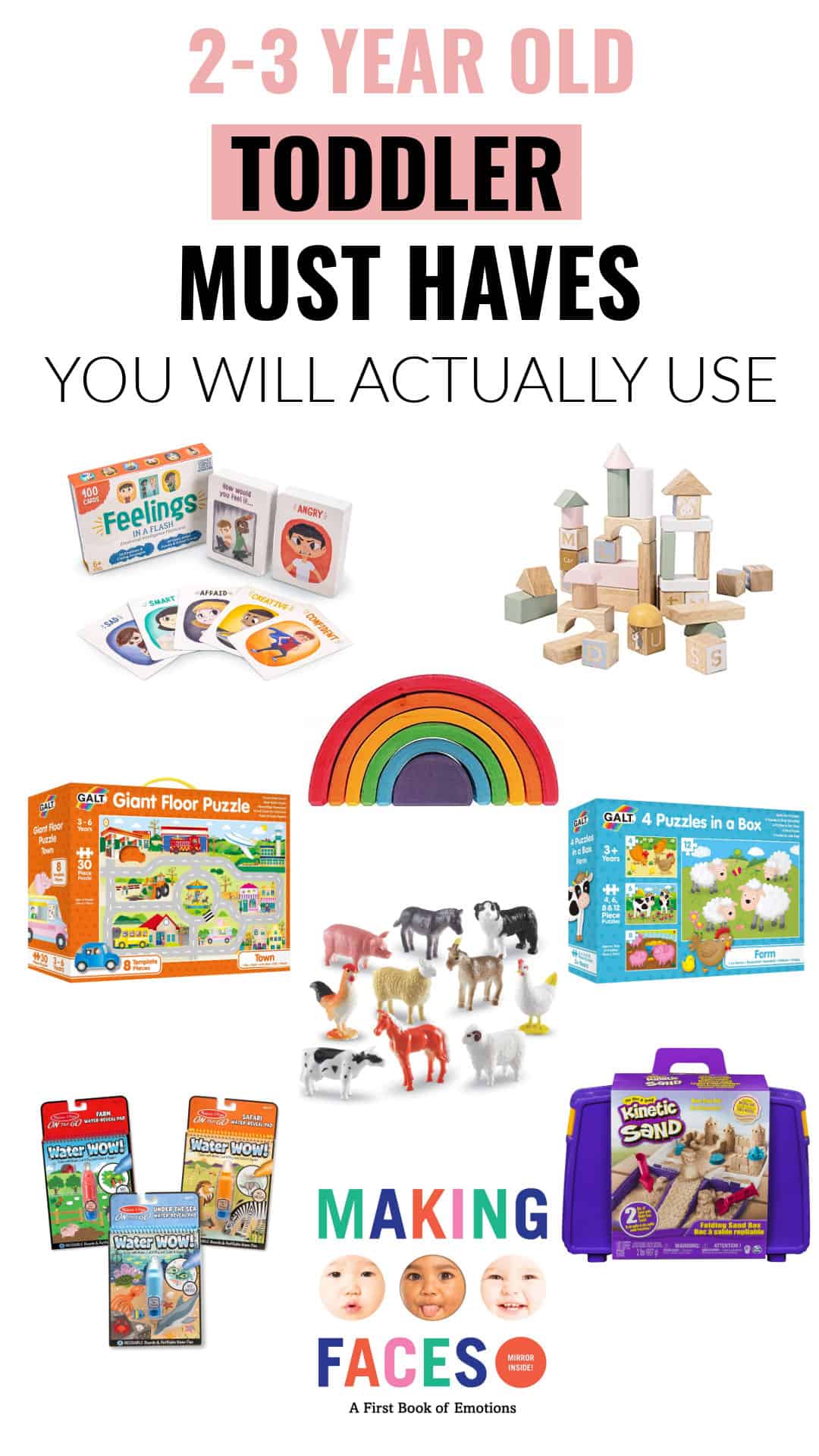 Toddler Must Have Products For 2 Year Olds
1. Emotions Books
One of the best activities to do with a toddler are emotion cards or books. We all know about the terrible twos, but they can be less "terrible" if we help toddlers understand what it is they are feeling and how to better express those feelings.
Sometimes simply naming how they're feeling helps diffuse a tantrum.
My toddler absolutely loves playing with emotions flashcards. I drew a few emotion flashcards myself (sad, angry, excited etc.) on coloured paper, but you can also buy ready-made feelings flashcards or books.
SHOP THIS POST

2. Puzzles
Puzzles are amazing for fine motor skills, as well as problem solving.
We started with those basic wooden puzzles when my toddler was much younger (1 year old), but we've now moved on to proper puzzles and he spends so long making them and really enjoys it.
We love these ones with: vehicles, dinosaurs, farm animals and this big floor roads puzzle.
SHOP THIS POST

3. Rainbow Toy
A rainbow wooden stacking toy is one of the best toys I have bought for my toddler. It is very versatile and a great open ended toy that they can play with in multiple ways.
My toddler loves to create bridges and tunnels for his toy cars, create circles or stack them one on top of each other. These are brilliant and I would highly recommend them!
The original Grimm one is very popular, but there are lots of other options as well, such as this rainbow or this one.
SHOP THIS POST

4. Chopping Wooden Vegetables
Toddlers are always keen to be involved in any activity that moms do around the home, cooking included. My toddler loved when we got him a set of wooden vegetables that he can practice cutting on.
You can get such a wide variety of fruits and vegetables, such as this one, this one or this one.
SHOP THIS POST

5. Safari Animals
We have a set of safari animals and a set of farm animals and they are great for lots of activities. You can do pretend play, create invitations to play with them or you can ask your toddler to match them to flashcards of animals.
All great activities to encourage talking and learning about animals.
SHOP THIS POST

6. Kinetic Sand
I actually like kinetic sand more than play doh because it doesn't dry up. It's so great for creating shapes, building sand castles or just having sensory play. My toddler absolutely loves it.
SHOP THIS POST

7. Building Blocks
Another great open ended toy: building blocks. Whether they're wooden ones or larger lego style blocks – these are great for using imagination to build anything they want.
SHOP THIS POST

8. Play Kitchen
My toddler's play kitchen has been thoroughly used and played with because, again, toddlers love to imitate anything you do around the house.
Our play kitchen is the ever so famous IKEA Duktig one. He loves pretend play with his set of pots and pans.
Sometimes I will put things like cheerios or puffs in his pans and he has a blast pretending to cook them on the stove. He also practices transfering them from one pot to the other. It's such a great activity for them.
SHOP THIS POST

9. Table And Chairs
A set of appropriate sized table and chairs is such a great item to have in your home if you have a toddler. They love to have their own space and it's great to use for crafts or have a surface for various activities.
Ours is this very basic table and chairs set from IKEA.

10. Colouring Book + Markers
A good old classic colouring book, along with some washable markers – my toddler loves it. I have also mentioned before the Water magic colouring books, which are brilliant too because they are completely mess free.
SHOP THIS POST

---
Those are my toddler must haves products for a 2 year old.
What about you? Have you found any great products or toys that your toddler loves?