This post may contain affiliate links, meaning I make a commission if you purchase through my links, at no extra cost to you. Disclosure here.
Today I'm sharing my DIY master bedroom makeover ideas on a budget.
I don't know about you, but once in a while I get the urge to revamp the space around me. Or perhaps it's the year we've had and the fact that we're all spending much more time at home.
We moved into this house more than 6 months ago and our bedroom was still looking very plain. Not much decorating went into it so far.
So I wanted to change that. Without breaking the bank.
I hope you find some home inspiration from this post. As well as some budget-friendly ideas to redecorate any room.
The aesthetic that I went for is very neutral boho and minimalist. I love the scandi boho trend and I wanted to incorporate bits like: rattan, hyacinth baskets, cosy throws, pampas etc.
SHOP THIS POST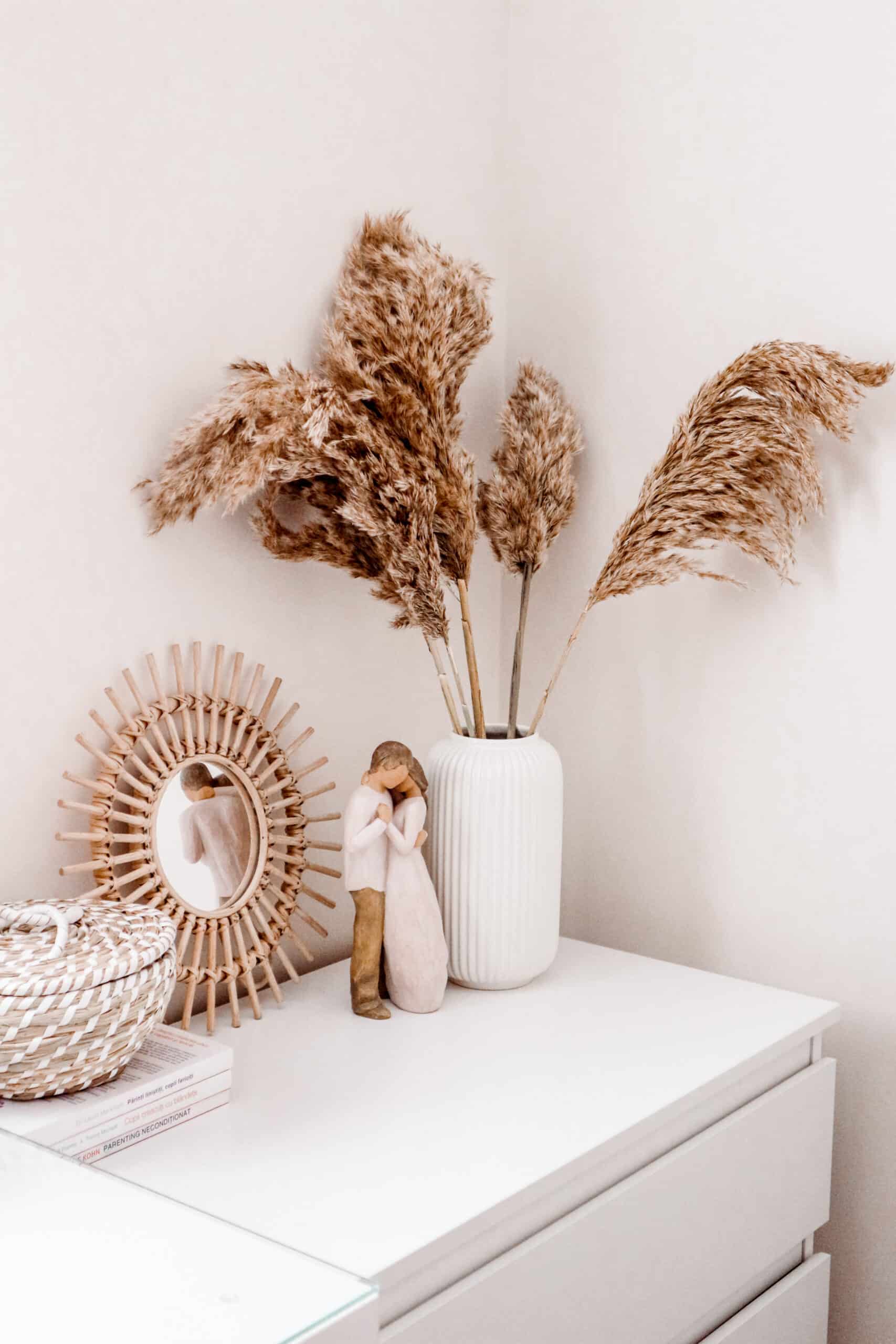 DIY Master Bedroom Makeover Ideas On A Budget
I am going to walk you through our furniture that we already have in our bedroom. Spoiler: a lot of it is from IKEA. We love IKEA furniture for its simplicity and great price point.
Our bed is from Ikea. The dressing table is Ikea Malm. And the 3-drawer dresser is also Ikea 🙂
And I'm also sharing all the bargain decor pieces that I brought in here.
DIY Boho Rattan Lamps
I've previously shared on my blog how I made these DIY boho rattan lamp shades.
So easy and affordable in comparison to a lot of rattan lamp shades out there on the market. Some of them can be crazy expensive.
I love how they turned out. Now I don't have simple plain white lampshades anymore, but instead I've got these bamboo ones that look lovely.
They make the room look more cosy.
You can easily upcycle any old lamps that you have with the tips I shared in the post above.
Pampas
Now onto one of my favourite parts. I was honestly so excited to add some lovely pampas to my home decor.
Pampas is everywhere at the moment, as you might have noticed, especially on Instagram. I love the boho vibe that they give.
So I bought a big bunch of 10 pampas on Etsy, as well as a smaller bunch of bunny tails. I was honestly so impressed by the quality of these and how fluffy they looked. This Etsy shop has great prices for pampas like this – highly recommend.
I think I'll be able to get two vases out of the larger pampas. I used about half here in the bedroom and I'm going to use the rest downstairs in the living room.
I also hair sprayed the pampas because I read that's recommended in order to ensure they last well and to stop any shedding from happening.
Rattan And Hyacinth
A few key pieces that I add to my decor usually are hyacinth baskets which I absolutely love. And I'm trying to incorporate more rattan bits now as well.
Some small bits of decor that I love and used it here: this gorgeous rattan mirror, small basket from either IKEA or Primark.
Mirrored Wardrobe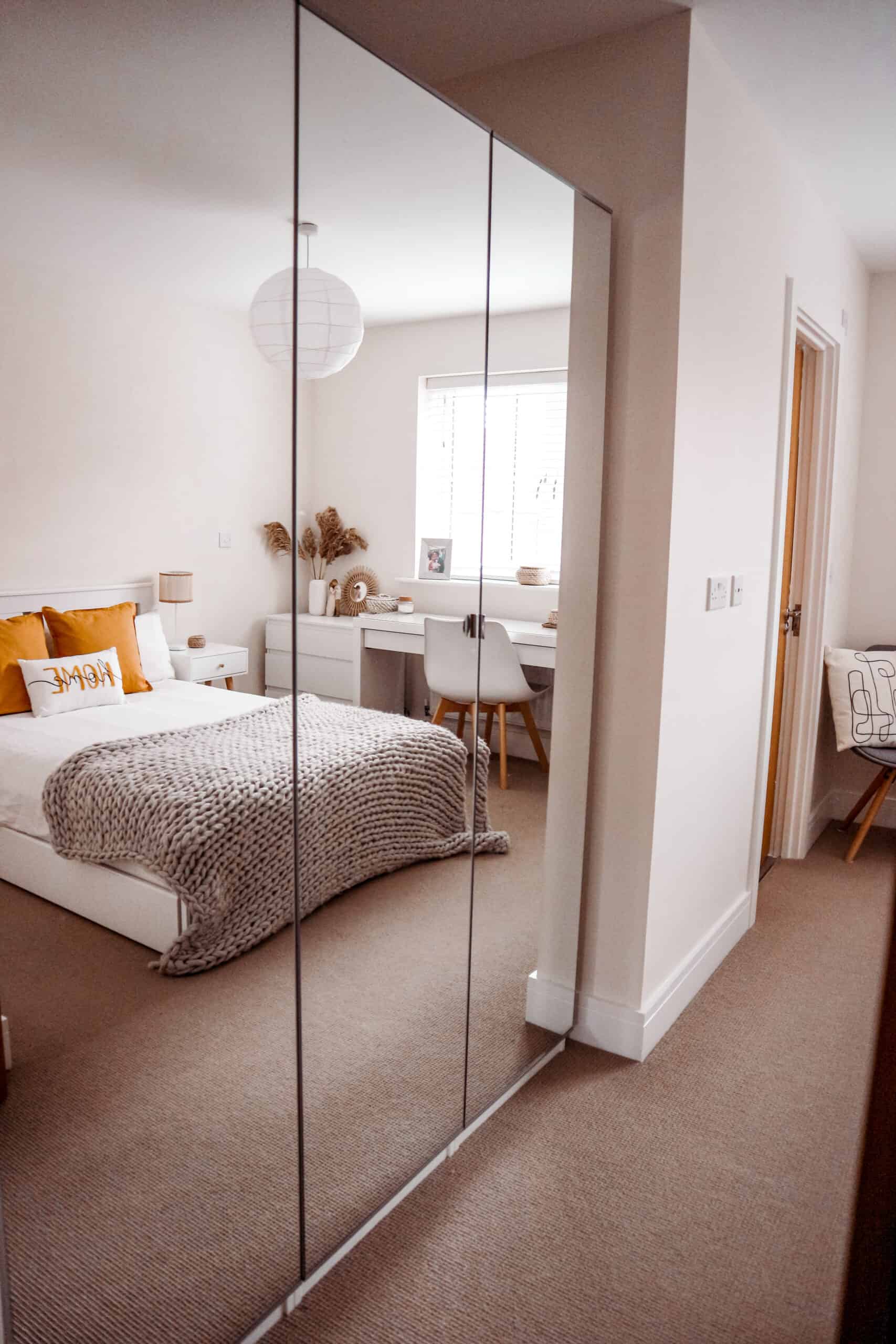 One thing we already had in our master bedroom is this lovely mirrored PAX wardrobe from IKEA.
I love mirrored wardrobed because they make any room look bigger and brighter.
The best part about the PAX wardrobe is that you can customise it on the Ikea website to fit whatever space you're working with. That's how we got this one to fit the space in our bedroom perfectly.
It is also sooo much cheaper than going through a bespoke wardrobe designer.
Scandinavian Bedside Tables
Hurray, we finally got bedside tables! I found these in Homebase and I think they look amazing.
They've got that scandinavian, minimalist look that I just love.
And they were only £30 each, which I think is a bargain price for how great these bedside tables look. I haven't yet seen similar quality ones at this price.
I think these fill up the space nicely and we desperately needed some bedside tables in here.
Bedding And Cushions
Our white bedding set here is a textured one and it was from Primark last year. It's my favourite one to be honest. Primark have really lovely bedding at a really great price.
We also have a simple white bedding set from IKEA. I alternate between these two a lot. I love a simple white base for my bed.
I found in Ikea these cushion covers in a lovely mustard colour. And they were an absolute bargain at only £1.75, so I couldn't pass them up.
I think they bring so much colour and warmth into our bedroom. I love them so much.
The home cushion was from Homebase not too long ago. And finally for our bed, I'm using a chunky knit throw that I got from Primark last year too.
SHOP THIS POST

How Do I Plan A Master Bedroom Makeover?
Say you've set your mind to revamp your bedroom. Before you start buying random bits for the makeover, give it a second to set out your plan.
Look around and see what pieces of furniture you like and what can be upcycled. You can always paint furniture a different colour. Or spray paint certain items of decor that don't work for you anymore.
Have a look on Instagram or Pinterest and save a few photos that inspire you.
The pin point exactly what items from those photos you like.
That way, when you start the shopping process, you won't just buy random things that don't go together. You'll have a plan that will refrain a bit of that impulse buy.
How Can I Decorate My Bedroom For Cheap?
The answer to this question ties in directly to the one above. Set out a plan and think of exactly what pieces of decor or furniture you are missing from your bedroom.
That way, when you go shopping, you can buy exactly what you need. And you can also shop around online to find best deals and bargain pieces similar to the style you're after.
Where Can I Buy Boho Decor?
These days you can find a lot of gorgeous boho home decor in stores.
A few of my favourite places to look for boho scandinavian pieces are: Etsy, H&M Home and Ikea.
Look for bamboo, rattan, hyacinth, wooden details, macrame etc. These are details that give that boho scandi look to any room.
How Can I Make My Master Bedroom Cosy?
There are a few simple ways to make your master bedroom super cosy.
One of them is, obviously, getting lots of comfy throws, knit blankets, cosy cushions and different textures on your bed.
You can also add lots of lovely candles to make it extra cosy and relaxing.
How Can You Make Your Room Look Bigger?
When you're in the planning process for you master bedroom redecoration, think of your bedroom layout.
Is there a way you can maybe move furniture around to make more space?
Can you get a mirror or two to create the illusion of more space?
Can you maybe fit in a mirrored wardrobe? Or maybe DIY your current wardrobe with mirrors on it.
There are lots of possibilities when it comes to making a room appear bigger.
---
I hope you found some inspiration from this post on DIY master bedroom makeover ideas on a budget.
What are you looking to change in your bedroom?