This post may contain affiliate links, meaning I make a commission if you purchase through my links, at no extra cost to you. Disclosure here.
What's new in H&M for autumn winter 2021? Let's have a look at the H&M fall collection and some autumn winter staple items I got for a capsule wardrobe this year.
You may or may not know, but autumn is my favourite season, so I always get really excited especially when it comes to autumn fashion.
The layering pieces, the colours, those beige, gray, brown, taupe type of shades. Dreamy!
H&M had so many great pieces that I loved, so I'm going to share everything that I bought this year.
RELATED: H&M Spring Capsule Wardrobe 2022
H&M Fall Haul: Autumn Winter Capsule Wardrobe 2021
I always get so excited to freshen up my wardrobe for autumn and also bring back pieces that I wore a lot in the previous year. I'm really trying to get a sort of capsule wardrobe together for autumn, so I might do a separate post on all the items I got for that.
Let's see what's new in H&M this year though.
Come say hi on Instagram to get more outfit inspo with these items.
Beige & Black Rib Sports Crop Top
The first thing that I picked up is this beige sports crop top.
On the website, I think they call it a sports brallet, but I feel like it's actually quite long so you could wear it as a basic top.
It's really nice and comfy. It's also got a racer back and a higher neckline, which I find really flattering.
SHOP THIS LOOK

An, again, it is cropped and that's not what I would usually wear. I'm not necessarily the most confident person when it comes to my midriff, because obviously I'm a mum – if you know, you know.
So you know – things are a bit more loose than they used to be – but I feel like that's fine, it doesn't bother me anymore. So I've been loving wearing this crop top especially if it's with a high waisted type of trouser.
The main thing that I really liked about this particular crop top is that it has the bra built in.
It has padded cups in, which is really nice because you don't need to worry about having a bra underneath and the straps showing.
So it's just a bit more carefree in that sense. I really like the colour and the fact that it's a ribbed fabric.
I loved this top so much that I actually got it in another colour as well. I got the black crop top too.
SHOP THIS LOOK

I got both of them in a size S in case you're wondering.
I wanted to get it in a white too, but the white was sold out in my size, so I'm actually going to stalk the website until I can find the white one too.
Cream Beige Joggers
Next up we have some sweatpants. I wanted to get some nice little joggers for autumn winter, because I actually don't have that many joggers.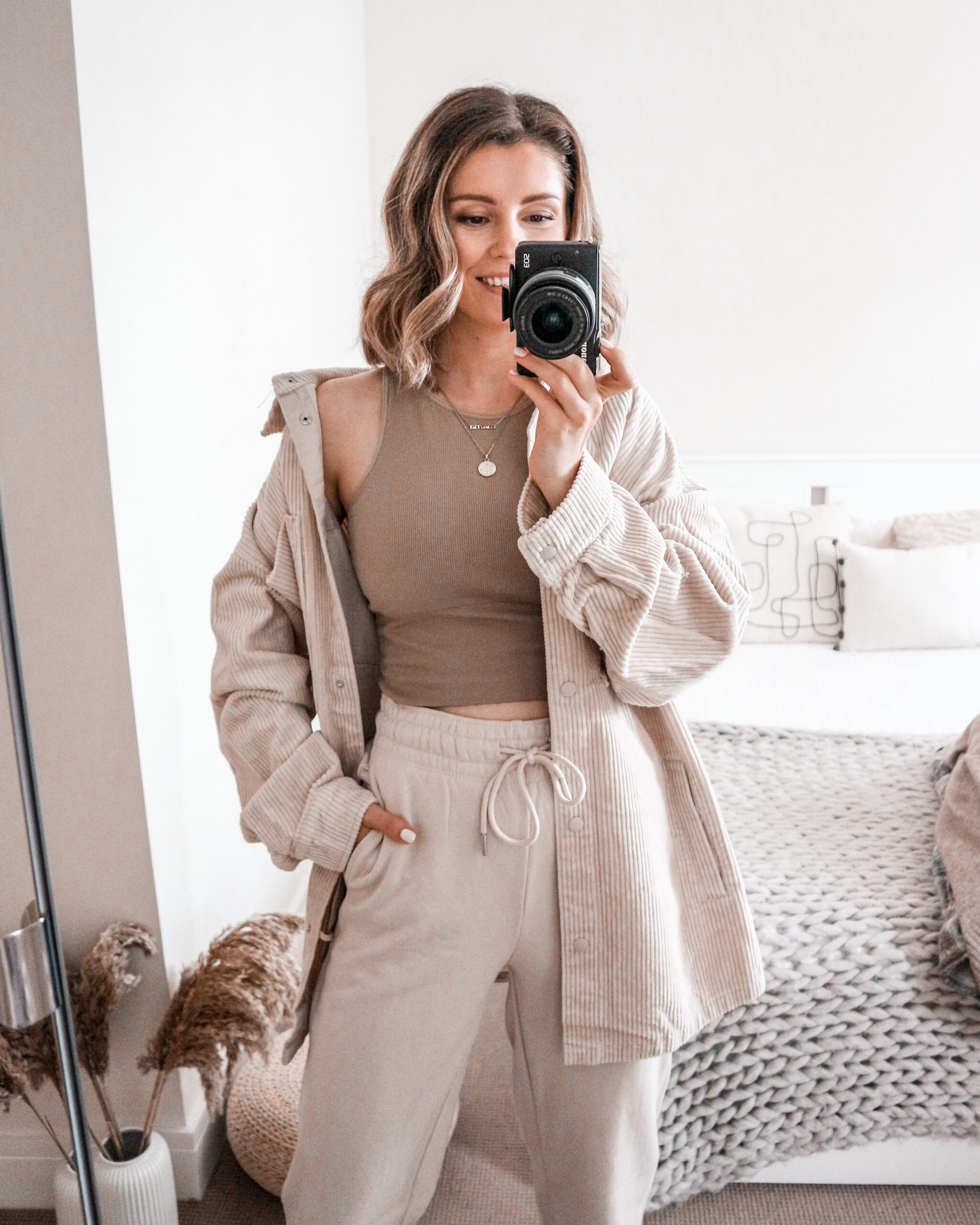 SHOP THIS LOOK

And they are such an essential, especially if you're a work from home mum like me. Because I do spend a lot of time at home.
I think that joggers are a really nice in between – so they're not really pajamas, but you're not really like in jeans if you know what I mean.
I wanted to grab a couple of pairs for autumn winter this year.
I got these cream joggers which are a bit oversized.
They are cuffed at the bottom and then inside they do have that fleece fabric, which is really lovely and perfect for autumn winter because they keep you warm.
They are a little bit high-waisted too, so I feel like these go really nice with the beige crop top or with the black one.
I actually sized down in these, because I saw on their website that a lot of people were saying these measure large. So I got these in an XS, which I'm not usually. I'm usually a small or a medium depending on the brand. But these fit really nicely.
Light Marl Gray Joggers
Keeping in tone with these, I got a pair of light marl gray joggers.
SHOP THIS LOOK

Very similar to the previous pair, but these are more of a gray tone or very light beige, as compared to the cream ones above.
These ones I got in a size S.
Cream Oversized Hoodie
I also got a cream oversized hoodie that I really liked.
SHOP THIS LOOK

It is the exact same fabric as the cream joggers, so they pair up nicely. I just love an oversized hoodie for autumn.
You could wear this with some simple leggings, because it's quite oversized and it actually covers your bum as well, which I really like.
It's super comfy, as it has that fleece fabric inside too.
It's got a drawstring, it's got the hood and it's a really nice layering piece for autumn.
I would wear this hoodie under a coat maybe or under a nice blazer.
Ecru Rib Knit Leggings
I also got some leggings, but they're not just regular leggings.
They're actually quite interesting – if I say so myself. I picked these ecru rib knit leggings because I thought they were just a bit more interesting than regular black leggings.
SHOP THIS LOOK

These are a ribbed fabric and a beige colour.
They are pretty long, so at the bottom they scrunch up, but I do like that look. I think it looks really lovely, especially if you've got boots on or trainers.
They are really high-waisted as well and they just feel so comfy.
I picked these because during autumn winter I wear leggings a ton. Leggings and an oversized jumper or cardigan is my go-to outfit, especially when I'm just at home.
So I feel like these would be a nice alternative to my regular black leggings that I wear all the time.
I think I would wear these with an oversized hoodie or just a nice cardigan for a super comfy outfit. I got these leggings in a size small as well.
Taupe Brown Leggings
Sticking with the leggings, I got another pair which is just different than my usual black ones.
I picked this pair of taupe brown leggings.
SHOP THIS LOOK

On the website they did look more brown, in real life they have a bit of a mauve tine. But I do like the shade anyway, I feel like it's a really nice one for autumn and it goes really well with all the beige, whites and grays that I have in my wardrobe.
I got it in a size S again and I really like the fact that it's got this wide bit at the at the top, as I think it will be really comfy.
SHOP THIS LOOK

Gray Knit Cardigan with Statement Buttons
Next I got this gray knit cardigan (link similar).
SHOP THIS LOOK

It's such a soft fabric and it's got these nice statement buttons on it.
It's got really cute pockets, so I really like the detailing on this cardigan.
This one I got in a size extra small, but I think you can tell it's pretty huge anyway.
Because, again, on the website a lot of people were saying how it is way oversized, so you should size down, which is what I did.
I just love this cardigan. I think it's so nice and comfy, I already know I'm going to wear this a lot with just a crop top or a simple tank top underneath and leggings.
I think that would be such a comfy outfit for autumn.
Ecru Beige Blazer – Single Breasted Jacket
I also got this ecru beige blazer.
SHOP THIS LOOK

I didn't really have a blazer like this in my wardrobe and I was really missing that.
I have a simple black blazer, which is such a staple item in your wardrobe, but I did not have it in a more neutral shade like this. I'm loving the beige color of this.
I got this in a size S, but it does feel like it's the tiniest bit oversized.
Not too oversized to the point where it just looks really baggy on you, but just the right fit. It is long as well, so it does cover my bum if I want to wear it with leggings.
It's also got padded shoulders and it's such a beautiful item.
Comfy Oversized t-shirt and Cycling Shorts Co-Ord
I also got this set of an oversized t-shirt with cycling shorts.
So cute, they are both in a brown colour and I got both of these in a size small.
SHOP THIS LOOK

I really like cycling shorts at the moment. I was never into them that much because I felt like they wouldn't necessarily be flattering on me.
I mean I thought you need to have a super athletic body and work out a lot to look good in them, but I think they actually look really nice and flattering.
They are high-waisted too and they look really lovely underneath this oversized top.
That's about it for my H&M fall haul for autumn winter 2021.
Let me know in the comments below which piece was your favourite.
Need more outfit inspo? Have a look at what's new in Primark for autumn this year.