This post may contain affiliate links, meaning I make a commission if you purchase through my links, at no extra cost to you. Disclosure here.
The kitchen cabinets are an area that gets cluttered easily. Throw one pack of rice, three opened packs of pasta and it will eventually get hard to find anything in there.
I'm sharing today some easy ways on how to organise your kitchen cupboards. I've got lots of storage tips and ideas for you, as well as some IKEA and Amazon items to help you out.
Let's declutter that kitchen together!
How To Organize Kitchen Cupboards
Spice Jars + Labels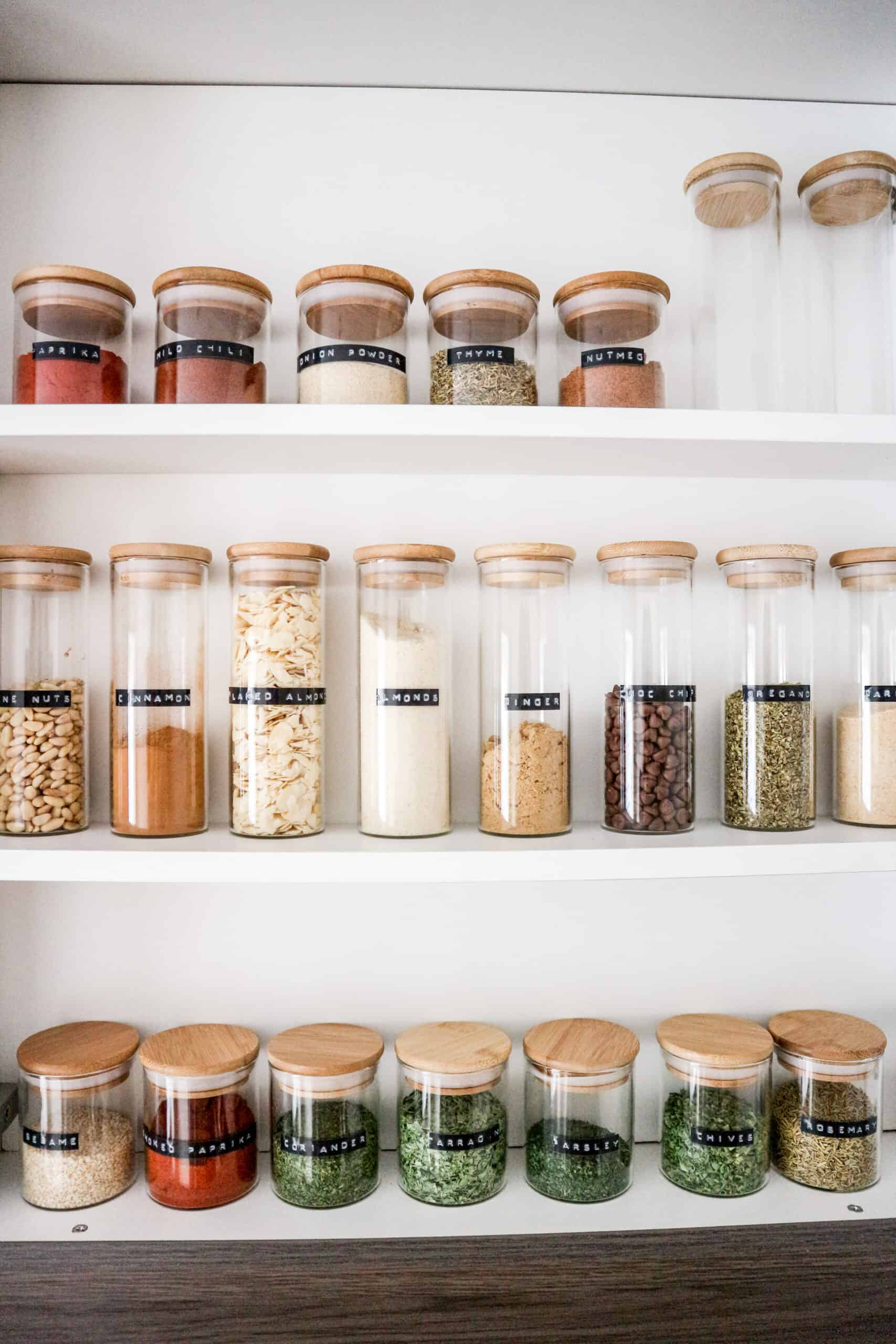 Tall spice jars | Small spice jars | Label maker
One of the best ways to keep things organised is to label them! And to add matching jars to keep everything looking orderly.
These spice jars that I bought recently from Amazon have transformed my spice cabinet. I got a mix of tall spice jars and small spice jars to fit different condiments in there. I simply used a label maker to label them all and filled them with my choice of spices.
It is so satisfying to do this and it will make your kitchen instantly look clutter-free and organised. Obviously, it will make your cooking process much easier as you can clearly see what you have on hand.
Pasta + Rice Jars
Jars with lid | Containers with white lid
Similarly to the spice jars, I repeated the process for other foods in my cupboards, such as pasta, rice, flour, cous-cous etc. I bought these large jars with a bamboo lid from IKEA and they are perfect for this. Again, I used my label maker to label these.
It is so much easier to keep things looking tidy when you use containers or jars, rather than keeping lots of opened packs of pasta or rice.
Plates Organisers
One of the best ways I have found to organise plates is one of these 3-tier racks. Since you normally have different sized plates, it is much easier to separate them like this and make use of the vertical space in your cupbaords that would otherwise remain unused.
Mugs + Glasses Organisers
Similarly to the plates organisers, I wanted to make sure I use the most out of my cupboard space when it comes to mugs. I bought this shelf that essentially doubles up your cupboard space. It works perfectly for my mugs and glasses.
Baskets For Onions + Potatoes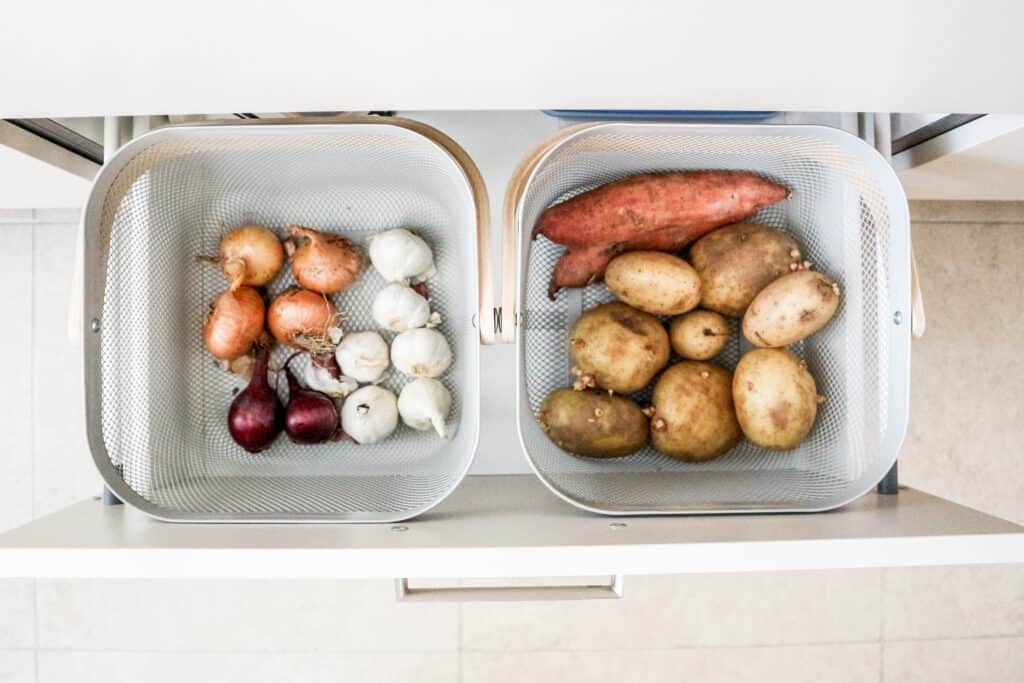 In my potatoes and onion cupboard, I wanted to get something quite airy that would keep these fresh for longer. I went for two of these IKEA Risatorp baskets and they work perfectly in this bottom drawer in my kitchen. They fit quite a lot and I do find that things last quite well in there. Plus they look lovely.
Snack Cupboard
Our snack cupboard was constantly overflowing. Hands up – anyone else been snacking excessively this year with everything going on? We certainly have. 🙂 For the snack cupboard I decided to get these two large containers from IKEA that fit quite a lot in there.
I also used my label maker on these, so I separated my toddler's snacks from mine and my husband's snacks. It works so much better than having all packs of crisps thrown in there.
Cans + Random Cupboard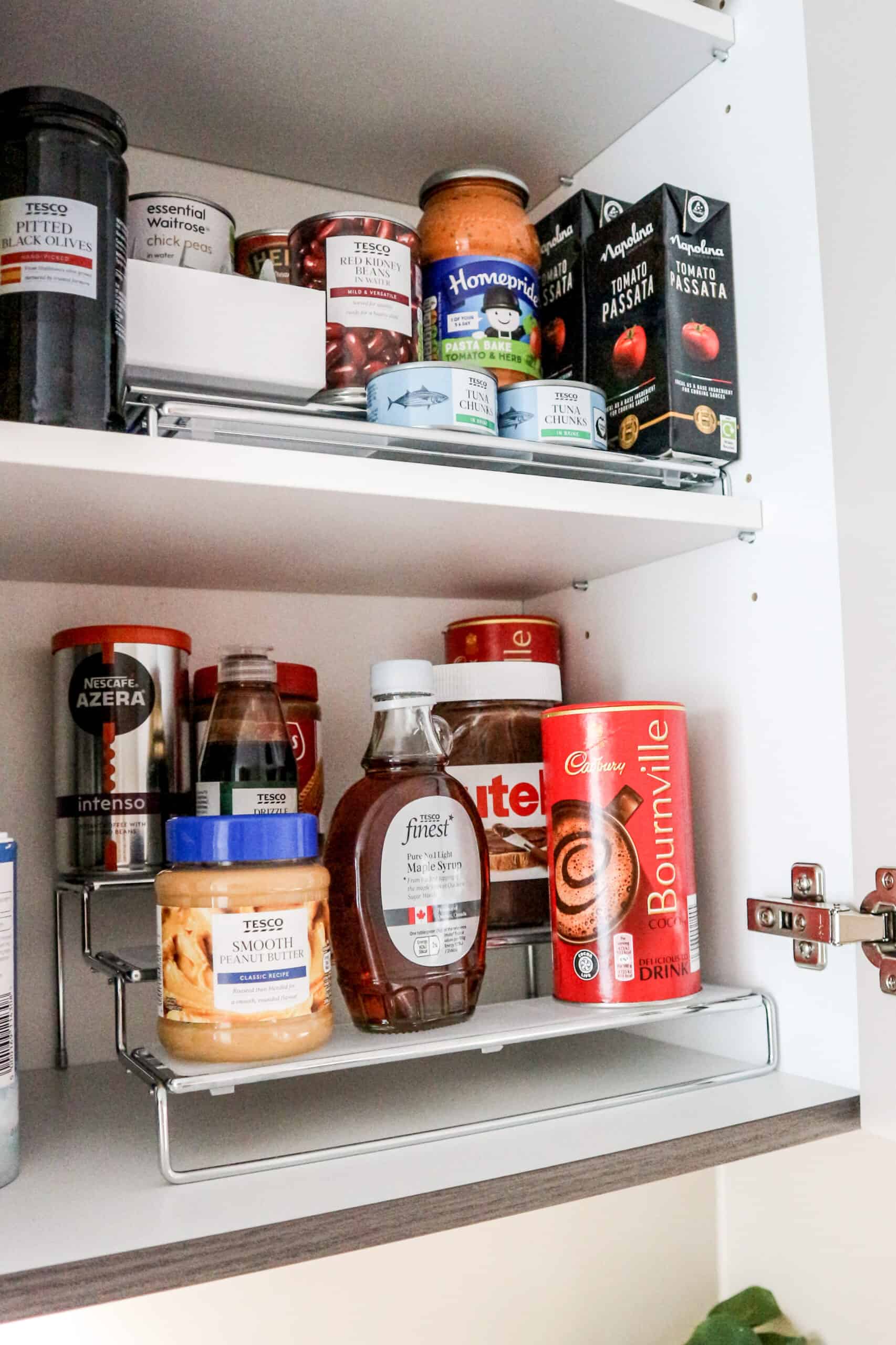 I have this cupboard where I keep quite a random selection things, like cans, cartons of tomato passata, stock cubes, honey, jam, peanut butter etc. I decided to organise all of these using a 3-tier shelf which is perfect for seeing what's in the back of the cupboard as well.
---
That's how I have organised my kitchen cupboards recently and it's been working great for us. Here are some more home related posts if you need more inspo.
What are some of your ways to organise a kitchen?