This post may contain affiliate links, meaning I make a commission if you purchase through my links, at no extra cost to you. Disclosure here.
I recently had to re-do my toddler's wardrobe, so I decided to share the process with you. Here are a few tips I followed in deciding what pieces we needed. I hope you find this helpful if you're looking to create a toddler boy capsule wardrobe.
My toddler is soon turning 18 months old and this is about the time when they also change size in clothing. I could definitely tell that Victor is not really fitting well in the previous size, so I had to get a series of new clothes for him in the next size up.
And that is 18-24 months or 1 1/2 – 2 years.
Toddler Boy Capsule Wardrobe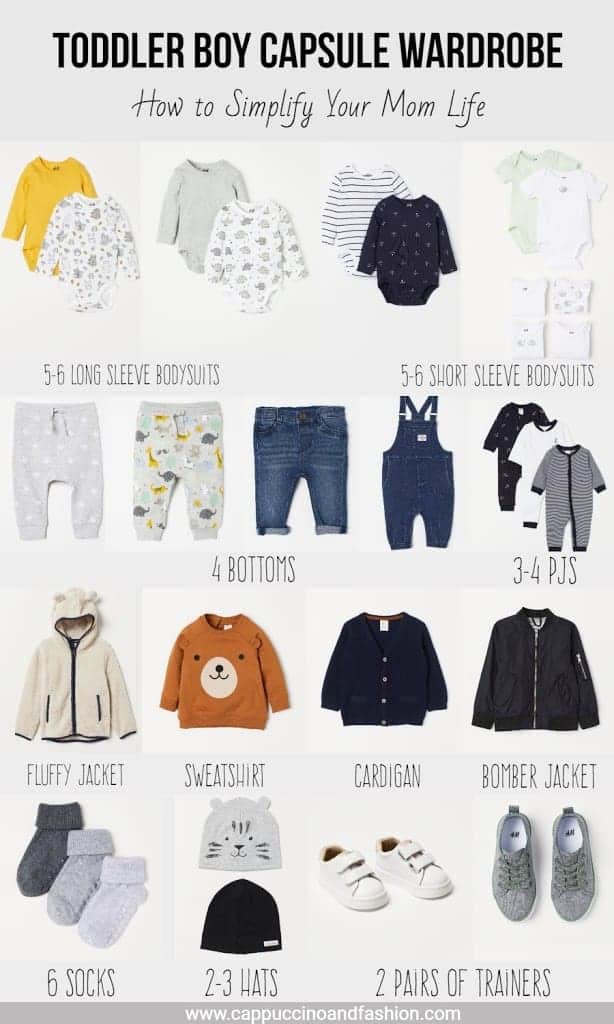 TIP 1: Think About How Many Times A Week You Do Laundry
Since we got a dryer, things have been much easier when it comes to baby laundry and I find that I can get away with having less items in his closet. If I find that I've run out of tops for some reason, I can quickly pop them in the wash and dry. And they're all clean and done in about 3-4 hours. That's been a definite game changer.
If you only do the laundry once a week, for example, then you might want to get more of certain items so that you have enough until you catch up on laundry.
TIP 2: Choose A Few Basic Colours.
This makes life so much easier when you go shopping for your baby's new wardrobe. Picking a few colours that complement each other well will give you a lot of options in terms of outfits.
I went for mostly neutral: grey, white, navy and a bit of mustard for some colour. As you can tell from the image above.
TIP 3: Try To Pick Things That Go Well With Each Other For The Most Part.
If you got colours that match well, then this step will be easy. Try to find things that go with each other well and that match a lot of other items that you picked. For example, the animal print tops that I picked are quite neutral, so they would go well with pretty much any of the bottoms. That makes picking outfit sooo much easier.
ITEMS ON MY CHECKLIST:
Tops
5-6 long sleeve bodysuits (set with mustard top, set with elephants, set with navy anchors). 5-6 short sleeve bodysuits. The ones that I have were from C&A, but these ones from H&M are very similar as well.
Bottoms
grey pants with stars, grey ones with animals, overalls (ours was from Lidl) and simple jeans (ours was a gift).
I picked a set of three pyjamas and they're a cute nautical inspired set.
Layers
I went for a bear sweatshirt (so cute!), a dark grey cardigan, a light bomber jacket and a fluffy teddy jacket. I wanted to have a bit of variety since spring can come with both warm days and chillier days.
Shoes And Accessories
The two pairs of shoes I went for are a pair of white trainers and a pair of grey Adidas trainers. These fit him like a glove and they're so perfect for running around, these are similar to the ones we picked.
Finally, we needed a few new hats and some socks that I bought in sets of three and I made sure that they have grips on the bottoms so that they don't slip.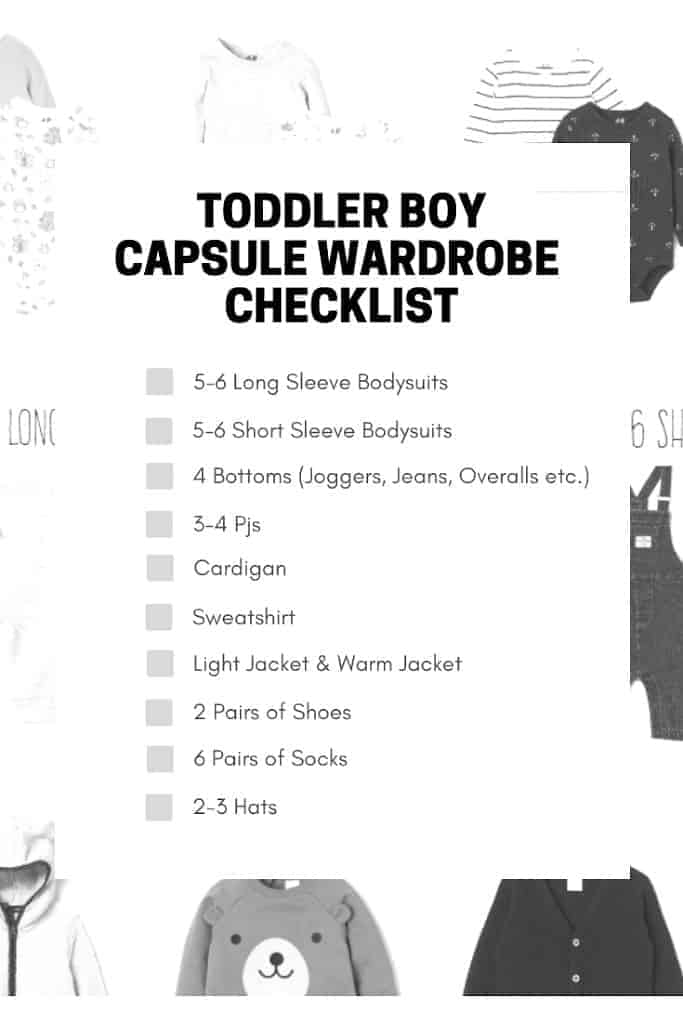 What's on your toddler capsule wardrobe list? I hope you found this one helpful!