This post may contain affiliate links, meaning I make a commission if you purchase through my links, at no extra cost to you. Disclosure here.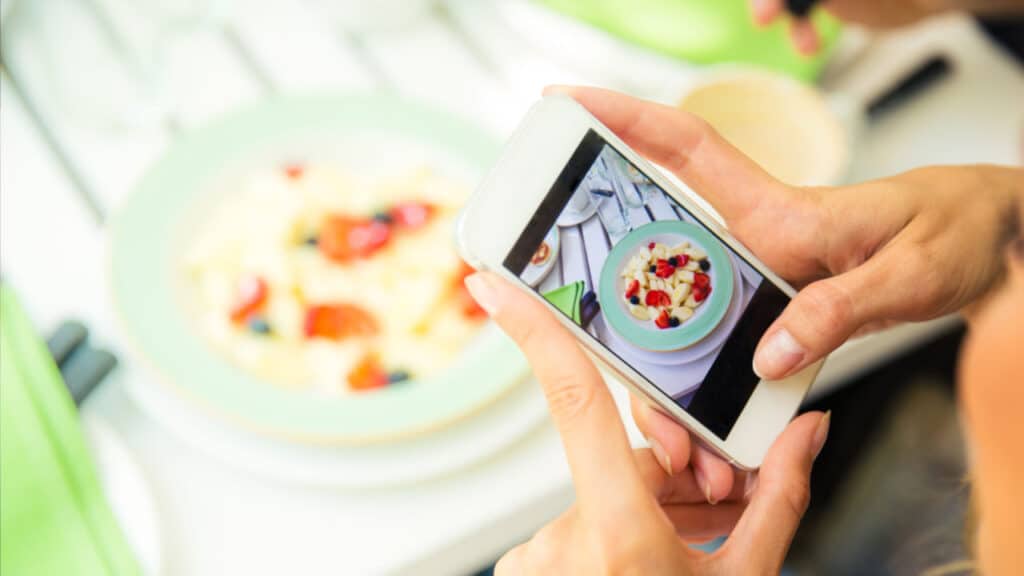 I bet you didn't know these 7 instagram hacks.
---
Ever wanted to change your highlight covers without spamming the stories?
Or to add white paragraphs into your captions?
Well I've got you covered in today's post all about 7 Instagram hacks that you didn't know and might find useful.
Especially if you're trying to grow your Instagram account and build an online business with it.
I also did a screen recording of how I do all of these hacks myself. So if you'd like to see a live demo, you can watch the video below which might help you figure out how to do these yourself.
7 Instagram Hacks You Didn't Know
Want to save this for later? PIN IT here:
1. How to add white spaces or paragraphs into your captions
There is a website you can access, then copy or write your caption right there in the white box, including your paragraphs – basically make it exactly how you want it on Insta.
Not gonna lie, the website looked a bit sketchy at first, but it works really well.
Then all you have to do is hit "copy to clipboard" and you can paste it into instagram.
Super simple to do.
The reason why I like adding white paragraphs sometimes is because it breaks down a huge block of text and makes it more easy to read and follow.
2. How to use hashtags
Very simple hashtags usually have millions of posts in there, which means the posts on the "recent" tab will change super fast if you refresh that page.
Meaning that if you use very generic hashtags, like "makeup" or "beauty" you will get lost in the sea of posts and it's less likely for people to find you.
The key here is to go for hashtags that are not super popular, but still used quite frequently.
So I aim for tags with 10k, 100k etc. Just not in the millions. That gives you more discoverability and you're more likely to get people looking at your content.
Read more about how to use hashtags properly here.
3. Use captions right. Make it a story.
This is the one thing that boosts your engagement the most.
Post a bit of a story about the photo, how your day went, what you're enjoying or struggling with at the moment etc.
This will make you be relatable and people are more likely to comment and interact, which is great for building a relationship with your audience.
And, let's face it, that's what's fun about this whole insta thing.
4. Add hashtags in your stories
Adding a hashtag to your stories can be a major view booster if used properly.
This one is going to require some trial and error to find the hashtags that bring you the most engagement on your stories, as I found they're a bit different than regular feed post hashtags.
They need to be a bit more popular, but not too popular either.
I tried a few and found some that work for me, so I think that's the best way to find the ones that fit your content.
For me, things like #toddleractivity #toddlermeal #ikeauk will work pretty well, but there are plenty more to find.
I don't put the hashtag in the middle of my story, I just put it somewhere on the side or in a corner.
The point is to help people find your stories in that hashtag search.
5. How to add or change highlight covers without spamming your stories
A lot of people post all of their highlight covers in a row on their stories and then go from there to add them as covers.
That works fine, but your stories for that day will look a bit spammy.
There is a better way to do this!
If you tap on the highlight you want to edit, go into Edit Highlight > Edit cover, you will see at the bottom a row of the stories you have in that highlight. And right before those, there is an icon with mountains.
Click on that icon and you can then choose any photo from your phone.
6. Post Instagram photos automatically to your Twitter
When you write a new post for Instagram, you can choose at the bottom "Also post to…Twitter".
Yes, that works, BUT it will only post a bit of your caption and a link to your insta post.
If you want to post you actual picture on Twitter as well, there is an app I use called IFTTT (If This Then That).
It is completely free and you can use it to post across different platforms automatically. It makes the whole process so much easier for you.
7. Post multiple links in your profile bio
You might know that you can only add one link on your instagram profile, which means you really need to make that count.
There are two ways to do this.
The first one is Linktree, a free service that will help you post multiple links in one.
You can login with your instagram on their website and add multiple links on your page there.
Then just copy paste the one link they create for you and that's it. You can now share multiple page links instead of just one.
The second one (that I highly recommend if you have a blog) is to create your own Linktree page.
It is super easy to create one yourself and it is great for driving traffic to your blog as well.
How many of these Instagram hacks did you know already?
I hope you found this helpful. Have a great day!