This post may contain affiliate links, meaning I make a commission if you purchase through my links, at no extra cost to you. Disclosure here.
I'm so excited to share with you today my fall toddler capsule wardrobe for this year.
Autumn is upon us and I couldn't be more excited, especially when all the cute baby sweaters and tiny jackets start to make an appearance in stores. It also seems like my toddler has had a growth spurt because nearly all of his clothes are now too tight for him or the sleeves have become too short.
Around springtime I first shared my toddler's capsule wardrobe and a lot of you found that post helpful, so here is the autumn version of my toddler boy capsule wardrobe for this year.
A couple of days ago I hopped on to the H&M website – my favourite place to shop for his clothes. It is cuteness overload on there! So I thought I would share with you the process of choosing his clothes and what items I went for. There is also a video haul at the bottom of this post if you want to have a better look at all of these items.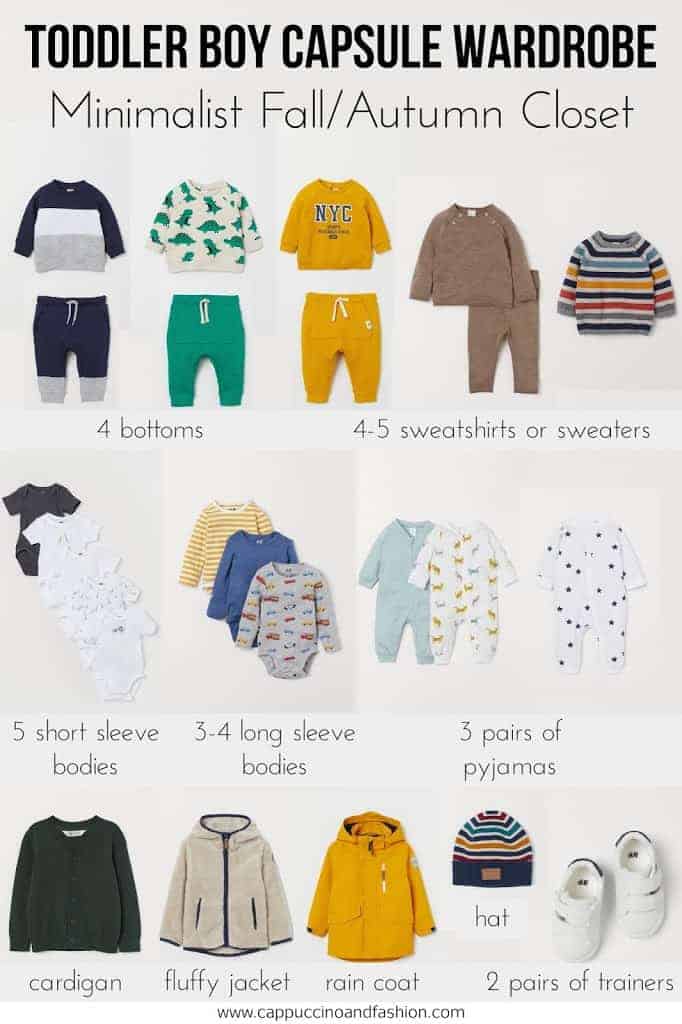 The Colour Scheme
I think the last time I re-did his wardrobe I went for a more neutral colour scheme, but this time I wanted just a tad more colour in there. Mainly because I found cute colourful items that I liked 🙂
I did choose some basic white and grey items, because those are always nice to have as basics. And then I picked a few yellow-mustard bits, as well as a bit of green and blue. I think as long as you have your basic colours down, any add-ons will go well with those.
Also, I picked some matching top-bottom sets, because I thought they would look cute and they're versatile since you can mix and match with other items as well. Those rainbow items I couldn't resist. They're so cute, so I picked the sweater and the hat to go with it.
Layers
Since this is a fall wardrobe, I tried to have some good layering bits going on. The reasons for that are:
1. layers keep you warm in cold weather and
2. layers work best when go in and out of places and need to put on or take off clothes.
For example, I will put on him a short sleeve body, then a sweater, then a jacket on really cold days. If we're inside a supermarket for example, which is usually not super warm, I will let him be in his sweater. If we go into a place where he gets more hot, like the soft-play, then I can let him stay in just a short-sleeve body. I love to have that versatility for him.
I hope you found this minimalist toddler / baby boy capsule wardrobe helpful.