This post may contain affiliate links, meaning I make a commission if you purchase through my links, at no extra cost to you. Disclosure here.
Happy Wednesday! And welcome to another outfit link up. Today I'm sharing a camel coat outfit that I have been wearing tons lately.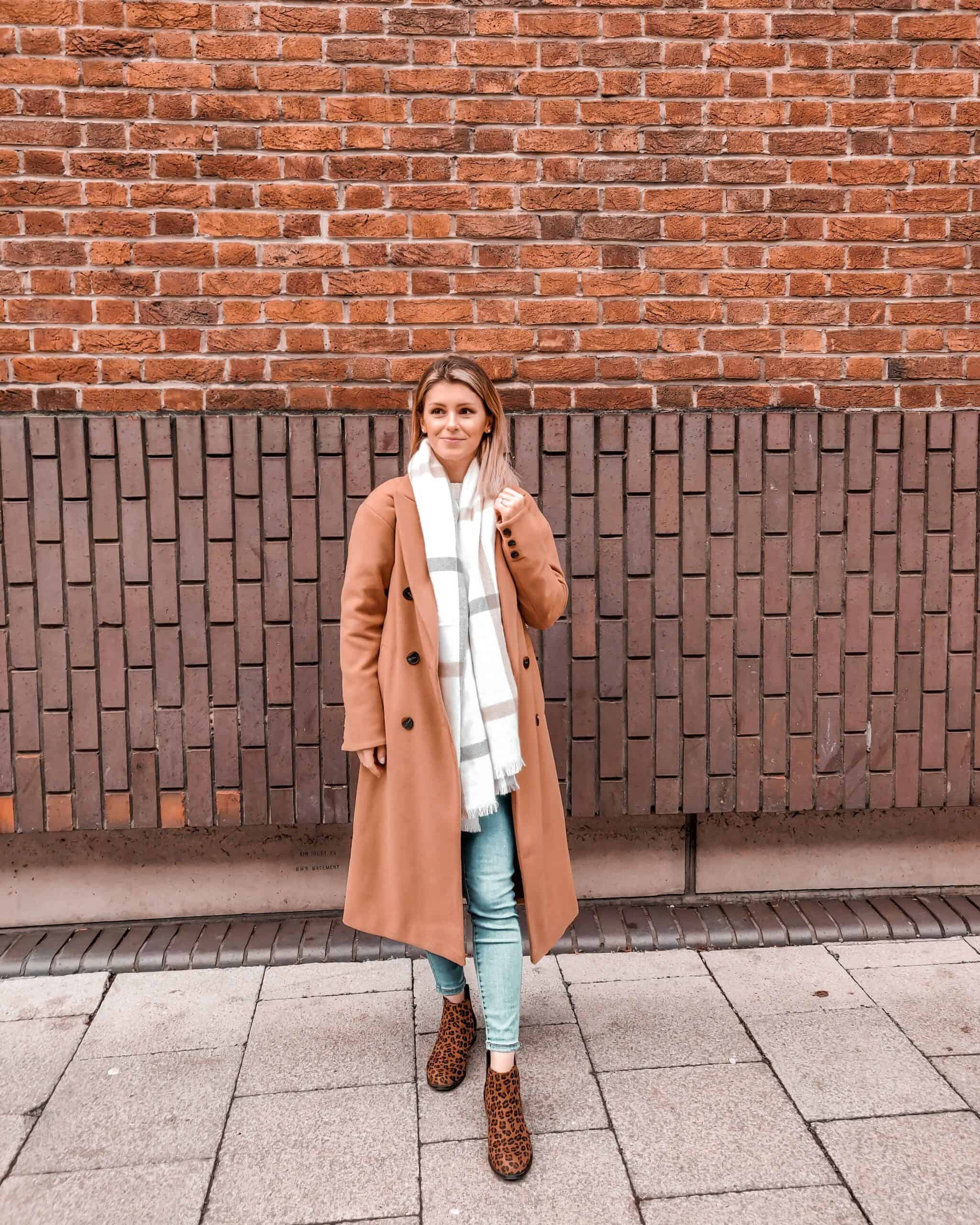 SHOP THIS LOOK
This Primark camel coat has been my go-to lately and I love pairing it with white or cream tones, along with light wash jeans or white jeans. You can see a few more outfits for ideas on how to style camel shades in the post that I wrote last week.
This coat is a bit oversized, quite long and I love the structure of it and the statement buttons detail. I have tried linking similar style items above in case you are interested.
My coat, jeans, boots and scarf are from Primark (which don't currently offer online shopping). The bag was from H&M and the pom pom sweater is Zara. I did find some very similar pieces that you can add to your wardrobe if you'd like to recreate the look – linked them above.
I cannot get enough of these leopard print boots either. I feel like they're a bit out there, yet they are quite versatile and go nicely with neutral tones for autumn/winter outfits. I love the Chelsea boot style too and they're really comfortable to wear around these London streets while doing some Christmas shopping.
Anyone got their Christmas shopping done? I feel like I almost always end up buying some bits last minute. It's just the way it goes, no matter how organised I try to be.
Oh and in case you were wondering, I did not tip over all these phone booths, haha! This is the "Out of Order" sculpture by David Mach. It's a brilliant one, isn't it?
What do you think of this camel coal outfit? Do you own a camel coat? How do you style it? I'd love to know!
LINK UP
Link up you own outfit for this What I Wore Wednesday. Make sure to follow along on Instagram or Pinterest and include a link back to my blog in your post.
Linking up with: StraightAStyle, RosyOutlook, PumpsAndPushups, JerseyGirlTexanHeart, ClaireJustine