This post may contain affiliate links, meaning I make a commission if you purchase through my links, at no extra cost to you. Disclosure here.
Today I'm sharing my month 5 blog growth report with you, in the hopes that it will give you some ideas on what strategies you can use to grow your own blog.
I just had a look at my analytics in order to start writing this post. And I honestly cannot believe these numbers.
This month I reached nearly 20,000 pageviews.
To me, that's a lot.
And I am so happy with this progress because I've been working really hard on this blog lately. The hustle definitely pays off, guys.
Pssst. If you don't already know, I also created a FREE 7-DAY Challenge on how to start a blog.
Ready to start your own blog? I use and recommend Bluehost for your blog. If you have no idea where to begin, use my free ultimate guide on how to start a blog and make money blogging.
I don't know about you, but I have read tons of content on the topic of blogging and how to grow a blog. And while all stories are inspiring, the ones that share their analytics and exactly what strategies they used to grow – those helped me the most.
I want to give that back and share my own process in the hopes that it inspires you too.
Let's get into the analytics and see what worked for me this month.
1. Analytics
This is what my Google Analytics look like for January 2020. We have reached 19,304 pageviews.
In my mind, I was kinda hoping I would reach 10,000 pageviews this month (as the previous month I had about 6,000). But I did not expect this boost.
You might notice a huge dip with zero views on January 12th. That's because I was playing around with my plugins and I accidently uninstalled the one that was tracking my Analytics, so they didn't register for that day *facepalm*.
It's not a big deal, really. I feel like this blogging journey is all about trial and error.
I keep trying different things, strategies and plans. And seeing what works.
I think that's part of the charm of being a blogger.
You don't have to have it all figured out the moment you start a blog. You just learn as you go. So if you've been on the fence about starting one, just do it! Start and you will learn as you go. Any step forward matters.
If you need any help in setting up your blog, here are some helpful resources.
This is what my analytics looked like last month, in December:
Here's my progress so far:
January: 19,304 pageviews
Last month, I mentioned how my bounce rate was stuck at around 70%. Bounce rate is basically how quickly someone leaves your blog after stumbling upon it. Ideally, you want that bounce rate as low as possible.
This month I managed to go way lower, to a 60% bounce rate. I'm quite happy about this progress too.
What helped lower my bounce rate?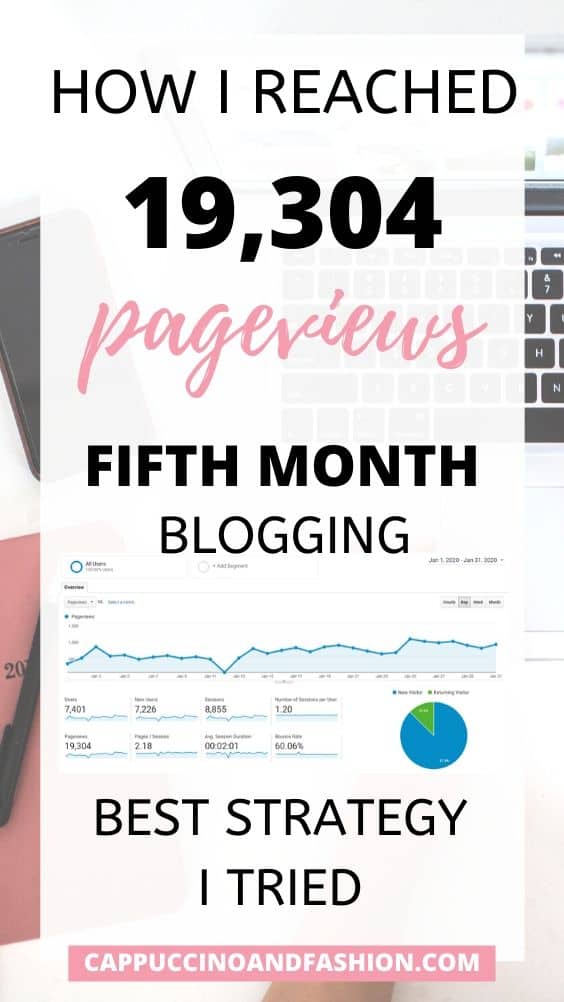 I think these are the three main things I did to get that bounce rate to drop:
Have a Related Posts plugin. So when someone finishes reading a post, they have somewhere else to go on my blog.
Create a series of posts on a topic. I have a few series that generate quite a bit of traffic: How to Start a Blog, Lightroom Presets and Freebies, Instagram tips etc. I am also currently writing this series on how I grew my blog – the monthly blog growth reports. These help because generally people will go from one post to another in the series.
Create long-form content. I try to make more in-depth posts, rather than quick ones. So most of my recent posts are at least 1,000 words. Obviously, people will spend longer reading these than a shorter 300 word post – and you can provide much more value to your readers in a longer post.
Email list subscribers
I only started my email list in October through ConvertKit. I decided to go for it and invest in my email list because I think it's going to be worth it in the long run. It's definitely one of the reasons why my pageviews have gone up too.
Update: Since writing this blog post, I have decided to switch from Convertkit to Flodesk. If you would like to know why, I wrote a whole blog post about it.
Last month I had reached 1,066 subscribers. Well at the end of January, I reached 2,971 susbcribers. And a day later I was at 3,000 subscribers.
I honestly cannot believe how quickly this has grown.
I think providing value and thinking of awesome incentives that people will actually use is what's going to grow your list like crazy. And honestly, you need to experiment with multiple ones until you find something that works.
I also added another freebie this month, a new Lightroom preset – which has definitely helped with this increase.
As I mentioned before, I attribute part of my pageviews growth to my email list for sure. Whenever I send out a broadcast (or newsletter), a lot of people will head over to my blog to see what's new. There have also been a lot of people on my email list who have joined me on Instagram too.
I definitely believe that an email list will boost your growth much quicker than doing this without it.
2. Pinterest
Let's see what's going on with Pinterest, which is currently my number one source of blog traffic. It's crazy, but Pinterest drives massive traffic to my blog each month. More than any other platform. So if you were to only pay attention to one social platform – go with Pinterest.
Last month, I had 148.27k monthly viewers – with exclusive manual pinning, no tools or money invested in it. If you want me do a more in depth post on this, let me know cause I definitely could do that.
But this month, I decided to invest in Tailwind, a tool to schedule your pins and basically pin for you. They have a trial here where you can schedule up to 100 pins for free, if you want to see what it's all about.
I did the trial myself and it is incredibly easy and makes the whole process so much more convenient. I never would have been able to pin as much with just manual pinning. I can also spread my pins out, so I don't spam my feed like crazy.
And it pins at the best hours for your account. So you get a better reach. For example, most of my pins go live during the night because that's the time most of my audience interacts with them. And let me tell you… otherwise, I would never stay up til 3 am for a pin – haha. It's an amazing tool!
So after a month of using it, and posting about 10-15 pins a day – which is not a lot, but I wanted to ease into it – I have reached 247.3k monthly viewers.
3. Number of posts
Well this month I went a bit cray-cray with my posting schedule. To be honest, I was feeling super motivated and inspired to create content – so I wanted to take advantage and post as much as I could.
In January I published 15 new blog posts.
Granted, I had been working on the How to Start a Blog series in December as well and I just published all the posts one after the other when I finished writing the whole series.
It was a lot of work, but I can definitely see it working.
I know I need a lot of quality content to get my blog name out there. However, posting 15 blog posts per month is not going to be sustainable for every month – I know that. I'm trying to batch post where I can and then aim for 1-2 weekly blog posts on a regular basis.
I do think quality over quantity is key.
4. Strategies I used
Here is what I wrote at the end of last month. Let's see if I followed through with my goals for January:
Post a new free downloadable Lightroom Preset. – I did!
Post my free 7-Day challenge series on How to Start a Blog. – Yes, so pleased I got this done.
Post as much as I can in between the posts above. – I did post quite a lot in between too.
Get Tailwind and test it out. – Yeees, massively helped.
Pin at least 10 pins a day. – I did, about 10-15 pins daily. Hoping to increase in the next months.
Continue using the SEO checklist + sharing on socials. – I always use these two strategies to promote my posts.
5. Goals for next month
This was an amazing month for my blogging journey, so I'm excited to take it even further. Here are my goals for February 2020:
Create the Monthly Blog Growth Report series.
Post at least 1-2 times every week.
Pin on Pinterest at least 15-20 pins a day.
Join at least 20 group boards on Pinterest.
Continue with the SEO checklist + sharing on socials, as usual.
If you've read this far, you're about 1,500 words into this post – so I do hope you found my month 5 blog growth report helpful. Hope you got some ideas for your own blog.
How are you growing your blog?
What strategies do you plan on using this month?