This post may contain affiliate links, meaning I make a commission if you purchase through my links, at no extra cost to you. Disclosure here.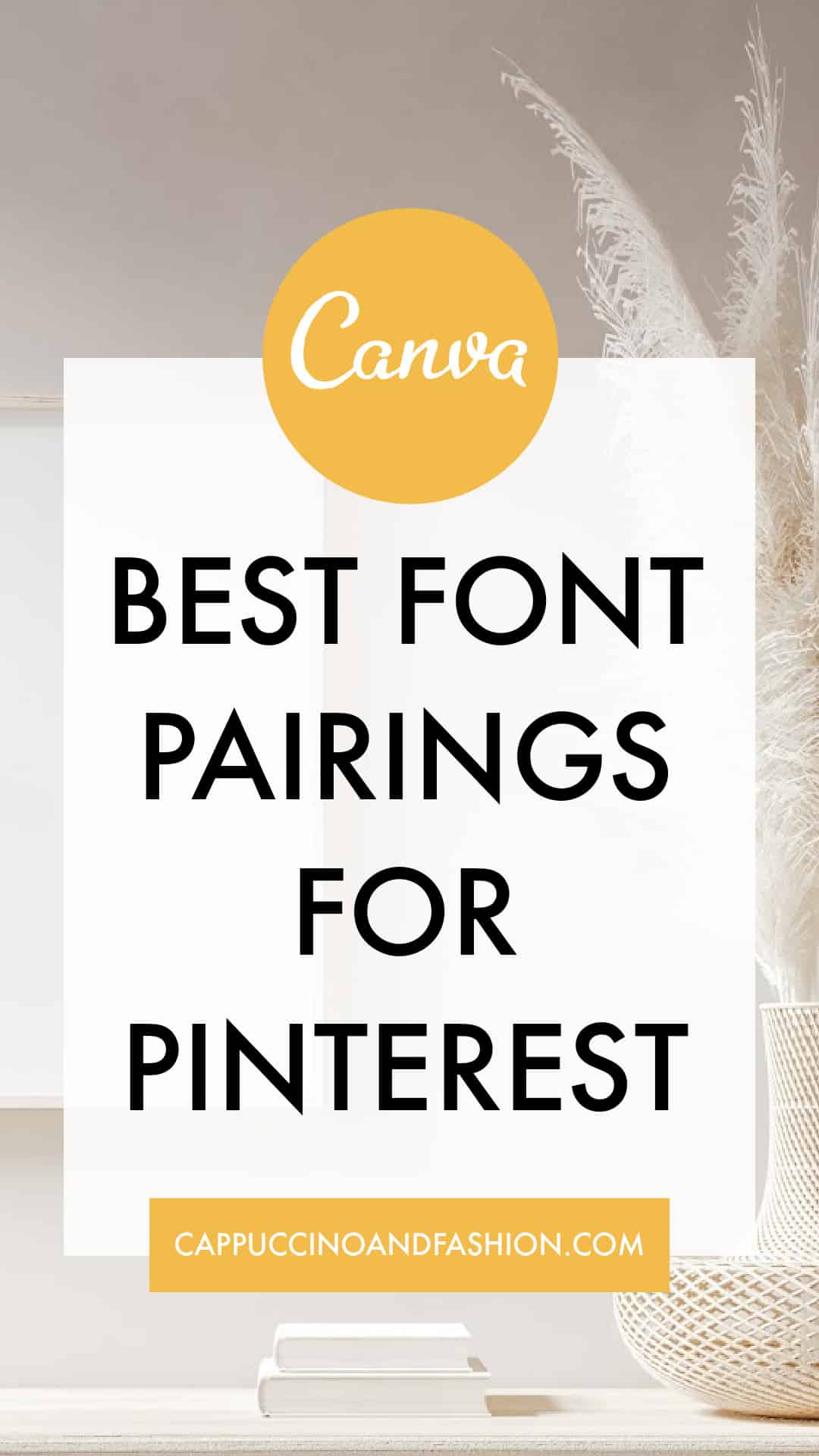 Did you know that some fonts perform better on Pinterest than others?
After years of trial and error for my own blog, I am here to share with you the best ones that will help grow your audience on Pinterest. These are the tips that have helped me grow my Pinterest to over 1 million monthly viewers consistently.
Of course you can use these font combinations for any design project, but my main focus here are the pairings that boost your pin graphics on Pinterest.
My main free tool creating pin graphics is the awesome Canva. You can easily start a free Canva account if you don't have one already and get creating some lovely pins straight away.
Ready to start your own blog? I use and recommend Bluehost for your blog. If you have no idea where to begin, use my free ultimate guide on how to start a blog and make money blogging.
Why is it important to have good font combinations on Pinterest?
When you learn how to create great eye-catching pins, it will result in more people saving them and clicking on them.
Which means more blog traffic for you.
And if you're a blogger yourself, you know how precious traffic can be in terms of monetising your content and making a proper income from it.
Pinterest is one of the best tools to drive traffic to your blog, so focusing on creating eye-catching pins is so important!
How do I pair fonts together? Which fonts go well together?
It can be overwhelming trying to find some good font pairings when you first open Canva, isn't it?
Well I have a few general rules I go by when I try to combine them myself.
Here are some tried and tested general combinations that work well on your pins:
a bold font + a thin font
a bold font + a handwritten/script type of font
a thin font + a handwritten/script type of font
One thing to keep in mind:
When choosing a handwritten or cursive type of font, make sure you:
Pick a handwritten font that is not too hard to read, especially on small mobile devices.
Don't write too many words on the pin in that cursive font, as it can get too difficult to read. If it takes too much effort to read the words on your pin, people will just keep on scrolling.
10 Best Free Canva Font Combinations for Pinterest
1. Open Sans Extra Bold + Open Sans
2. Roboto Condensed Bold + Gistesy
3. Lovelo + Themysion
4. League Spartan + Brittany
5. Lato Bold + Moontime
6. Montserrat Extra Bold + Lato
7. Nourd Bold + Jonathan
8. Raleway Bold + Selima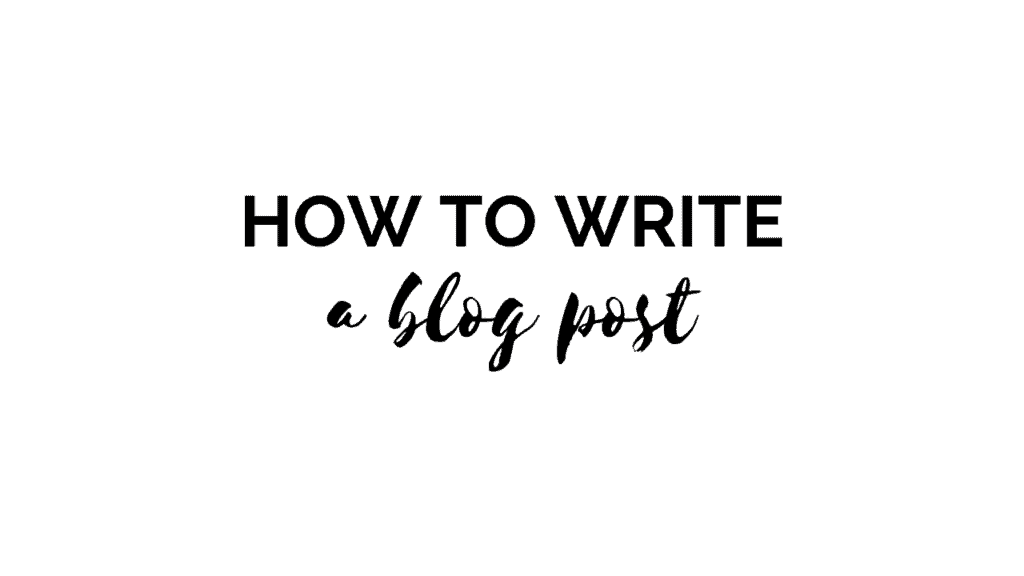 9. Roboto Bold + Brittany
10. Oswald Bold + Oregano
---
Watch the video for more tips:
Want more fonts?
If you need a bit more inspiration for picking fonts for your next design, here you go:
Save this post for later: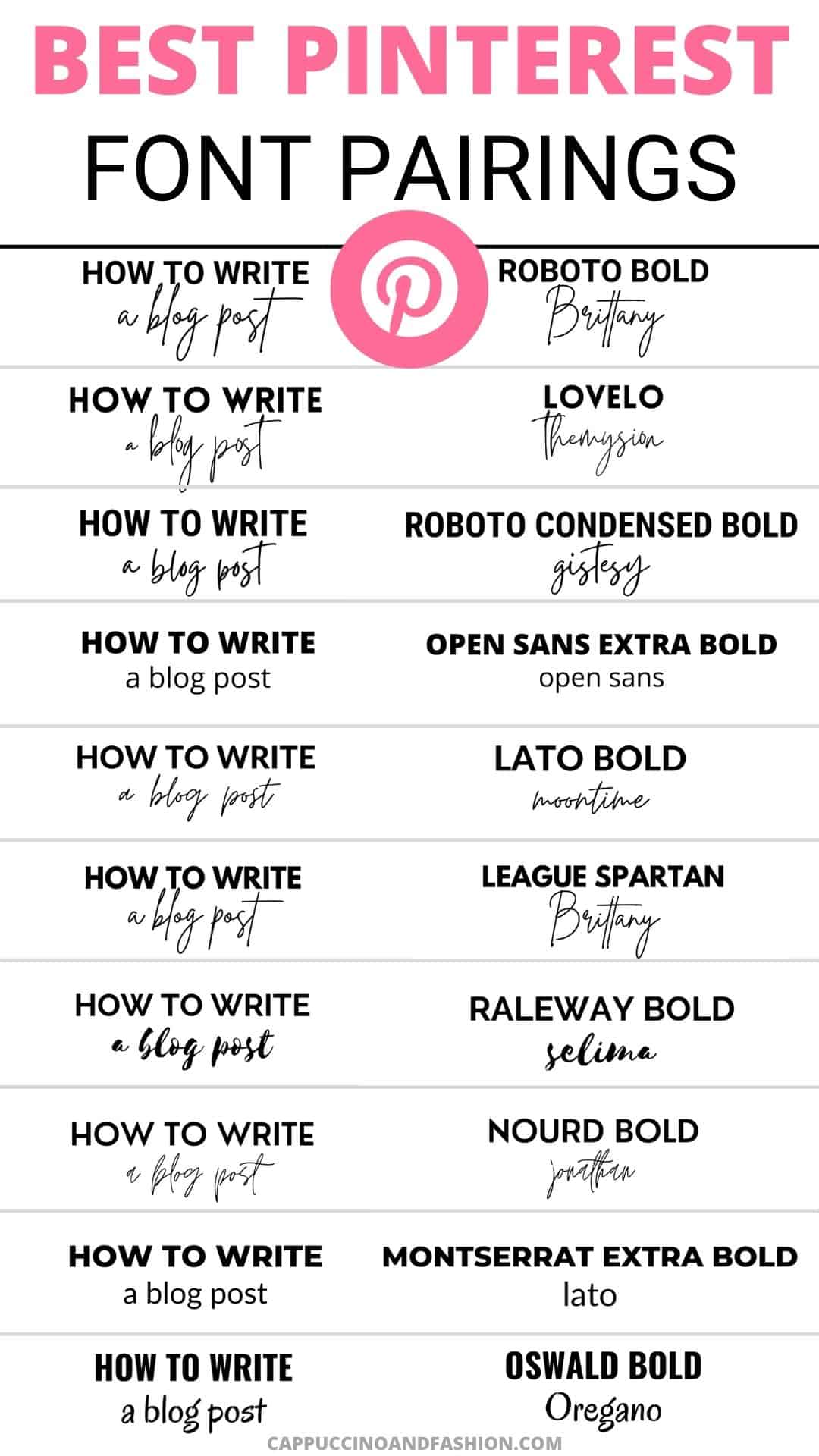 ---
If you're a blogger yourself, you need to read this free SEO checklist for beginners. It will get your posts SEO-friendly in no time.
Or maybe you're stuck with your content. Here are 365 blog post ideas to get you creating more.
Growing your Instagram can be an amazing asset for your business too. I've got some great Instagram tips to help you get started.
Don't forget to pick up your Social Media Content Calendar for 2022.
---
I hope you found this post helpful and got some ideas for Canva font pairings and combinations if you're a blogger as well.
I would love to know if you've used these fonts.
What are you struggling with when it comes to Pinterest or blogging?
Let me know, I'd love to try and help out!