This post may contain affiliate links, meaning I make a commission if you purchase through my links, at no extra cost to you. Disclosure here.
Choosing Pinterest fonts can be challenging sometimes, so today I'm sharing with you 10 best free Canva font combinations that are perfect for pins.
We all know Pinterest is THE platform to be on when you're trying to grow your blog traffic.
And designing eye-catching, aesthetic pins is one of the biggest challenge when it comes to this.
I know I've spent so much time going through all the fonts on Canva trying to find two or three that go well together.
Today I'm saving you some time with these 10 easy pairings you can use for your pins straight away, along with a few quick tips on how to make your pin stand out.
Let's get started, shall we?
Ready to start your own blog? I use and recommend Bluehost for your blog. If you have no idea where to begin, use my free ultimate guide on how to start a blog and make money blogging.
General rule
You will notice a pattern in these font pairings that is quite a universal rule everyone uses on Pinterest.
And it works!
That pattern is: you either use bold font + thin font, or an all caps regular font with a script cursive one. This works best on Pinterest because it is easy to follow and it's more eye-catching.
RELATED: 12 Best Handwritten FREE Logo Fonts
Using all the same font in your pin looks a bit boring.
It might work for some people, but as a general rule it is best to use two or three different types of fonts.
Along with this, keep colours simple. Go for 2-3 colours max.
I usually choose black and pink or something along those lines.
10 Best Canva Font Pairings
Here are the 10 font pairings that are Pinterest approved and great for your next pin.
The left column is an example and the right column features the names of the font in Canva.
Want to save these for later?
PIN on Pinterest:
I hope these Pinterest fonts ideas make your choice easier the next time you're designing a pin.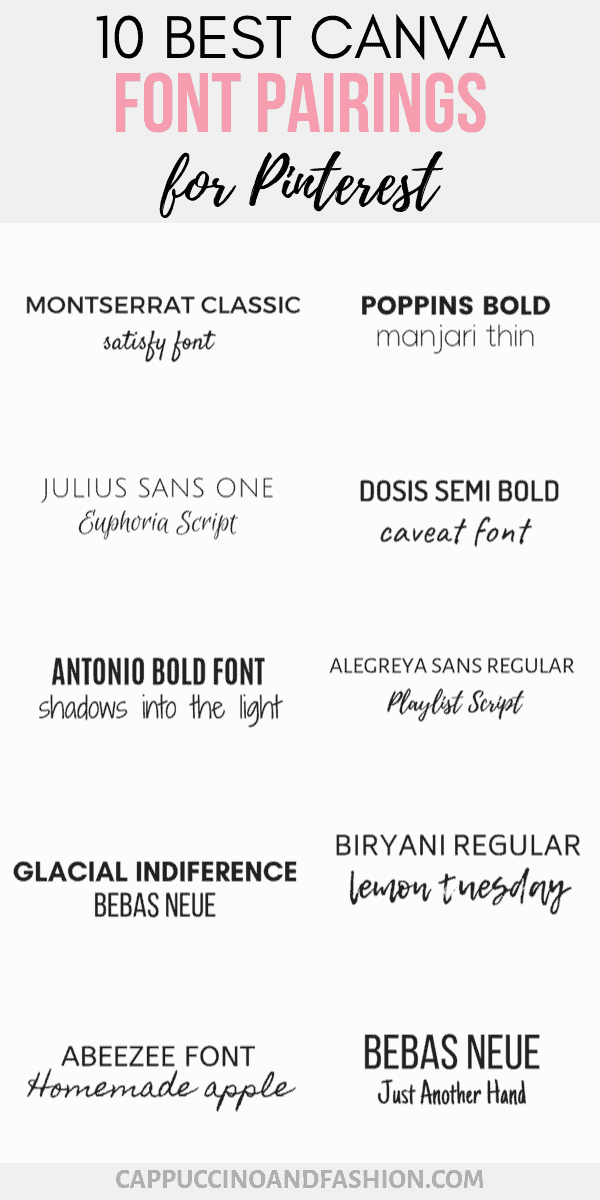 I have a lot more blogging and Pinterest resources coming your way, so make sure you join the newsletter to get them straight in your inbox.
---
If you're a blogger yourself, you need to read this free SEO checklist for beginners. It will get your posts SEO-friendly in no time.
Or maybe you're stuck with your content. Here are 30 fall fashion blog post ideas if you're in the fashion niche.
Growing your Instagram is so important for your business too. I've got some great Instagram tips to help you get started.
I would love to know if you've used these fonts. What are you struggling with when it comes to Pinterest or blogging? Let me know, I'd love to try and help out!