This post may contain affiliate links, meaning I make a commission if you purchase through my links, at no extra cost to you. Disclosure here.
Ikea is packed full of awesome products for the home. And their selection for baby or toddler products never disappoints either.
Today I'm sharing the best Ikea buys for kids. We have tried lots of their products and these are our favourite purchases. We're covering cribs, feeding products, tableware, toys and random accessories.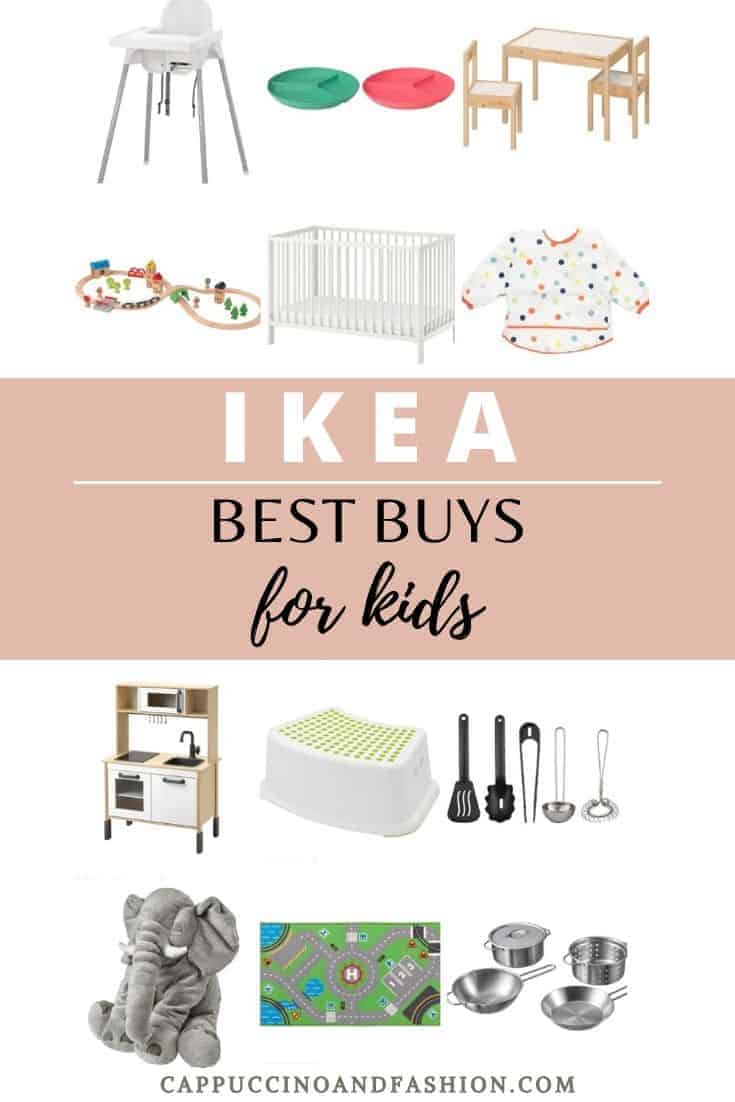 Best Ikea Buys For Kids
Everyone has heard of this high-chair or at least seen it in restaurants. It's an amazing one and super inexpensive. We used it for about 18 months and it was so durable. The only reason we stopped using it is because my toddler started refusing to sit in it and wanted to sit at the table like a big boy.
However, the tray of this high-chair comes off and it's so easy to clean. It also packs up really small in case you want to take it with you when you're traveling.
We've used to cribs from Ikea so far and they are incredible quality for the price. They last really well throughout the years. It's also nice that they come with an adjustable mattress height, as well as a conversion to toddler bed.
We started with the Gulliver crib and we loved it so much. It's lovely and minimalist. You can see how it looked in my boy's nursery tour post. The only reason why we switched to the Stuva Fritids about 4 months ago is because we moved country and couldn't really take the first one with us. We switched to the Stuva crib because it is slightly larger and we figured it made more sense to get a bigger one for my 2-year-old toddler.
This bib has seen a lot, let's just put it that way. From berries to spag bol to paint. It washes up really well in the washing machine, which is obviously what we're looking for as moms.
It is great for the beginning of weaning when meal time is super messy. Or for arts and crafts to keep paint from getting on their top.
This train set has kept my toddler entertained for hours. Now that he's two, he has learned to build the tracks himself and has so much fun with it.
Ikea have a few sets of these and they all go together. I believe we have multiple sets from the range (this, this and this) and we have so much fun building a huge train track together. I would highly recommend it for toddlers.
We bought this play kitchen for my toddler's second birthday and he loves it so much. The stove top lights up, it's got a sink and a microwave. It's the most adorable thing ever. We do have some play food for him to play with as well and he loves pretending to cook me food.
We got the set of pots and pans, as well as the cooking utensils from Ikea. They're the perfect size for this kitchen and we have so much fun with these.
This children's set is such good value for money. You get two chairs and a table and they are such good quality. Both myself and my husband have sat on the chairs and they're quite sturdy. The table is also really easy to clean. We use it for meal times, as well as for activities.
We recently bought these two sets of divided plates and bowls. They're amazing for serving their meals and they encourage you to put on there a bit more variety in terms of meals since they are divided.
Soft Toys
We have a few of the Ikea soft toys and they are really lovely quality and sooo soft. We have the elephant (which I think would be lovely to take baby pictures as they grow each month), the teddy bear and the panda. My toddler sleeps with either the panda or the teddy bear and he loves them so much.
My toddler loves playing with cars, so naturally he enjoys having this rug out to play. It's got parking spaces, train tracks and it's so much fun for little ones to explore.
This step stool is so handy for when your toddler wants to reach things like sink or toilet. We mostly use it for him to wash his hands at the sink. But I'm sure once we start potty training, this will be very useful for that too. It's non-slip too, so perfect to ensure little ones are safe on it.
I hope you found it helpful to see what we think are the best Ikea buys for kids.
I also have an Ikea Toddler Room Makeover post or an Ikea Baby Nursery Tour that you might find useful.
What is your favourite Ikea product?
Have you tried their baby/kids range?