This post may contain affiliate links, meaning I make a commission if you purchase through my links, at no extra cost to you. Disclosure here.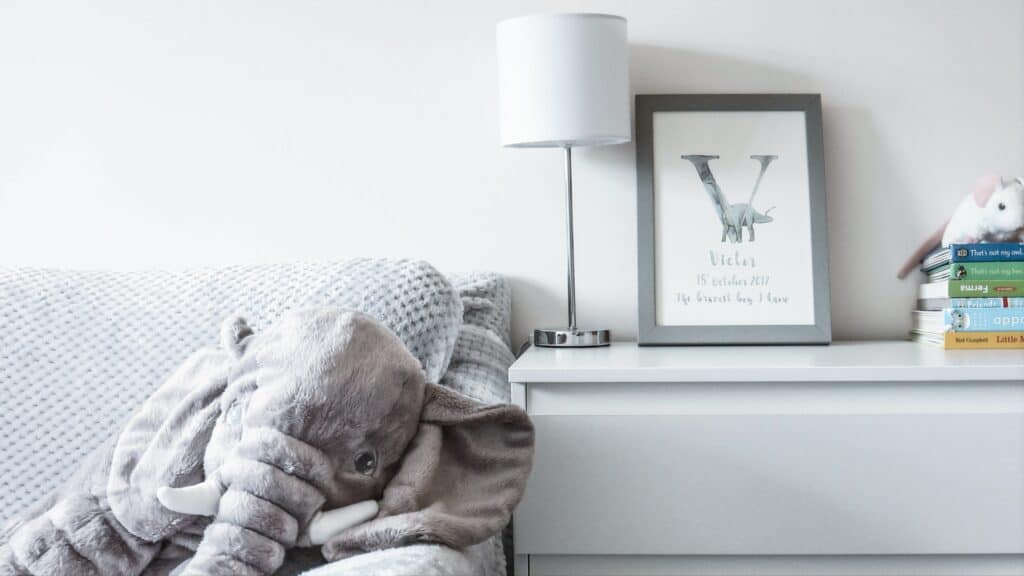 Our little ones need a cosy safe space to call their own. Today I'm sharing a toddler room makeover on a budget (that is also rental friendly).
It can be quite costly to buy lots of new furniture bits and decor for a nursery. However, it doesn't have to be like that. Babies and toddlers will be happy with whatever you choose, so why not go the minimalist route?
Toddler Room Makeover – Rental Friendly
Here are my tips for keeping it simple, yet adorable for your little one's room.
I also have a good hack for all of you living in a rental space (like we do). Let's get started!
Minimal White Furniture
It may come to no surprise if you've seen any previous home posts that I love Ikea. Even more so when it come to furniture or accessories for babies or kids.
We picked the Stuva / Fritids crib with 2 drawers, which is awesome. It's very roomy for my tall toddler and it will convert to a big boy bed when we need it. The drawers also make it so functional, because I store in there his diapers and crib sheets.
As far as his wardrobe goes, we went minimal. How minimal? VERY minimal. All he has for his clothes is this chest of 3 drawers that works perfectly. I've realized he doesn't need to have hundreds of outfit picks and we have a minimal capsule wardrobe for him.
It fits everything we need in there. Before moving country we had the Malm chest of drawers also from Ikea. We loved that one as well, but it's slightly bigger and didn't fit in this space, so we went for the Kullen one.
Minimal white furniture is a good base for a simple nursery, if you ask me.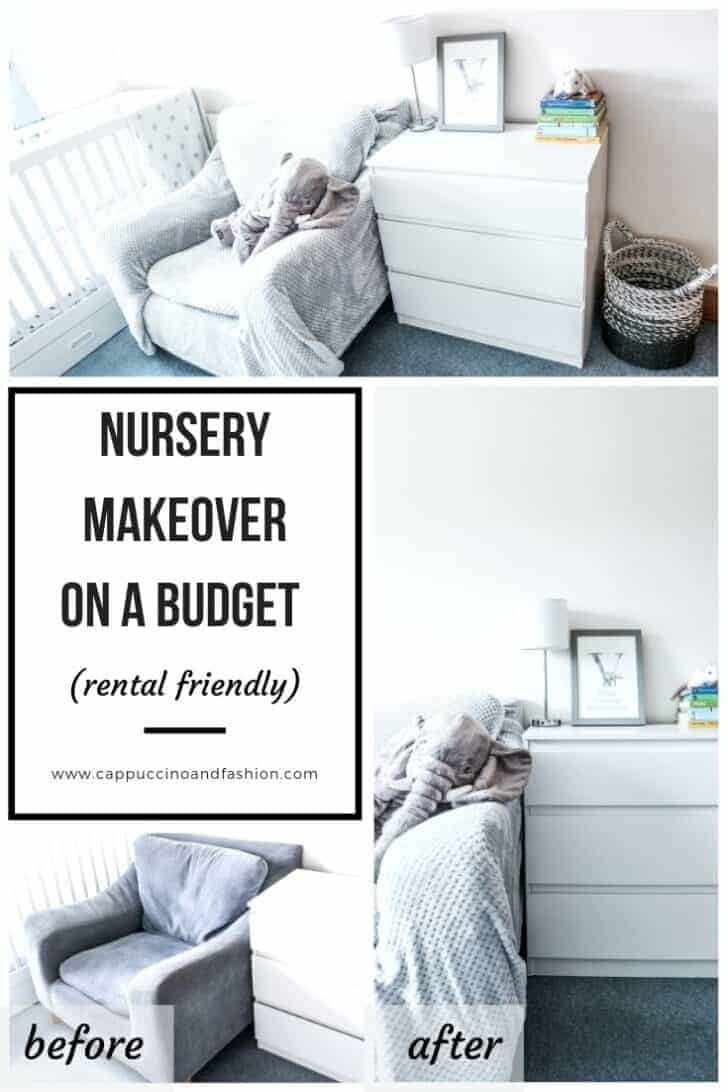 UGLY ARMCHAIRS IN RENTALS
Not gonna lie. When we moved in this rental the first thing I noticed was how worn out this armchair was.
Instead of buying a new one, I decided to save some pennies (because who knows how long we'll be in this rental) and make do with what we already had. So I started by cleaning the armchair thoroughly with this carpet stain remover and the brush that it comes with. I repeated the process twice and it made quite a difference.
Next I bought a waffle throw to cover it up, because having a custom made upholstery can get quite expensive. Make sure you get a soft fleece type of fabric, because that moulds easily to furniture.
I covered the armchair loosely and then I tucked underneath the cushions to make it seem like the throw is an upholstery. You can watch the video below to get a better idea of how to do this.
Organised Mess Basket
If you've never heard of organised mess, I'm about to drop some knowledge.
Just kidding 🙂 But having a "catch-all" basket will help so much to keep the room looking tidy.
You know how people have a floor-drobe? Well this is the organised version of that. I put in there things that don't really need to go in the wash yet, but they've been worn once so can't really go back in the drawers (like pyjamas).
Trust me. This will be a good place to throw all those loose-ends, scattered toys, things you don't feel like organising yet, but don't want to have spread out on the floor either.
Keep Decor Simple
I used a couple of toys for decor on his dresser, along with a simple white lamp that we use for reading books. I was also kindly gifted this dinosaur alphabet letter frame that I think is adorable and completes the room. We also chose a few books to put up there that we love to browse through together.
Making your little one's room special doesn't have to cost a lot and it doesn't have to be anything fancy. As long as they have you in there with them, they'll feel cosy and safe.
What's your favourite item in your toddler's room? Do you have a theme in their room?