This post may contain affiliate links, meaning I make a commission if you purchase through my links, at no extra cost to you. Disclosure here.
Whether you're a new blogger or have been at it for years as a hobby, you probably know how important traffic is for your blog growth. Today I am sharing with you exactly how I increased my blog traffic by 80,000 pageviews in just 3 months.
So if you are in that spot right now, not seeing results from your efforts, then hopefully this post will give you some pointers in the right direction.
AD: This post is in collaboration with Tailwind. However, all opinions are my own. I have been using Tailwind myself since 2019, way before I started to work with them.
I started Cappuccino and Fashion nearly 8 years ago as a pure hobby for sharing my outfits. It wasn't until I got serious with it that it actually started growing.
If you've been in the blogging world for a while, you probably know that there are two best ways to get traffic to your blog: through Pinterest and Google search. And out of those two, Pinterest is the easiest platform to grow on when you are just starting out in your blogging journey.
As an absolute beginner, I had no real strategy for my Pinterest, which is why I wasn't seeing any results. Until I started changing a few things and really established my strategy.
This is why I want to share with you how I increased blog traffic by using Tailwind. Because it is a game changer, or at least it was for me.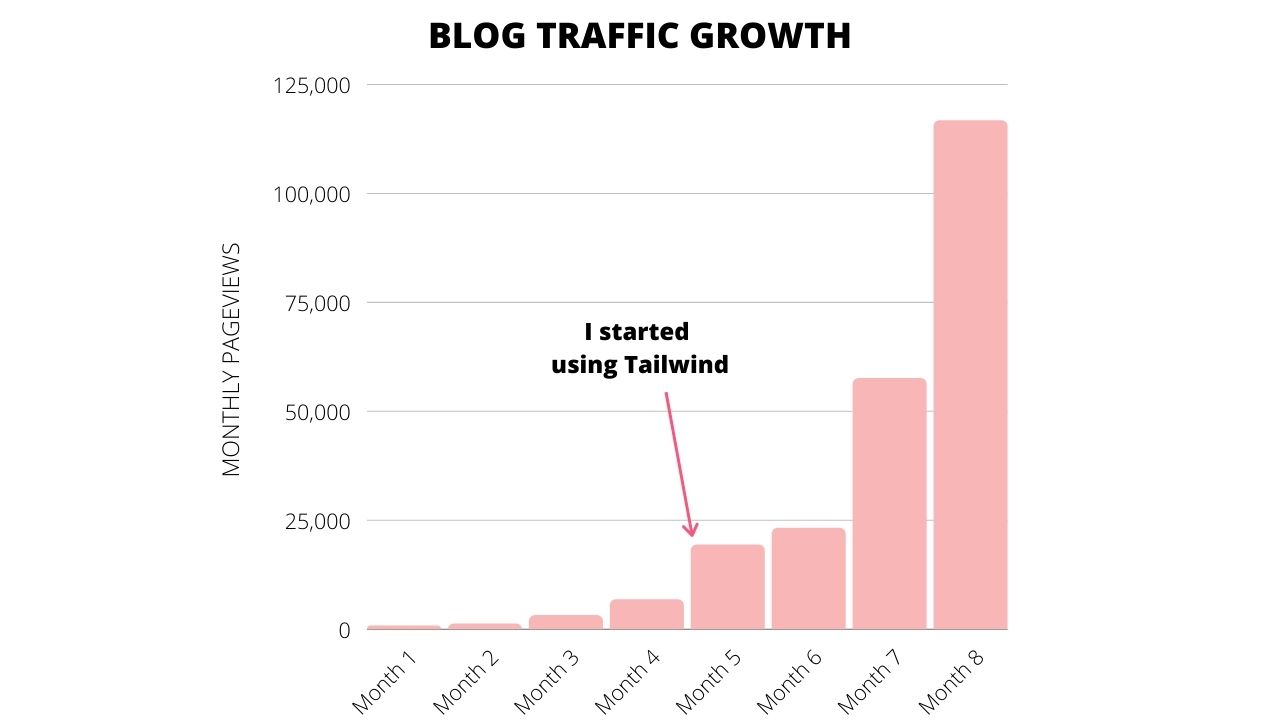 If you need all the details on how I managed to get this blog growth from month 1 to month 8, then keep on reading!
Before using Tailwind
Before I started using Tailwind, I was really struggling to post consistently on Pinterest. I was absolutely aware of the fact that you need to post frequently in order to see success on the platform.
However, my lifestyle as a busy mom simply did not really allow me enough time to be blogging consistently, do all my other work projects, spend time with my child AND on top of that be on Pinterest every day.
And as a consequence, I was barely on Pinterest. I would usually try to log on at the weekends and pin multiple pins at once to make up for all the days when I didn't pin anything at all.
If you know anything about the platform, you probably know that's not really a great strategy for Pinterest. Why? Because Pinterest favours fresh pins, daily, multiple times a day, pinned to different boards.
It was also difficult for me to remember which boards I had already published a pin on, so that I wouldn't keep spamming that same board with the same pins.
Also, lots of group boards have the rule that you can't pin on their board more than X times per day (usually 3, 5 or 10 pins per day). So it's not a good idea to go on just one day of the week and spam that board with all your pins, because that will get you kicked out really fast.
As you can probably tell, my pinning was a complete mess and I was not at all consistent with it.
After using Tailwind
In January 2020, I finally decided to invest in Tailwind.
I was getting more serious with my blog and I had decided that I wanted to make this my full time thing. So I knew I needed help in the Pinterest department.
After less than a month of using Tailwind consistently and pinning 10-15 times a day through it, I had increased my Pinterest monthly views to 247k. This was at the end of January:
Then two months later, in March, my Pinterest audience grew to 774k monthly views, after using Tailwind consistently during that time:
I then went on to reach over 1 million monthly Pinterest views consistently every single month. Some months it even goes higher than 2 million, depending on the season.
If you're curious about how you can do the same, I wrote a full post on how to get 1 million monthly Pinterest views.
Please note that your results might be different depending on your content, niche and strategy, but here are some typical results you can expect from using Tailwind.
What it truly takes in order to see results with your blog is to create quality content consistently. And content that your audience is actually searching for on either Google or Pinterest.
And while you could manually pin all your pins, it does take a lot more effort that most people simply cannot sustain. Daily pinning can be very time-consuming and you need to be super organised in order to keep track of all the boards you're pinning to.
This is not to say manual pinning doesn't work. However, I found a major improvement in my own strategy after I started using Tailwind, because it made the whole process so convenient for me.
How I increased my Blog traffic by 80,000 pageviews in just 3 months
As a result of growing my Pinterest following and views, my blog traffic started picking up a lot too. Obviously, the more people see your pins on Pinterest, the more likely it is for them to click through and read your blog.
I wrote monthly reports on how I grew my blog in the very beginning, but here's the gist of it.
month 5: 19,000+ pageviews
I had been using the free version on Tailwind for a little while, but this month I decided to invest in the paid version, so I could pin a lot more to my Pinterest through it.
If you want to see my exact strategy for this month, you can read my month 5 blog traffic report.
month 6: 23,000+ pageviews
During month 6 I started to see a bit of an increase, after pinning consistently every day on Pinterest.
month 7: 50,000+ pageviews
During month 7, I kept up my consistent pinning schedule and started to really see some growth, as my pageviews had doubled from the previous month.
You can read here my blog traffic report for month 6 and 7 to see exactly what I did during those months.
month 8: 100,000+ pageviews
Then month 8 I hit over 100,000 pageviews. And the majority of those views were Pinterest traffic.
I am pretty confident that without a pin scheduling app like Tailwind, I wouldn't have been able to stay this consistent with my pinning.
If you've been on the fence on whether or not scheduling your pins through Tailwind is for you, I wrote here a full review to see if Tailwind is worth it for you. I go really in depth into all the features they have for bloggers, as well as my exact strategy I used to grow with Tailwind.
I hope this post on how I increased blog traffic by 80,000 pageviews in just 3 months was helpful! How are you currently doing with your Pinterest strategy? Let me know where you're at in the comments below!