This post may contain affiliate links, meaning I make a commission if you purchase through my links, at no extra cost to you. Disclosure here.
Is Tailwind really worth it? That's one question I was constantly asking myself a couple of years ago when I was still trying to get the hang of this blogging thing. I am here today to give you my brutally honest Tailwind review.
AD: This post is in collaboration with Tailwind.
However, I have been using Tailwind myself since 2019 and I just recently partnered up with them because I love using the tool so much and I wanted to share my thoughts on it with you.
If you've been on the fence on whether or not Tailwind is worth the money, then hopefully this in depth review will give you a better idea on whether it's for you or not.
I have been blogging for over 8 years on my hobby blog, but it wasn't until around 2 years ago that I actually got serious with it and turned it into my full time thing.
And recently I have started sharing more of my blogging tips with you, because I want to help you do the same. If blogging is something you are interested in, I highly encourage you to start and keep going with it. It's an amazing opportunity!
Ready to start your own blog? I use and recommend Bluehost for your blog. If you have no idea where to begin, use my free ultimate guide on how to start a blog and make money blogging.
What is Tailwind?
Tailwind is a pin scheduling app. After you create your account with them, you will be able to schedule your pins easily to Pinterest.
It offers you a fully optimised schedule that's specifically for your account, with the best times to post for maximum engagement on your pins.
You add your pin images to Tailwind, and you can do this either from your blog posts or upload them directly onto Tailwind. You can then fill in the title, description, link and the boards you want it to go to.
And at the press of one button, you can schedule all those pins in your timeslots easily. This means that your pins will be posted at those times automatically by Tailwind and make your life easier.
This is what my Pinterest stats looked like a few months after I started using Tailwind consistently:
Why do I need Tailwind?
Tailwind makes your blogging life easier. And it helps you optimise your Pinterest at the same time.
Since you can automatically schedule your pin images through the app, this means you are able to create your full month of pins within just a few hours.
You can sit down, create all your pin images in a batch. And then schedule them all through Tailwind to go out at the best times every day throughout the next month.
This has saved me so much time as a blogger.
It also helps you be more consistent, mainly because the daily work is done for you. You only need to sit down once a week or month to create those pins, and then you don't have to worry about remembering to post them. I personally would not have been able to stay this consistent without it.
Another thing for me is the fact that I am in a different time zone than a large part of my audience.
I am on London time, while a big part of my readers are from the US. This means that I would have to be up at 2-3 am to pin in order to get the best impressions and engagement on my pins.
And let me tell you, as much as I love this blogging thing, there's no way I would be up at that hour pinning like a crazy woman 🙂
Which is why Tailwind has been super helpful for me.
Why I was skeptical in using Tailwind
As I was just at the beginning of my blogging journey, I was keen on using lots of free tools. And investing in paid tools felt like a big commitment.
I still had that mindset of hobby blogging, where I didn't really want to spend a lot of money on it. And while I think it's great to start with little investments and not going all in from day 1, I do believe there are certain tools you need in order to see results.
Some tools will be more of a nice-to-have type of thing, but others will be extremely helpful in helping you grow at much faster rates.
Tailwind is one of those that really boosts your account and helps you out as a beginner.
It was one of my first bigger investments in my blogging journey, but I'm so glad I took the leap. It also changed my mindset from having just this cute hobby, to: Let's turn this into a business.
And that mindset shift is huge! It's the one thing that will help you go further with anything.
How to Use Tailwind for Pinterest
Here are the main ways I use to schedule my pins on Tailwind:
1. Upload your pin images straight to Tailwind
Open your Tailwind dashboard, then click on Create New Pin and select to Upload Photos/Videos.
2. Install the Google Chrome extension for Tailwind
After you install the Chrome Extension for Tailwind, you will be able to see a little Tailwind icon when you hover over any photo on your blog.
If you click that icon on the photo, it will automatically add it to your drafts on Tailwind.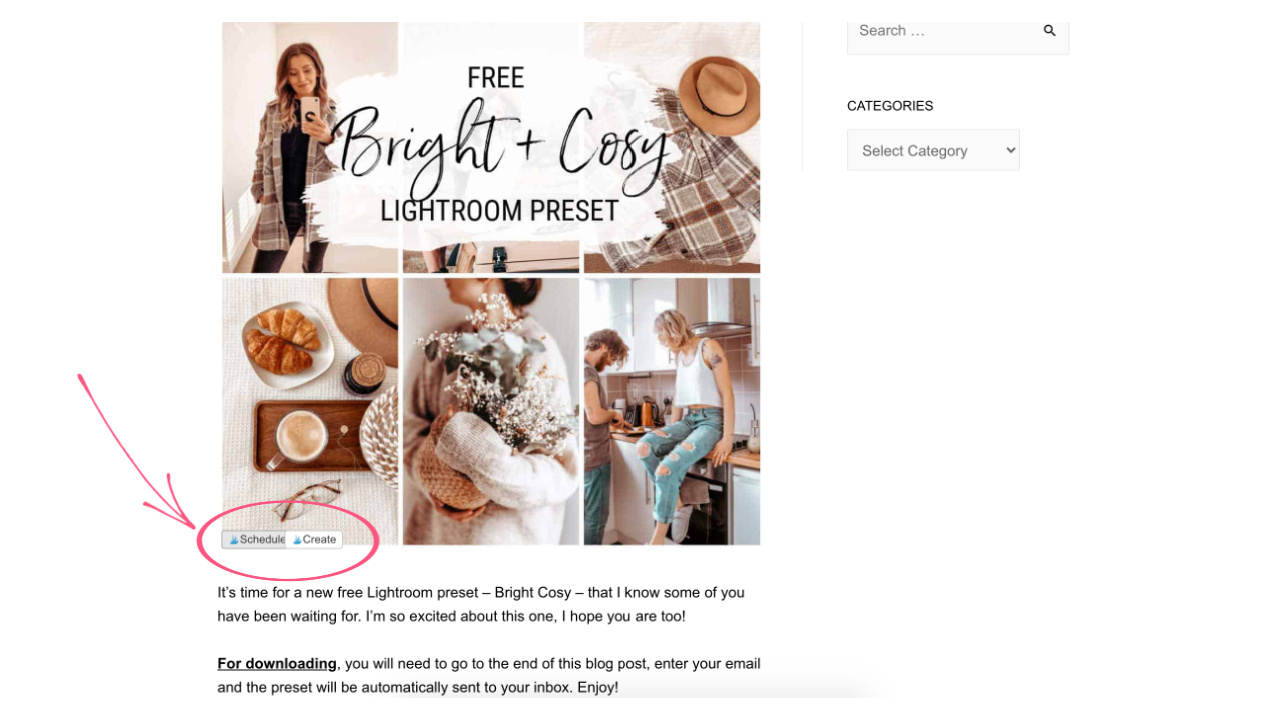 After you've added your pin images to Tailwind, you can go and edit the details and queue them in your schedule.
The pins will then automatically post each day at the best times for your account.
Best Tailwind features for bloggers
Aside from being able to save time by scheduling your pins in advance, there are a few other features that Tailwind has and that are really helpful. Let's dive into a few of them!
Tailwind Communities
Tailwind Communities are amazing for building up connections with other bloggers in your niche, but also for getting more repins and exposure on your pins. Tailwind Communities used to be called Tribes, just in case you were wondering.
You might have heard that group boards are great to get your pins in front of more eyes.
Group boards are boards that include multiple creators who can pin to them and they are usually invitation-only. They are really helpful to grow, especially if you are a beginner blogger on Pinterest.
However, it can be tricky to find really good quality group boards, where people actually repin your pins from there.
Introducing Tailwind Communities. You can join Communities in Tailwind, which are very similar to group boards.
Once you join a Community you can share your own pins there for other people in your niche to repin them, and you will also be able to repin others pins. It's super helpful because they are usually really good quality, more active and people in those Communities are more likely to engage.
On the basic plans, you get access to 5 Communities of your choice and 30 pins to share per month. I try my best to use them all every month and I've had really good results and repin rates from there.
Board Lists
When you want to pin through Tailwind, you will add all your pin images to your drafts. From there, when you want to add them to your boards, there is this really neat trick you can do in Tailwind.
You can create board lists and it massively helps me stay more organised. For example, you can have a board list of all the fashion group boards you are on, or all the motherhood group boards etc.
This really helps, because when you go to pin, you can simply select one of those board lists and it will automatically add your pin to all the group boards on that list (according to your schedule).
It saves you so much time of browsing through all the boards you are on.
Smart Loop
Another feature that's really handy is the Smart Loop. If you have pins that do really well, you can schedule to repin them at a certain interval of time (aka looping).
Pinterest does favour new fresh pins, so I wouldn't recommend abusing this feature.
However, it is really clever to use Smart Loop especially for seasonal content. So if you have summer specific, Christmas related or any type of seasonal content, you can use this feature to repin those pins that do well during that season.
It's super easy to use and integrates your repins nicely in your schedule.
Tailwind Create
Tailwind Create is an awesome feature that allows you to create your pins straight on the Tailwind platform.
You can upload a few pictures you want to use for a certain pin, then add your colours, fonts and title.
And then with one click they will automatically create lots of pin variations containing those choices you initially made (colours, titles etc.)
It's amazing to help you create lots of pins fast. And it helps you create new designs that you might not have thought of. Again, Pinterest does favour fresh pins, so the more new content you create, the better you will do.
Board Insights
With Board Insights, you are able to see stats for all the boards that you are on. Both your own boards and group boards.
You can see how many repins you get from a board, what the impressions are for that board, how many followers it has etc.
If you love analytics and seeing your stats to improve your strategy, then you will likely love this feature. It can really help you see which group boards are worth being on and which ones aren't really doing you any favours.
Pin Inspector
Another analytics feature is the Pin Inspector, which is amazing to show you exactly how a certain pin of yours is doing.
This can really help you narrow down your strategy and focus on what is working for your account.
My Tailwind Results
I have managed to grow my Pinterest account to over 1 million monthly views consistently for the past year or so.
And while having eye-catching pins and good titles is really important, I think consistency has played a huge part in that.
I'm not saying you can't grow without using Tailwind. But I do attribute a huge part of that success to Tailwind, because my lifestyle as a busy mum would simply not allow me to be on Pinterest daily pinning.
I am pretty confident I wouldn't have been half as consistent without it.
If you want to see exactly how I used it to grow my blog audience, then you can see my blog traffic report for month 5 and blog traffic report for month 6.
Now your results with Tailwind might be different, and that's mainly because it depends on how consistent you are and how focused you are on creating quality content. You can check out the typical results of Tailwind members here.
Is Tailwind worth the money?
Absolutely yes, Tailwind is worth it. For me, it helps save a lot of time and provides access to some really valuable features that have really helped me grow, like Board Insights, Tailwind Communities and Board Lists. I find those really helpful for my Pinterest strategy.
It was one of my first investments in my blog, but it has really paid off. I am pretty sure I wouldn't have been able to post consistently on Pinterest otherwise. And consistency truly is key when it comes to your pinning strategy.
How much is Tailwind a month? Tailwind Pricing
Tailwind has updated their pricing structure and, at the moment, the basic paid account is the Pro plan for only $9.99/month. They have also a Free Forever plan, where you get 20 posts/month included.
All plans now include your Pinterest profile and your Instagram profile, which is great because you can schedule your posts for both in one place.
I would recommend starting with either the Free Forever plan or with the Pro plan if you're ready to get more serious with your blog. And then when you feel you've outgrown one plan, you can always upgrade to the next level if needed.
Does Tailwind have a free version?
Yes, Tailwind now has the Free Forever plan. It includes one Pinterest Profile and one Instagram Profile, as well as 20 posts per month.
It's a great plan to get started on to see how it works for you before you make any investment.
Does Tailwind post automatically? Is Tailwind approved by Instagram and Pinterest?
Yes, Tailwind posts automatically to both your Pinterest and your Instagram account. Of course, you will be able to chose the date and time for each post.
Tailwind is an official partner of Instagram and Pinterest, so you never have to worry about that.
They work very closely with Pinterest and constantly add tips for you in the Tailwind dashboard, so that you are always up to date with the current best practices.
It's a really great tool to help you solidify your Pinterest strategy.
Does Tailwind still work in 2021?
Absolutely, Tailwind still works really well in 2021. Even though the algorithm has changed, Tailwind is really up to speed and gives you lots of insights on the do's and don'ts on Pinterest.
For example, they give you a heads up that you shouldn't post one pin to more than 10 boards. They let you know if you've already repinned a pin to a certain board, so that you're not spammy.
The new algorithm favours fresh pins and Tailwind Create helps you make new pins really fast. Also, consistency will always be a huge part of growing on any platform. So if that's what you're struggling with, then a scheduling tools like this one will really make a difference in your growth speed.
Can I just pin manually without Tailwind?
Of course, you can pin manually without Tailwind and still grow. I will be completely honest with you.
You absolutely can grow on Pinterest without scheduling all your pins. However, the downside of manually pinning is that it takes a lot of time. You need to remember exactly which pin you pinned to what board, so that you don't spam that board.
You need to be on Pinterest daily to pin new content. If your time allows for you to do that and you can maybe squeeze it in your schedule every morning, for example, that's perfect. You can absolutely grow without a scheduling app too, it just takes a lot more effort.
Does Tailwind have good customer service?
Yes, whenever I had any questions or needed help with something, their customer service has been super helpful and they usually reply in a timely manner.
I really cannot fault their customer service.
Cons of Tailwind
I really tried to rack my brain for the cons of using Tailwind and I could only think of one.
It can be a bit pricy for a beginner blogger who has just started their blog. I know that feeling of not really wanting to invest much when you're just starting out, because you're afraid it might not work out.
I am a big believer in starting with small steps and only investing in the tools you absolutely need in the beginning.
However, if I were to start again from scratch, Tailwind would be on top of my list to purchase because it is simply so helpful.
And they now have a Forever Free plan (which they didn't used to have), but that's amazing for when you're just starting out.
Final Thoughts: Is Tailwind actually worth it?
Yes, I Tailwind is absolutely worth it if you are ready to turn your blog from hobby to business.
You can start with Tailwind on the free plan and then advance to the Pro one when you feel ready to create more content for your blog. It is truly one of the best tools you can invest in as a beginner blogger.
I hope this Tailwind review was helpful for you to figure out if it's something you might need.
Have you tried Tailwind before? What are your thoughts on it?