This post may contain affiliate links, meaning I make a commission if you purchase through my links, at no extra cost to you. Disclosure here.
Welcome to another monthly blog growth report.
---
How do I grow a blog from scratch?
I can relate to that question deeply, as it had been on my mind for a long time. I've been running Cappuccino and Fashion for years with minimal traffic – it was simply a hobby to me, so I didn't care much for that.
Last year I had decided I'm going to transform it into more than that and work hard on actually growing it.
So I have started posting a blog growth report each month to document it.
Ready to start your own blog? I use and recommend Bluehost for your blog. If you have no idea where to begin, use my free ultimate guide on how to start a blog and make money blogging.
I remember looking at all these big bloggers and thinking:
How do they do that?
How do they get tens of thousands of views every month?
I felt like that goal was so far from my reach.
Now that I think about it – of course I wasn't getting those pageviews:
I wasn't posting consistently.
There was no real strategy in my mind, I just posted randomly.
My Pinterest was seriously lacking the attention it deserved.
I didn't have an email list.
I wasn't tracking my analytics.
How in the world was my blog going to grow if I wasn't really making a conscious effort to achieve that?
Once I started using the strategies that I'm going to share below, this blog has had a steady growth and it keeps increasing each month.
I think there's absolutely nothing wrong with having a blog as a hobby and just share whatever thoughts you feel like sharing – it's great for the mind to have an outlet like that.
BUT if you do want to take it to the next level, then keep on reading this monthly blog growth report.
First of all, if you haven't started a blog yet, but you would like to, I have a full series on how to start it with a good foundation for growth.
I also recommend starting with a good WordPress hosting.
For ultimate beginners, I highly recommend starting with Bluehost. It's super cheap, very easy to use if you're just getting started.
On my blog, I currently use GoDaddy hosting and domain, which you can get a great discount on here.
Update: Since writing this blogpost, I no longer use GoDaddy.
As you move along your blogging journey, you will likely switch from one hosting provider to another to accomodate your new blogging needs. But for starters, Bluehost works great!
If you want to know why I recommend starting with WordPress, here are all the deets.
How This Monthly Blog Growth Report Works
The reason why I decided to start posting these monthly blog growth reports is because I thought they might be useful to some of you who are in this process yourself.
I have been reading blog growth report posts from other bloggers too and they have helped me tremendously in building my own strategy.
In these posts I basically dive into my analytics and share with you what I think has worked and hasn't worked in order to keep the blog growing.
The reason why I have decided to start doing these posts is because I hope they will be helpful to you if you are just starting out your blog or if you feel stuck in your blogging journey.
These might give you some ideas to try yourself that could boost your blog traffic.
In today's post I'll be talking about the month of February and March (because I didn't get to post this last month, so I thought I would combine it all here).
Here is my blog growth report for each month so far:
February: 23,164 pageviews
March: 57,508 pageviews
This might not seem a lot to some, but I am really proud of this growth and I think as long as we see progress in our blogging journey, that means we're doing something right 🙂
1. Analytics
In February (month 6 of my blog growth reporting), I had 23,164 pageviews. A pretty good increase from the previous month, when I had 19,304 pageviews.
The following month, in March, traffic doubled to 57,508 pageviews. I really didn't expect it, but I think a few of the strategies I have been using lately helped massively.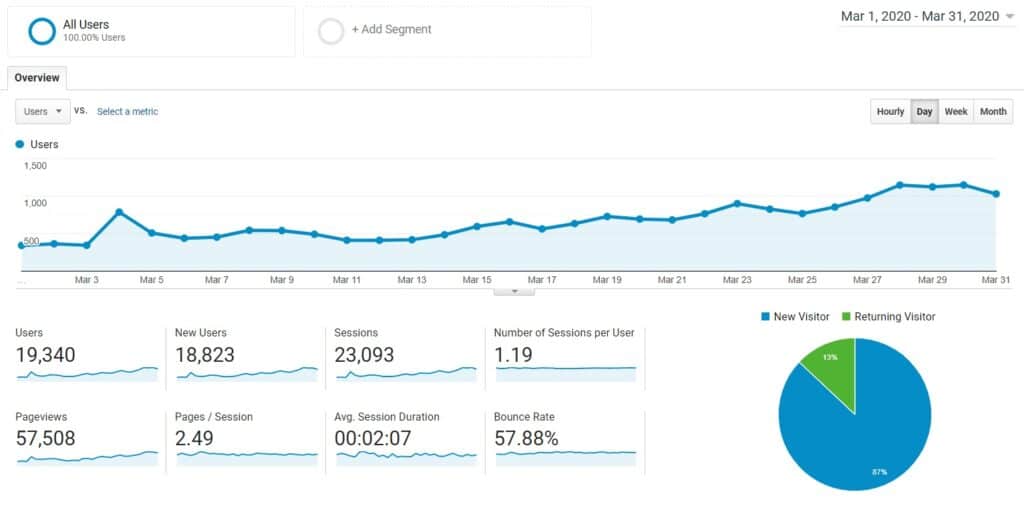 One of the things I have focused on a bit in these past few months is lowering my bounce rate.
I started at about a 70% bounce rate in my first month of tracking, and then gradually managed to lower it. I am now sitting at around 54-57%, which I think is great.
Why is bounce rate important?
Bounce rate is basically how fast a user leaves your website after they've landed on it. Obviously, the lower the bounce rate, the better.
It means people are enjoying the content and spending more time browsing through pages or just generally reading more of your content.
Bounce rate helps greatly in terms of SEO (from my research).
When a person spends a decent amount of time on your website, it signals to search engines that your content is valuable, people are enjoying it and you're not just doing click-bait for the sake of views. Which, in turn, means that your pages will be able to rank higher in those search engines.
What Am I Doing to Improve Bounce Rate?
That's all great. But how do you actually get that bounce rate lower?
Here are a few things I have tried that contributed to lowering my bounce rate:
Use a Related Posts plugin. I use the Jetpack one, but there are lots to choose from if you search into WordPress plugins. This is so that when a reader finishes a blogpost, they will find some suggestions on what to read next.
Have related posts. In order for the related posts plugin to help, you will need to have related posts. Create series of posts on a topic and make sure to link to each other too.
Create longer posts. Having a quick 300 words post will not help in terms of bounce rate or SEO. The long form, 1,000+ words posts will provide more value and keep readers on your site longer.
I have mentioned these things before, but I think they are so important to help with SEO and blog traffic in general.
Email List Subscribers
Before starting this blog growth journey, I have read times and times again – the list is THE most important thing to focus on. As in, an email list.
I didn't really get the whole fuss about it, but I figured I would include it in my strategy to see how it goes.
In October last year, I had 30 subscribers that I imported from my previous blog feed subscribers. And no idea how to use this list in my favour.
The way it works – you will need an incentive opt-in for people to join your email list (for example: worksheets, checklists, printables, charts, any freebies that would be useful to your target audience).
After people join your list, you can send newsletters (weekly, ideally) and provide them more valuable content while keeping in touch with them.
It's amazing because, unlike social media, an email list is the only platform YOU have control over. Instagram, Pinterest, Youtube – they all have their own algorithms. But with your list, you decide what each subscriber sees.
I honestly don't think my pageviews would have gone up this fast without my email list. On the days when I send a newsletter, there is an influx of pageviews to my blog. And I have been able to create better connections with my audience, which is awesome.
At the end of month 6 of actively trying to grow my traffic and my list, I had reached 5,375 subscribers. I will tell you in a bit a few things that I did to help with that.
At the end of month 7, I had 9,400 subscribers. I was honestly floored. This happened for a number of reasons and because of a number of opt-in incentives.
Here are a few things that I think helped massively:
Think of your ideal audience – What problems are they maybe facing? What solutions can you offer in your freebies?
Test out multiple types of incentives to see what works.
Post the sign-up forms for a specific incentive in all of your posts on that topic. For example, I include my free blog resources form in all of the blogging related posts.
My best performing incentives are:
I have a few others, but these are the best ones so far in terms of subscribers.
I think if you keep on testing different types of incentives, you will eventually find something that works well for your audience and that is really helpful to them.
NOTE: Since I have a few topics I like to feature on my blog (mainly: motherhood, fashion, lifestyle), I love that I can create different tags or segments in Convertkit for each topic. This means I can separate my subscribers depending on what freebie they downloaded, so I try to only send out emails they might be interested in.
Update: Since writing this blog post, I have decided to switch from Convertkit to Flodesk. If you would like to know why, I wrote a whole blog post about it.
2. Pinterest
I have a deep love for Pinterest, haha. I'm certain my blog wouldn't have grown this fast if I hadn't put so much effort into Pinterest.
It is my number one source of traffic at the moment and I think that's true for most bloggers in the beginning. I can see that my Google search traffic is really picking up too, but as a beginner blogger, Pinterest is your best bet.
The Google SEO is more of a long term game. You need to follow SEO guildelines for weeks/months before you see some results and get pages ranked up in search.
With Pinterest, it's a much more quick traffic to gain. Which is why I highly recommend you focus on Pinterest if you're at the beginning of your blogging journey.
Here are my stats for February. I had reached 302k monthly viewers:
And in March I reached 774k monthly viewers on Pinterest:
One tool that I use for Pinterest and that has helped massively is Tailwind. I'll share exactly what I'm doing to grow on Pinterest below.
3. Number of posts
For the month of February, I had published 9 posts. My goal was to post 2-3 times a week, so I was happy I managed to get all these done.
During March, I published only 6 posts. Not too bad, but some months are just like that – you don't get to post as much as you would like.
My traffic during March went up a lot anyway, so it just goes to show that blog posts that you publish today will usually pick up more traffic during the next few weeks/months.
4. Strategies I Used
Alright, here are the strategies that I used these past few months that I think have helped a lot:
Linktree page
You probably already know, you can only add one link to your Instagram profile. Most people use Linktree for this (myself included until recently).
However, you are sending a lot of traffic to Linktree, that you could instead be sending to your blog.
Learn how to create your own Linktree page on your blog. Spoiler: it's super easy!
New theme
I believe having a simple yet functional theme is really important for your blog to look professional. There are loads of great minimal ones that you can find for free on WordPress. I used a free one up until recently too.
However, I decided to purchase a new theme (that wasn't even that expensive in my opinion) for a few reasons.
For one, you can customize a bit better a paid theme rather than a free one. I also wanted to get a Genesis framework theme. From what I have read, the Genesis framework is brilliant in terms of site speed, SEO and it is overall a great choice for bloggers.
My new blog theme is based on the Genesis framework and I think it has greatly improved my blog. Aside from the minimal look, I do think it's helped in terms of SEO a lot too.
30 Pinterest group boards
One of my goals was to join as many relevant topic group boards as I can. What this does is it basically puts your pins in front of a new audience (and a relevant one at that).
It is quite a tedious work finding good group boards and applying to all of them. But I do think it's been well worth it.
I have now joined over 30 group boards and I only post relevant pins to each of them. I think that is key if you're trying to grow your presence with this strategy.
And this brings me to my next point.
Tailwind
I honestly don't think my Pinterest audience would have grown as fast without Tailwind. Here's why.
You need to be constantly pinning on Pinterest if you want to get a steady growth, both your own pins and other account's quality pins. Of course, you can do this manually if you set it as a daily task that you need to accomplish.
I tried doing manual pinning myself, but I soon realized I was not able to keep up with it on a daily basis, so I decided to give Tailwind a try. They have a free trial if you want to give it a go yourself.
Tailwind is basically a pin scheduler. You take your pins and create a schedule for them, so the app basically does most of the work for you. I now spend so much less time on this task and I can focus on other things, like creating content.
It also sets the schedule for you in terms of the best days of the week and times of day to post for your audience. For example, most of my audience is from the US, but I am from the UK. So that would mean I would have to be up at 3 am to pin if I wanted to put my pins in front of that audience at the right time.
Of course, that's not going to happen. Which is why Tailwind was perfect for me.
It is recommended to still do some manual pinning and not just schedule it all, but for the most part I use Tailwind for my pins. It has worked wonders for my account and, consequently, for my blog traffic.
SEO
As I mentioned before, SEO is a long term kind of game. Which is why it's important to start thinking about it early on.
I have created an SEO checklist that you should follow for each blog post and I'm sharing it completely free here:
It would be too long to talk about SEO in depth in this blog growth report.
However, I wrote this blog post all about SEO for Beginners if you want a bit more details on what you could do to help your site rank better in Google search.
ConvertKit
My email list has definitely been one of the best investments I have made for my blog, as I mentioned above. I use ConvertKit for my email list and it is great for sending your newsletters, creating series of emails, as well as segmenting your subscribers by topic they're interested in.
Update: Since writing this blog post, I have decided to switch from Convertkit to Flodesk. If you would like to know why, I wrote a whole blog post about it.
---
Those are my strategies that I have been using these past few months in order to grow my blog traffic. Hope this monthly blog growth report was useful to you.
If I can do it, you can do it!
I think it is key to stay consistent and keep going, even if right now you're just seeing little progress or if you're feeling stuck. Keep at it and you WILL see results!