This post may contain affiliate links, meaning I make a commission if you purchase through my links, at no extra cost to you. Disclosure here.
What kind of online business is most profitable?
This is a question a lot of people ask.
The answer is: it's a combination between the online business that aligns with what you love and know to do, plus a business that can give you a good return on your investment (whether that's time investment or money invested).
We'll have a look at 17 most profitable online business ideas that you can start from home this year.
These will be perfect for you if you're a mom perhaps, if you're a student and you have some extra hours to work on something or if you are just someone who wants to do something on the side. Someone who wants to start a side hustle that you could maybe turn it into a full-time thing at some point.
These business ideas range from more typical influencer type things to product based businesses and everything in between.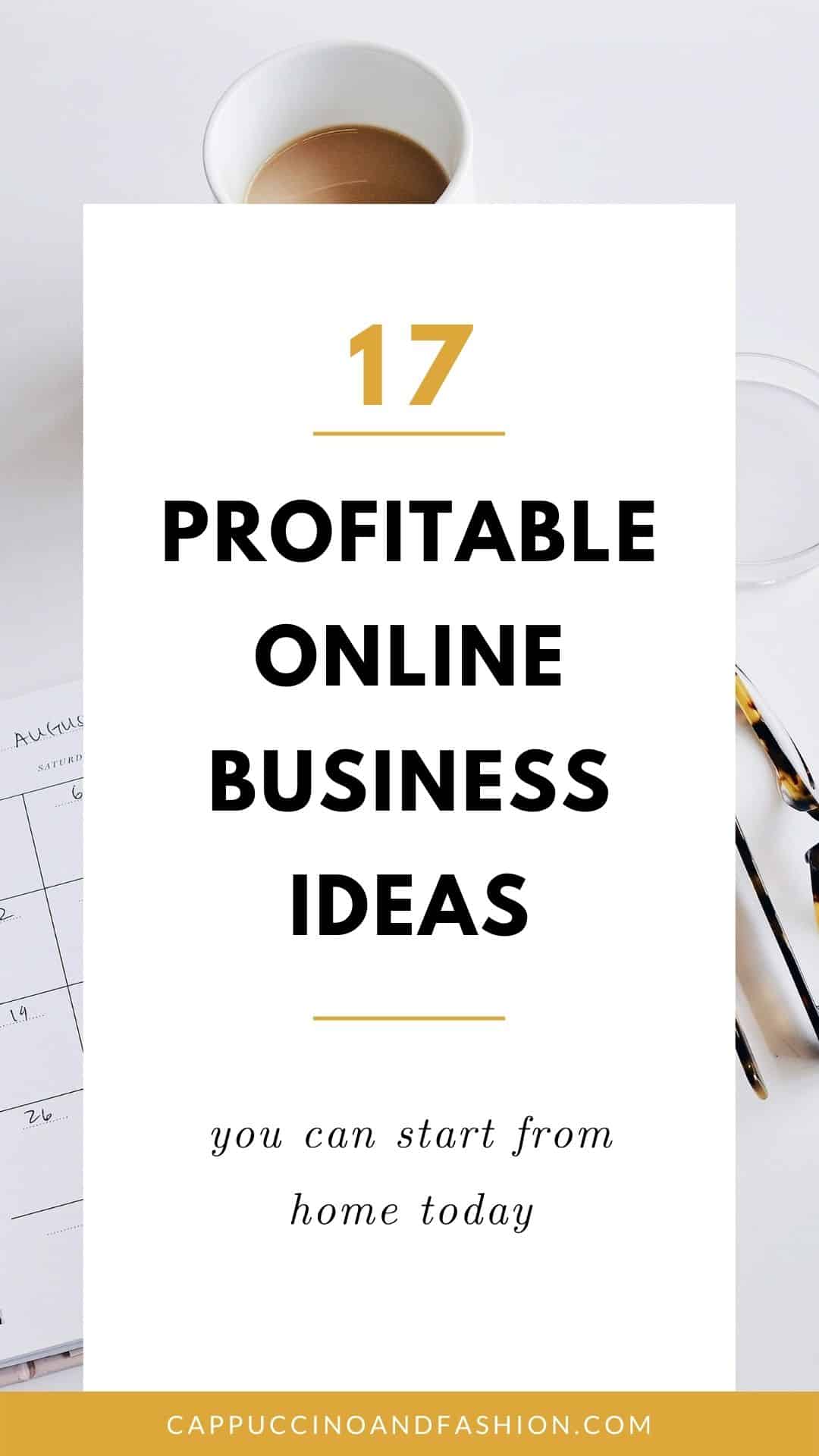 17 Profitable online business ideas you can start from home for moms, students or beginners in 2023
Feel free to watch this video or keep reading below to get all the deets:
1. Etsy shop with a Cricut
The first thing is to start an Etsy shop with a Cricut machine.
You can use something like the Cricut Joy machine, which is just a tiny machine. It's perfect to start from home, because it's portable and it doesn't take up a lot of space in your home. You can use it to label things, create customised products and then sell them on Etsy.
It doesn't have to be intricate either.
You could create simple custom tumblers, cups, mugs, personalised invitation cards and so much more.
Depending on the product that you're going to sell, you might need to make a bit of an investment at first. For example, if you want to sell custom tumblers, you will obviously first have to purchase a small inventory of plain tumblers that you will use to customise with your Cricut Joy.
In time, you are going to make a profit and your investment back, but it is a bit of an initial investment. That's one thing that you could create and sell easily.
It's honestly really therapeutic as well. I really enjoyed making little tumblers and cups, it's just so much fun to do in the evening. Pop some Netflix in the background while you're also starting a business at the same time – how amazing is that!
2. Start a blog
The second type of online business that you can start from home is to start a blog.
A lot of people assume that blogging is dead and it doesn't work anymore or that it only works for people who started 10 years ago, which is not true at all.
There are so many blogs that are constantly emerging, growing and making a really good income. If you look at income reports for bloggers online you will be amazed at the amounts that they make from their blogs.
It can be a very lucrative business.
I'm also a full-time blogger and entrepreneur. I do blogging, YouTube and Instagram too.
Starting a blog is a really amazing way to make money. It does take time.
It's not like you're going to start a blog today and the next month you're going to have a whole bunch of income coming in. It does take time and effort, but if it's something you're passionate about, then you can definitely start small and grow that business from there.
To help you with this, I actually have a freebie for you. If you need help to set everything up and to get organised, I have a 12 month blog plan and it's completely free for you to download and use.
There are so many ways you can monetise a blog and some of them are also passive, which is really amazing. This is a really great profitable business to start these days.
Ready to start your own blog? I use and recommend Bluehost for your blog. If you have no idea where to begin, use my free ultimate guide on how to start a blog and make money blogging.
3. Start a YouTube channel
You can start a YouTube channel. Just like starting a blog, it does take time to grow and monetise a YouTube channel. But it can be a very lucrative business if you stick to it.
I run this channel on blogging business tips, which is still quite small and it's not monetised yet. Obviously it's not my main source of income.
But I do have another channel which has 14,000 subscribers at the moment and I do monetise that one.
I work on brand deals on there and, even though it's on the smaller side in comparison to all the big ones that you see out there, it's still quite profitable. YouTube can be a really amazing online business to start as well.
4. Become a translator
Have you ever thought of becoming a translator? Obviously this will be for people who are maybe bilingual like I am.
My main language is Romanian and then English is my second language. I have learned English in school, but also I have learned a lot on my own just to kind of perfect it a bit more. One thing probably not a lot of people know about me is that I used to be a full-time translator before I became a blogger.
You don't have to be employed in a company to be a translator, you can do that freelance at home and get projects to work on.
I had a few companies that I was working with consistently, and I was mainly a freelance translator working from home.
So if you are bilingual and you have quite a good understanding of both languages, you could definitely work towards becoming a translator. It can be a really good job to do from home as well.
5. Digital products shop
You could sell digital products and set up an online shop for them.
Digital products can mean such a wide range of things and it depends on what you're interested in and what you're good at as well. It can be things like workbooks, Canva templates or any other templates that you can create that people can use.
It can be ebooks, planners etc. It really depends on what you are looking to create, what your knowledge is and what you are interested in doing. Canva templates, for example, are really good ones that you can sell if you like graphic design.
Setting up a digital product shop is so much easier than you might think and it's amazing because it's a completely passive stream of income. It does take a lot of active work in the beginning to create the products and to set up maybe a website or your shop.
If you don't feel like you're too tech savvy, you can just set it up on Etsy and sell your digital products there. So that can take a lot of work.
But once you've set it up, then it's completely passive and people can keep buying your products over and over again. You don't really have to do any extra work, because the product is already there and ready.
It's not like a physical product (such as the tumblers or cups) that you need to create every single time you get an order.
With a digital product, you just create it once and then you can sell it over and over again. It's a great passive income stream.
6. Online courses
You can also start a business by creating online courses or programs on topics you are knowledgeable on and can help other people with. This can be such an amazing way to monetise.
It's one of the ways in which I make money through my blog as well. You could create online courses on so many different topics, so it applies to so many different niches.
For an online course you can charge more on rather than just a simple ebook, for example, or some Canva templates.
An online course is obviously more complex, it can include a series of video trainings on the topic, it can offer accountability built in.
And this is why online courses are higher priced, because people get a lot more value from those courses than from a simple ebook. And again it's a passive income stream just like selling a small digital product.
7. Typical influencer route
You could also go the typical influencer route, which is creating content on different platforms (like Instagram) and monetising with brand deals and sponsored posts.
That's also a really good way to make money online. It does take work to build up an authentic and engaged audience, but once you get there, then this will be a really amazing way for you to make money.
If you need help with how to pitch to brands for sponsored posts, email templates that you can send to brands to land more deals and also how much to charge for them, then this is all something we cover in the Insta Glow Up Kit.
8. Create content-only brand work (sell assets)
One thing that not a lot of people know about is you can work on brand deals but for content creation only.
This is not really a typical influencer thing, but it can be very lucrative too. You're basically just selling your assets to brands.
What this means is you create a photo for a brand with their product, for example, but you don't post it on your Instagram or YouTube. You simply send the photo to the brand, so that they can use it for marketing purposes: for ads, for their websites or whatever it may be.
You can think of this like being a photographer or videographer for brands marketing campaigns. A lot of brands will pay for assets like this, because they need user content to use in their marketing.
This is also a good way to make money online.
9. Homemade products
You could start a shop with homemade products. This can be such a wide range of things, depending on what you're passionate about.
You could create things like candles, wax melts, all sorts of foods or baking things.
It really depends on what you like to do and what you're good at.
10. Prints shop
You could start a shop for prints or posters.
This can be something that you create yourself if you're more artistic (for example using watercolour). Or you could create digital prints with a graphic design tool.
You can then sell them as physical prints or simply digital prints, so that people print them on their own at home.
11. Start a membership site
Having a membership site can be really amazing for people who are in it, because it gives a lot of accountability to students.
They pay a monthly fee to be in that membership and this can be on a website or you could even do this on Facebook Groups, for example. I am in a membership like this that's business related and it's really helpful. The main thing that I get from it is the accountability and also they have video lessons that they come up with every month.
This is a really good way to make money online as well and it's really nice because it's recurring monthly payments for you.
This means you will know roughly how much to expect to make next month, depending on the number of students you have in that membership.
If you can figure out a topic you can provide information on within your niche and really help your students, give them that accountability, then a membership site would be a great thing for you to start.
12. Be a social media manager
You could become a social media manager.
A lot of brands, even small ones, need help with their social media accounts.
So if you can maybe post for them on socials, answer comments or messages, schedule posts to go out for them and just kind of handle all of their social media needs, then this would be a really good job that you can do from home.
13. Offer services such as freelance writing
You can also offer services, such as freelance writing.
Sometimes full-time bloggers actually pay people to write content for them or there are lots of publications that look for writers on project-based work. You could write blog posts for other people and get paid to do that, if you are passionate about writing.
If this is something you're good at or you feel like you can improve your writing skills, then that's something you can get into and turn into a profitable business.
14. Create graphics for businesses
Another service you can offer is to create graphics for businesses or for blogs.
For example, this could be logos for blog headers, it could be graphics for their Instagram feeds, for Facebook, for Pinterest etc.
If you're good at designing graphics like this online, then this will be a really good business for you to get into.
15. Offer editing services
You could also offer editing services and this can be photo editing or it can also be video editing.
A lot of YouTubers actually pay for this and outsource their editing as their platform grows. I don't pay for video editing, I do it all myself, or at least at the moment, but I might outsource this in the future.
If you have basic editing skills for videos or photos, you could definitely turn this into a profitable business.
16. Offer coaching
Another type of business you can start online is a coaching business. This is becoming more and more popular these days.
You can find coaches on pretty much any topic.
This is where you sit down on Zoom (for example) 1 to 1 to have chats with students to help them with the topic that you are experienced in.
You can create different coaching packages and meet with them maybe on a monthly basis or weekly basis, depending on the type of coaching that you offer. For coaching calls 1-1, since it is a much more personalised approach and advice, you can obviously charge more than for an online course, for example.
17. Become a VA (virtual assistant)
You could also become a VA, which means virtual assistant.
This is where you help a blogger, for example, and you do a whole bunch of things for their business. This can be Pinterest management, you could handle their social media, you could take care of the behind the scenes of a blog.
So if you do have any experience with that, becoming a VA would be a really good business for you.
Those are 17 most profitable online business ideas that you can start from home in 2023.
If you're someone who needs the flexibility to work from home or you just want to do something profitable in your spare time, then I hope these were helpful.
Don't forget to grab your 12 month blog plan, which I hope will help you out on your blogging journey.
Which one of these business ideas sounds like a fit for you? Let's have a chat in the comments!